Homeopathy is an advanced, effective, and gentle system of holistic medicine that has been successfully used for over two hundred years and on every continent. Homeopathy is not to be confused with herbal medicine or nutritional therapy. The set of principles that guide the selection of medicine make homeopathy a distinct and integral system unto itself. Many doctors are practicing Homeopathy in India for many years.
Homeopathic medicines, called remedies, may be safely and effectively applied in chronic (long-term) conditions, as well as acute (short-term and self-limiting) illnesses and injuries of adults, children, and animals. Homeopathy stands out distinct as compared to other modes of treatment by its fundamental principles directed towards treating diseases at the root level, by addressing the multiple causative factors such as genetic, immunological, metabolic, hormonal, emotional and the like.
As a result, the diseases are treated in totality rather than in parts or as entities separate from the 'whole' of the individual patient. In that sense, homeopathic science believes in the 'holistic' approach.
Every life is precious. Everyone wants to consult the best doctor for their health. Here we bought you the 10 Best Homeopathy Doctors In Jaipur for your next doctor visit.
1. Dr. Ashok Choudhary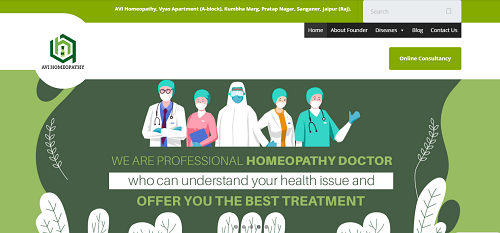 Dr. Ashok Choudhary, who firmly believes in offering best quality patient care. He has a great working experience of more than 18 years. It is really hard to find the good, experienced and qualified homeopathy doctor who can assist you the same way you want. Dr. Ashok Choudhary makes you capable to deal with the health condition you face and help treat ailment in finest way.
Dr. Ashok Choudhary is consistently serving patients from all age groups with his effective and precise treatments. He has this unique ability to diagnose the root cause of the problem and his line of treatment targets that root cause and aims at curing it. This results in permanent eradication of the problem and patient gets a long lasting relief. So, it is very important that you get the most experienced and professional homeopathy doctor who can understand your health issue and offer you the best treatment. This search of yours will surely end at AVI Homeopathy clinic.
Contact Details:
Address : Apartment, (A- block, Vyas, Sector 11, Kumbha Marg, Pratap Nagar, Sanganer, Sector 11, Pratap Nagar, Jaipur
Phone :9782325769
Email Id : [email protected]
Website : https://www.avihomeopathy.com/
2. Dr. Batra's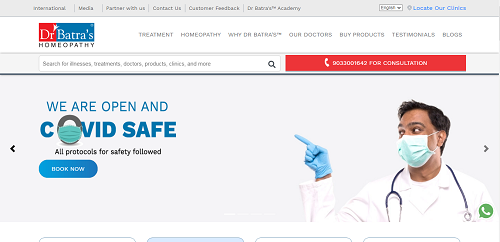 Considered as one of the top Homeopathy Doctors in Mumbai, Dr. Batra specializes in Homeopathy for the cure of many diseases. They believe that a job is not simply about getting to office every day, finishing routine stuff by the end of the day and then packing off without any take-home feeling. They believe that this is the place where you spend most of your waking time so why not make it worthwhile! That is why we take all the care to see that you get the best while you give your best at your job at Dr. Batra's.
Contact Details:
Address : Plot No. 36 – 37, Office No.201-B, 2nd Floor, SDC Vinay, Moji Colony Calgiri Road, Landmark: Opp. State Bank ATM, Above HDFC Bank , Malviya Nagar, Jaipur
Phone : 9033001649
Website : https://www.drbatras.com/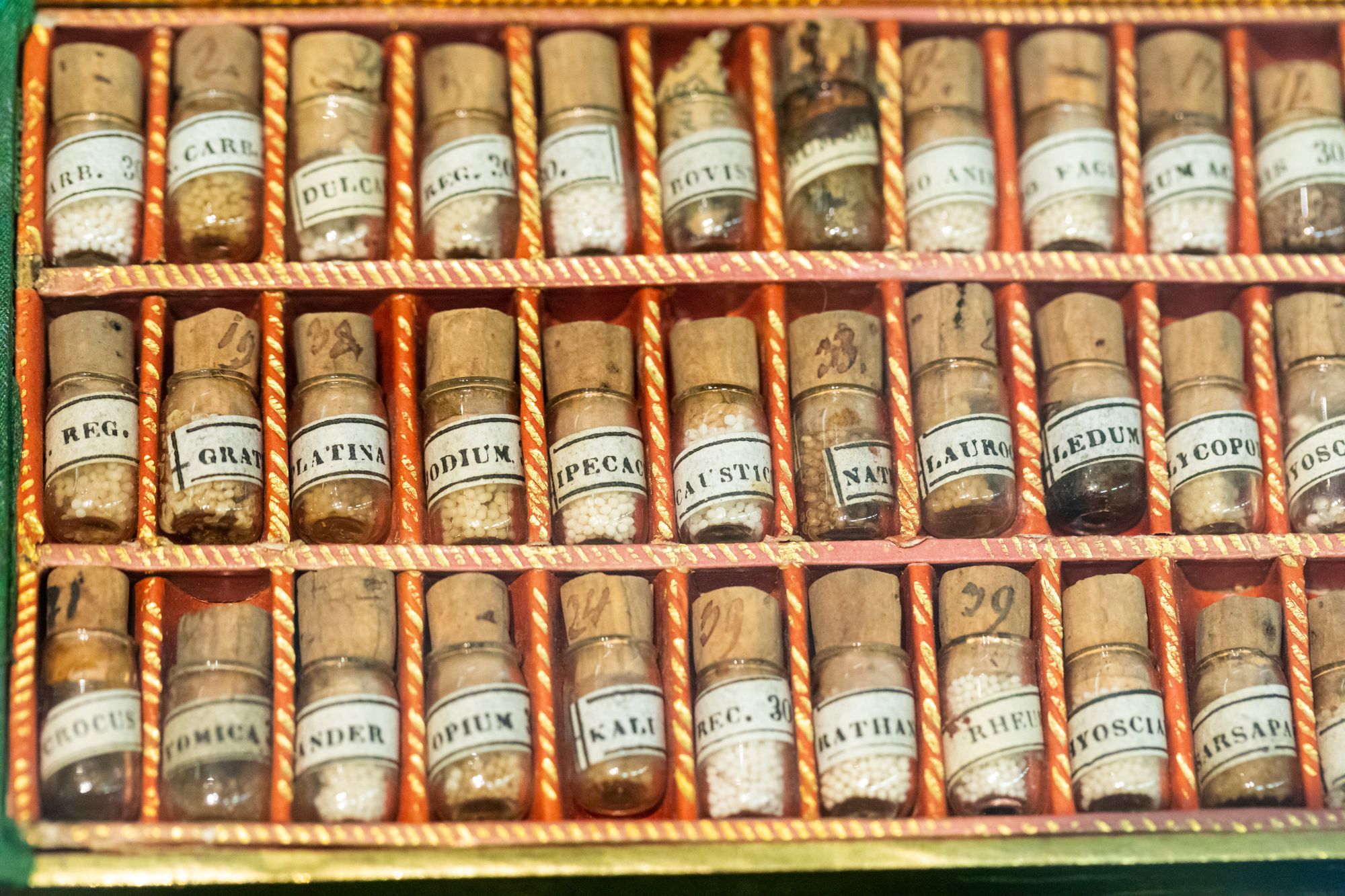 3. Dr Yadav
Yadav Homoeopathy Clinic will provide you with all the world-class treatment services. We make sure that we keep an eye on the latest development in the Health Sciences and then accordingly update our treatment process to make sure that our patients get the best treatment available. With the vast working experience of 30 years, Yadav homoeopathy clinic has proven its worth time and time again. Yadav Homoeo Clinic is the only clinic that works to cure some of the most incurable diseases like the Autism, Mental Retardation, Cancer, and Paralysis among many others.
We provide full integration of homeopathy with in the health care system which will meet growing demand among all citizens for Homoeopathic care within a safe medical context we promote scientific development of homeopathy and ensure high standard in education training and practice of homeopathy by medical doctors.
Contact Details:
Address : A-21 Anita Colony, Bajaj Nagar Jaipur
Phone : 89494 27254
Email Id : [email protected]
Website : https://www.yadavhomoeoclinic.com/
4. Dr Gaurav Dadhich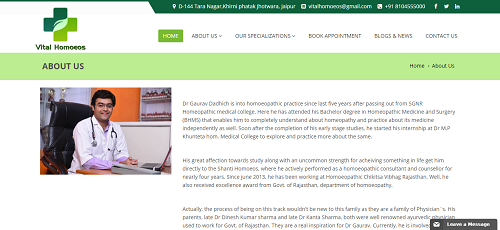 Dr Gaurav Dadhich is into homoeopathic practice since last five years after passing out from SGNR Homeopathic medical college. Here he has attended his Bachelor degree in Homeopathic Medicine and Surgery (BHMS) that enables him to completely understand about homeopathy and practice about its medicine independently as well. Soon after the completion of his early stage studies, he started his internship at Dr M.P Khunteta hom. Medical College to explore and practice more about the same.
His great affection towards study along with an uncommon strength for acheiving something in life get him directly to the Shanti Homoeos, where he actively performed as a homoeopathic consultant and counsellor for nearly four years. Since june 2013, he has been working at Homoeopathic Chikitsa Vibhag Rajasthan. Well, he also received excellence award from Govt. of Rajasthan, department of homoeopathy.
Contact Details:
Address : D-144 Tara Nagar, Khirni patak
Jhotwara, Jaipur
Phone : 8104555000
Email Id : [email protected]
Website : http://www.vitalhomoeos.com/
5. Dr. Dinesh Sharma
Dr. Dinesh Sharma, a dynamic Homoeopathic physician and consultant, currently practicing in Jaipur, Rajasthan. He has been practicing from last 15 years. He was also associated with Homoeopathy University, Jaipur. Most recently he was Co – Coordinator Officer of CHME at Homoeopathy University, Jaipur. Apart from this, he has conducted various seminars related to homoeopathic treatments and the latest developments in homoeopathy. He has also successfully organized medical camps in different parts of the country to treat patients and train people on the various aspects of medical emergencies.
He is vastly experienced and has a remarkable track record in successfully treating various chronic diseases like Hypertension, Diabetes, Obesity, Uterine fibroids, Menopausal problems, Osteoarthritis, Renal problems, Skin problems, Asthma, Allergies etc.
Dr. Dinesh Sharma obtained his Bachelor of Homoeopathy, Medicine and Surgery (B.H.M.S.) from one of the best institutes in India, Homoeopathic Medical College and Hospital, Chandigarh, M.D.(Hom.) from Dr. M. P. Khunteta Homoeopathic Medical College and Hospital, Jaipur.
Contact Details:
Address : G-12, Khetan Tower, Central Spine,
Vidhyadhar Nagar, Jaipur
Phone : 8003471142
Email Id : [email protected]
Website : http://www.homoeoclinic.co.in/
6. Dr. Anamika Jalandra
Root Cure Homeopathy is founded by Dr. Anamika Jalandra. She is well renowned homeopath from Mumbai. She has passed out from Asia's top Homeopathy college Smt. Chandaben Mohanbhai Patel Homeopathic medical college, Mumbai. She also hold a certificate degree in Gynecology & obstetrics from Wadia Hospital, Mumbai. along with this she also holds her knowledge in the stream of obesity management from Indian Institute of Cosmetology, Trichology & Nutrition, Mumbai.
Contact Details:
Address : S-19, JDA Central Market, Vaishali Nagar Jaipur
Phone : 9587936936
Website : https://www.rootcure.in/
7. Dr. M L Gupta
Dr. M L Gupta, M.D.(Hom.) Owner and Director of Gupta Homoeo Clinic Jaipur, India. He has concentrated on homeopathy seriously for more than thirty six years, since 1980. Dr. M L Gupta has a phenomenal quality of having an examination base in his clinical surroundings. He is a bad-to-the-bone specialist + clinician + instructor + promoter of homeopathy.
Dr. M L Gupta presents a cutting edge and investigative face of homeopathy. His immense practice makes it extraordinary in the homeopathic world. He not just exhibits the 'new face' of cutting edge homeopathy; additionally in charge of 'new stage' in homeopathy. His group of 5 full-time specialists offer the best of homeopathic treatment. Dr. Gupta has a qualification of having treated famous patients from different resources, for example, restorative specialists, analysts, representatives, imperial families, priests, teachers, prominent government officers, and so on. In the meantime, he is effortlessly open to all patients.
Contact Details:
Address : Gupta Homoeo Clinic - Near Akshardham Circle, Akshardham Mandir Rd, Jaipur
Phone : 9414389572
Website : http://www.guptahomoeoclinic.com/
8. Dr. A K Laduna
At 'The Laduna Homoeopathic Clinic', the Patients are treated by Dr. A K Laduna, Who is M. D. (Homoeopathy) and M. Sc. (Psychology), who is having a very long clinical experience of serving Humanity that is since 1989. Experience of giving more than 2, 00,000 consultancies.

Experience of treating not only Acute, Viral Diseases and Simple Disease but Chronic, Complicated, Deep Pathologies, Psychological, Incurable and so called Surgical Cases also. Due to his untimely grounding in Endocrinology (he holds a Doctor of Medicine in study and successful research work on Diabetes Mellitus). Due to his early interest in Psychiatry (he holds M. Sc. In Psychology). Dr. A K Laduna is an expert in treating psychiatric cases also with homoeopathy.

Dr. A K Laduna had been appointed as Professor at various Homoeopathic Medical Colleges, and has Trained many Qualified Homoeopathic Doctors in his clinic. Despite of his busy practice, he manages time to deliver seminars and lectures at several places.
Contact Details:
Address : B-2/426, Roshan Path, Chitrakoot,
Vaishali Nagar, Jaipur - 302021
Phone : 0141 244 0515
Email Id : [email protected]
Website : http://akladuna.com/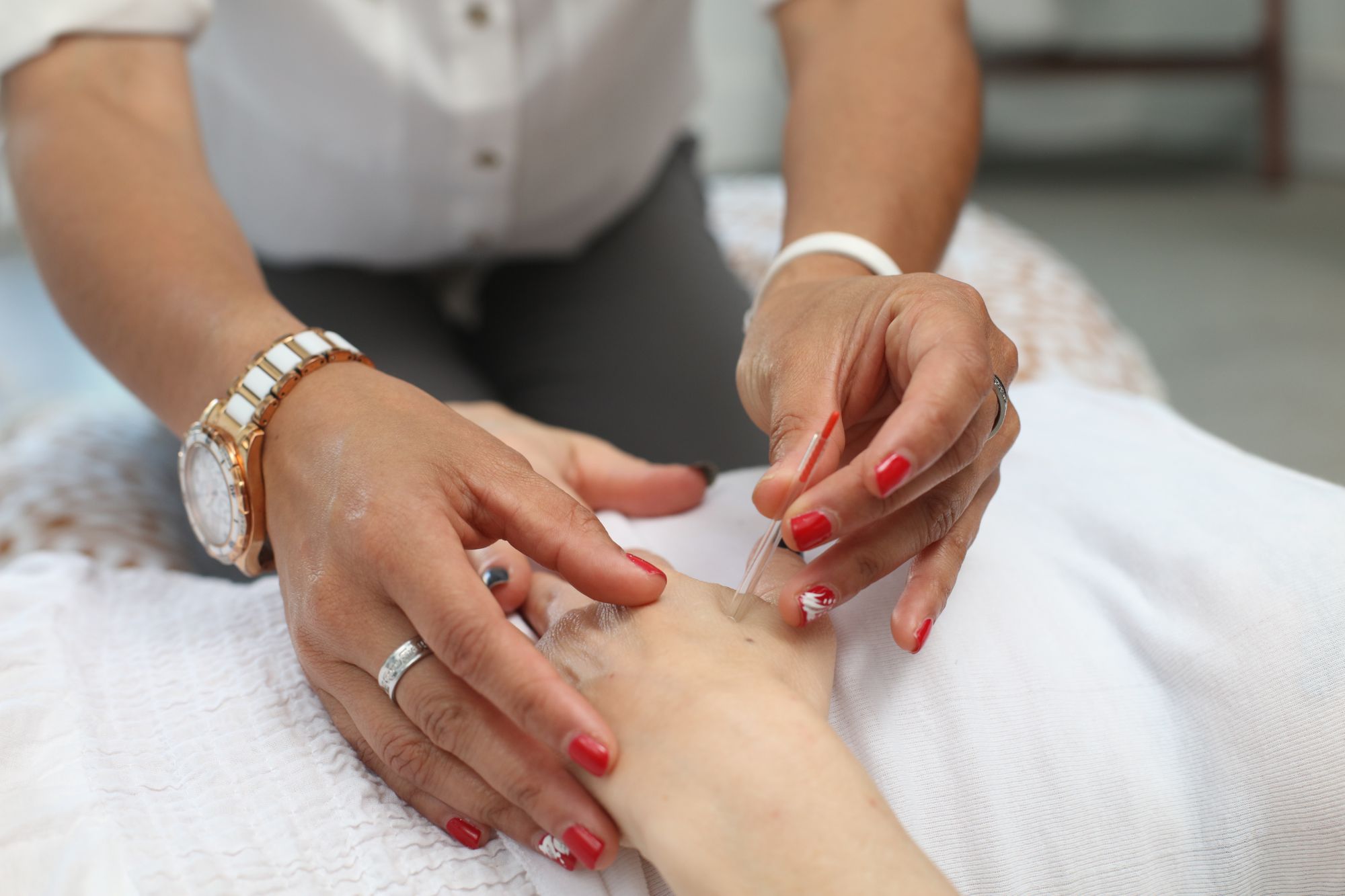 9. Dr. Manish Bhatia
Dr. Manish Bhatia is the Founder Director of Hpathy.com, world's leading homeopathy portal. Hpathy.com is today the most exhaustive and respected resource for homeopathy on the Internet and serves homeopathy to more than half a million people every month.
Dr. Manish Bhatia (BHMS, M.Sc. Hom (UK), MD (hom)) is an internationally renowned homeopath, with 20 years of clinical experience, Dr. Bhatia is known to treat difficult cases with ease. From treating Autism, ADHD, Coeliac disease in children, to treating Schizophrenia, OCD, Anxiety-Depression and Cancer in adults, he is known for providing relief in difficult-to-cure pathologies. A well-known speaker & teacher, his books on Organon are part of the curriculum worldwide.
Contact Details:
Address : A-4/1, Ganesh Marg, Near Sunshine Honda
Hawa Sadak, Civil Lines, Jaipur 302019
Phone : 8387909009
Website : https://www.doctorbhatia.com/
10. Dr. Sachin Gupta
Dr. Sachin Gupta is a well known and established Skin Specialist in Homeopathy in Jaipur. He completed his B.H.M.S. (Bachelor of Homeopathic Medicine & Surgery) from Baba Farid University of Health Sciences, Punjab, in 2003. He has also successfully completed his M.D.degree in 'Materia Medica' from the M.P.K.Homoeopathic College, Jaipur, in 2008. Dr Sachin has written his thesis on the 'Cervical Spondylosis'. He delivered a lot of lectures in Homoeopathic Colleges.
He is Ex Asst. Prof. in Faculty of Homoeopathic Science at JayotiVidhyapeeth Women'sUniversity, Jaipur. Since 2003, he has successfully treated a large number of acute, chronic and complicated cases of varying natures. His service standards display his commitment to this profession and he is a self motivated strong willed and polite person whose aim is to spread the benefits of homeopathy to as many people in the world as possible; at an affordable cost.
Contact Details:
Address : Gupta Homoeo Clinic - Near Akshardham Circle, Akshardham Mandir Rd, Jaipur
Phone : 9414389572
Website : http://www.guptahomoeoclinic.com/