Kotilingeshwara Temple is located in the village of Kammasandra in Kolar district, Karnataka, India. Kotilingeshwara Temple is Famous Shiva Temples in India.
Sri Umaparthiva Kotilingeshwara Temple Kshethram was established in Siddipet Town. The Sankalp (Idea) to construct this Kshethram was initiated by Sri Sri Sri Parama Hamsa Madanananda Swamy., Sri T. Mallaiah, Sri T. Rangaiah, Sri T. Kotaiah, Sri T. Lingaiah, and Sri. T. Rajesham sons of Late Sri Tadkamadla Veeraiah – Rangamma are working hard continuously for its multifaceted development.
Sri Sri Sri Madananada Swamy's Pre Ashrama (earlier) name was Laxminarayana. He was born on Shravana Shudha Dashami of Shobha Kruthu (1902) Samvastaram at Tekmal (V & M) of Medak Dist. Ravi Koti Narsamma and Narahari were his parents. Shreethi Koundinyasa was his Gothram.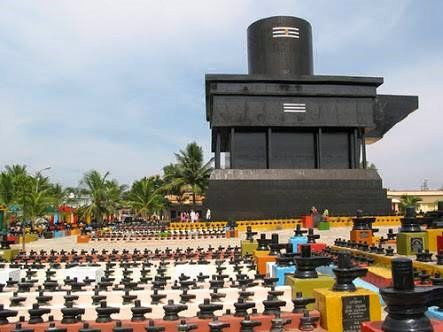 Since childhood Swamiji possessed Vairagya features & thinking (detachment) daily he used to do 'Anna Danam' (Free Feeding). He entered into "Thuriyashramam" with the blessings of Sri Madhavananda Swamy the head of Sri Sadananda Ashramam of Basava Kalyan. This ceremony was performed in Vyshakamasa of Paribhavi year. He installed several Devatha Murtis ( Idols) at Sangameshwara Temple of Koppole.
Lord Vaishnava Murthulu ordered him in a Swapna (dream) to construct and establish a temple of Parthiva (Earth) Lingams. In Kaliyuga worship of Parthiva Lingams is important and significant.
On the basis of yuga worship of Ratna (diamond) Lingam in Krutha Yuga, Swarna (Golden) Lingam in Thretha Yuga, Rasa Lingam, In Dwapara Yuga and Parthiva (Earth) Lingam in Kaliyuga is important and significant to obtain and get 'Vishesha Phalam' (Special Fruits of Reward). People who worship one crore lingams will be rewarded with infinite fruits of returns.
Therefore Swamiji started searching for a suitable place to establish and construct Kotilingeshwara Temple. Swamiji's devotees suggested the names of their respective villages, but Swamiji was not satisfied. At the same time, one devotee from Siddipet accidentally had Swamyjis Darshan at Koppole village. At this time unexpectedly and suddenly an idea erupted to Swamiji. He asked his devotees to write the name of the village (place) where they want a temple on a piece of paper and keep at the feet of Lord Sangameshwara Swamy. Then he ordered one devotee to pick up one piece of paper. As per the wish of Bhagavan that piece of paper contained the name of Siddipet. Swamiji bewildered and was in a state of confusion because Siddipet is an unknown place to him and there were non of his devotees and disciples.
How to build Kotilingeshwara Temple in such a place was not understandable. On the order of Lord Koppole, Sangameshwara Swamy Madanananda Swamiji arrived in Siddipet in Jyestamasa of Rakshasa Nama Samvastaram and stayed at Sharabeshwaralayam. Their devotees have made Parthiva (Earth) Lingams.
There are 12 temples and 148 idols in this Kshethram of Kotilingeshwara Temple. The broad and well built wide Mukha mandapam with 36 pillars is a special attraction to the temple.
About Kotilingeshwara Temple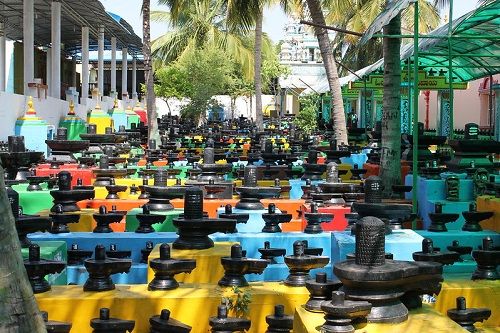 This temple has been constructed by Swami Sambha Shiva Murthy and his wife V.Rukmini in the year 1980. The first linga was installed in 1980, in the initial days  pancha linga was installed , then 101 shiva linga, then 1001 shiva linga was installed . In 1994 the record 108 feet Shiva linga was installed in the premises , there is also a huge and tall Nandi installed beside the linga. The nandi is 11 mt tall and sits over a huge platform. . Swamiji's  dream is to install the Koti (crore) linga in the temple and he was working on the development . After his demise (14th December , 2018)  his Daughter and Son has taken the charge and doing the work and fulfilling his father dreams and since then there have been many lingas present in the temple.
​Within the premises of the temple, there are about eleven other temples for different deities. The first of them includes the temple of Lord Vishnu, Lord Brahma, and Lord Maheshwara temples. This is followed by a temple of Lord Kotilingeshwara.
​The temples include Goddess Annapoorneshwari Temple , Goddess Karumaari Amma Temple , Lord Venkataramani Swamy Temple , Lord Subramanya swamy Temple , Lord Panduranga Swamy Temple , Lord Rama , Sita and Lakshmana Temple , Lord Panchamukha Ganapathy Temple , Lord Anjaneya Temple and Goddess Kannika Parameshwari Temple.
​The Government has declared this temple as a tourist spot so that hundreds of tourists from across the World can come and pay their respects to the largest Linga in Asia.
Architecture of Kotilingeshwara Temple
The temple houses a Shiva Lingam measuring 108 feet high and the Nandi measuring 35 feet in height. The Nandi is installed on a platform and is surrounded by the small Shiva Lingams across fifteen acres of land. The premises have smaller temples for other deities, including Goddess Annapoorneshwari, Sri Panchaganapathy, Sri Rama, Sita Devi, and Sri Lakshmana, Sri Pandurangaswamy, Goddess Karumaari Amma, Sri Venkatramani Swamy, Sri Anjaneya, and Goddess Kannika Parameshwari among others. The temple currently has ninety lakh Lingams and has a project to install one crore Lingams.
There is a water tank built close to the Shiva Lingam. Devotees draw water from here to perform Abishekam to the Shiva Lingam.
The temple premises also have a marriage hall, a meditation hall, a rest house, and an exhibition center. There are two flowering trees in the temple where devotees pray for wishes to be fulfilled.
Quick Facts about Kotilingeshwara Temple
Timings: 6:00 AM- 9:30PM
Entry Fee: INR 20 per person
Camera Fee: INR 100 per camera
Parking Charges: INR 30
Linga Installation Fee: Starts from INR 8,000
Restrooms are available
Well maintained Rooms are available(For booking of the rooms the pilgrims can contact the administrative office.)
Hotels and snacks are available nearby.
Drinking water facility is available.