About Omkareshwar Temple:
Omkareshwar is a famous pilgrimage centre that that includes one of the 12 idolized Jyotirlinga shrines of Shiva. The name Omkareshwar means 'Lord of Omkaara', which is one of the Dwadasa Jyotirlinga shrines or the 12 shrines dedicated to Lord Shiva in the form of a Jyotirlingam. It's a sacred island which is shaped like the Hindu symbols 'OM', drawing millions of travellers from all across the globe. It has two ancient shrines including Omkareshwar and Amarkareshwar. This holy place is located on the meeting point of Narmada and Kaveri River, making a must-visit pilgrimage destination for Lord Shiva devotees and leisure travellers alike. Set in the Khandwa district of Madhya Pradesh, Omkareshwar is forged by the sacred Narmada River. Built in the Nagara style, the Omkareshwar temple is featured by an eminent Shikhara.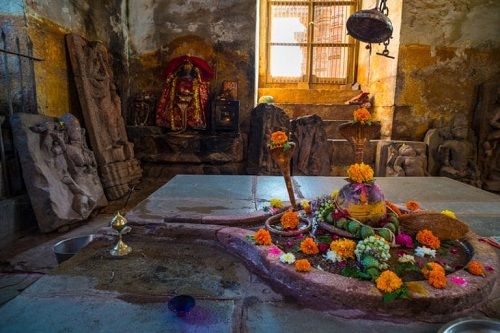 History of Omkareshwar Temple:
As per the myth, when Narad, the great prophet visited to the god of Vindhya Mountains, he was quite raging after knowing that there was no dwelling for Lord Shiva and so, the god of these mountains referred himself to very strict nonindulgences. Lord Shiva was very delighted when the deity of the mountain said that he would make Omkareshwar one of his homes and that's why the place is dedicated to Lord Shiva.
The second story relates to Mandhata and his son's penance. King Mandhata of Ikshvaku clan (an ancestor of Lord Ram) worshipped Lord Shiva here until the Lord manifested himself as a Jyotirlinga. Some scholars also narrate the story about Mandhata's sons-Ambarish and Muchukunda, who had practiced severe penance and austerities here and pleased Lord Shiva. Because of this, the mountain is named Mandhata.
The third story from Hindu scriptures says that once upon a time there was a great war between Devas (gods) and Danavas (demons), in which Danavas won. This was a major setback for Devas and hence Devas prayed to Lord Shiva. Pleased with their prayer, Lord Shiva emerged in the form of Omkareshwar Jyotirlinga and defeated Danavas.
Best Time to Visit:
The best season to visit Omkareshwar is the winter season. The temperature remains comfortable and is apt for visiting the places of interest in Omkareshwar. The best months to visit are September to March.
Features:
The entire area of this holy place is bordered by mountains, making an enchanting view for travellers. If you're here you must take a Parikrama around the island as it is considered to be very religious and you'll feel relax and peace a here. It is said that  Lord Shiva  visit here to sleep  or 'Shayan' every night and so 'Shayan Arti' is performed  here. It is believed that  worshiping Omkareshwar is synonymous  to visiting  and worshipping Kedarnath and Panch Kedars. Don't miss to explore the elegant sculpted Siddhanatha Temple in Omkareshwar, which is embellished with wonderful elephant carvings around its base. The events and festivals at Omkareshwar are celebrated with great pleasure. The festivals of this place are very colourful and their gala ooze out a sense and feeling of integrity and brotherhood.
Timing for Aarti:
Between 5 am to 5:30  am and Evenin aarti at 8:20 pm to 9 pm
Timing for Darshan at Omkareshwar Temple:
The temple opens at 5 AM and closes at 9:30 PM.
Location:
It is on an island called Mandhata or Shivapuri in the Narmada river at Khandwa District in Madhya Pradesh, India.