In India, the celebrations of fairs and festivals form an amazing wondrous and joyful series of events, marking the rites of birth, death, and renewal. The celebrations and Festivals of India are moments of remembrance of the birthdays, great deeds of gods, goddesses, heroes, heroines, gurus, prophets, and saints.
All Indians from different religions and beliefs such as Hindu's, Muslims, Christians, Sikhs, Buddhists, and other religious groups celebrate individually, or together as a mixture of groups if their festivals are the same, on the same day.
One important Ancient Festival of India that the Ancient Indians celebrated was the Bamboo Festival of Chedi. During this festival, the people plant a bamboo pole and pray for a god to expand their city. Another ancient Indian festival is the Holi Festival. It is a festival for the triumph of good over evil. It is a week-long festival. During this festival, there are color fights. People throw paint and colored water on each other.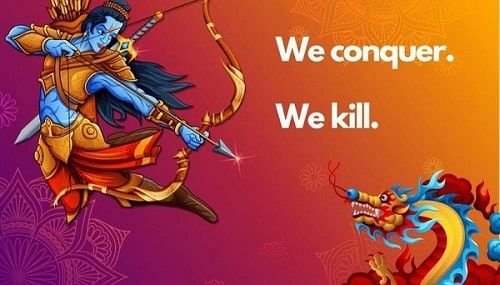 There are a great number of Hindu religious festivals of India held throughout the world. The festivals typically celebrate events from Hindu mythology, often coinciding with seasonal changes. There are many festivals that are primarily celebrated by specific sects or in certain regions of the Indian subcontinent. The festive season is widely celebrated. These events have a historic significance to them and are rooted in various cultural and linguistic norms. The onset of the famous Diwali marks the beginning of lighting 'diyas', beautifying homes, offering gifts, and visiting friends and family. Similarly, the Holi festival is described as the 'Festival of Colors", with its magnificent rain dance and the 'gulaal'.
What Changes have been in the area from past to present?
How were festivals celebrated in ancient times of India?
The Ancient Tradition of celebrating festivals goes back to the Vedic times of Aryans. The Vedic scriptures and literature give many sources of information about festivals when celebrations were carried on to honor gods, trees, rivers, and mountains. These Festivals of India include prayers, fasting and also social and cultural significance. One mention can be made that during the time of Krishna, Yadavas performed Indra Pooja in order to obtain rain from heaven. They have performed the Indra pooja as a festival for honoring Lord Indra Bhagawan.
In the festivals of India, there are performances of music, dancing, and drama which took place rugged physical activities. Other activities included wrestling, and wild bull, elephant, horses, and rhino race.
In today's world, Indian festivals all around the world are celebrated with more enjoyment. There are many fun activities including the basics of praying to Gods, celebrating religion and customs. Some Festivals of India these days have enjoyable rides such as roller coasters, jumping castles, and a lot of singing performances and trivia questions. There is also food that is shared with all from different religions.
Some Festivals of India stay the same and don't change.
There are over 60 festivals. Among them the most important festivals celebrated in India are as follows:-
1. Diwali
Another word instead of Diwali is Deepawali. Diwali is celebrated on the darkest night of Kartik, (the eight-month of the Hindu Calendar). Diwali is the most important festival, this importance has been recognized and celebrated 5000-7000 years ago and is now celebrated not only by Hindu's but any Indian who appreciates and wants to join in the celebrations of lights.
Diwali is also a Festivals of India celebrated as Christmas in the west of India, so this is also a time to mark the beginning of a new year.
Preparations for Diwali start just before the following festival such as cleaning the house, put special decorations and painting the house and if you want to buy gifts for Raksha Bandhan then please visit ChirpyBazaar.
2. Holi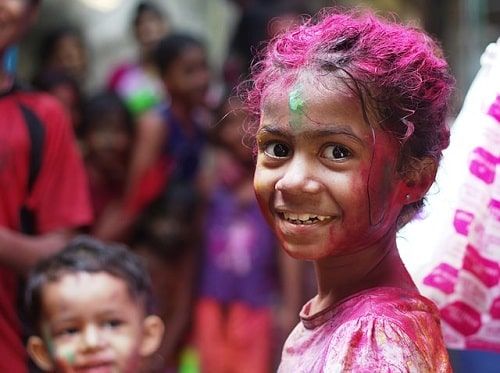 Holi is the color festival, this is celebrated on the full moon day in the month of Phalguna. The Holi festival started just at the start of spring. This festival is celebrated in the northern states of India, it is like a carnival and it is very popular. Holi Festival is a time when all Indians come together leaving all their sadness and grief behind from the past. Originally the festival in the past was only for the Shudras who were not allowed to participate in festivals. Today this festival has lost its significance and is now for all Indians, and is a favorite festival of all time.
If You play Holi then you just wanted to know How to Remove Holi Color
3. Durga Puja
These are the most popular forms under which she is worshipped: Durga, goddess beyond reach; Kali, the auspicious power of time; Amba or Jagdamba, mother of the world; Annapurna, the giver of food and plenty; Sarvamangala, auspicious goddess; Bhairavi, terrible, fearful, power of death; Chandika or Chandi, violent, wrathful, furious; Lalita, playful; Bhavani, the giver of existence; Tara, the giver of success in work. It is the most important festival of Bengalis and Odias.
4. Chhat Puja
Chhath Puja is mainly observed in Bihar and Jharkhand but is also celebrated elsewhere. It is a Festivals of India dedicated to the Sun God for bestowing the bounties of life and fulfilling wishes.
5. Ratha Yatra
Rath Yatra is the festival associated with Jagannath. It is the most important festival of Bengalis and Odias .
6. Raksha Bandhan
Raksha Bandhan is a festival celebrated mainly in northern Indian states. Rakhi is a special occasion to celebrate the chaste bond of love between a brother and a sister.you can buy gifts for sister
7. Thai Pongal
Pongal is one of the most popular harvest festivals of Tamil Nadu. Pongal occurs in mid-January each year and marks the beginning of Uttarayana (sun's journey northwards). The Pongal festival lasts for four days. Celebrations include a drawing of Kolam, swinging & the cooking of delicious Pongal.
This day coincides with Makara Sankranti. Pongal is also commemorated by Jallikattuas a part of festivities as a sport of valor
The festival is celebrated mostly on January 14 of the Gregorian calendar
8. Onam
Onam is the harvest festival of Kerala. Though Onam is traditionally a Hindu festival celebrated in Kerala, contemporarily Onam is celebrated by the Kerala diaspora across the globe. Onam commemorates the rule of Mahabali, an Asura(demon) king who loved his subjects. During his rule, people were happy, honest, and full of righteousness. Legend says Lord Vishnu took the incarnation of Vamana, a dwarf Brahmin who visited Mahabali seeking three steps of land for sitting in self denunciation. Cleverly Vamana defeated Mahabali and sent him to the netherworld.
Onam is the annual homecoming of the legendary Emperor Mahabali. It falls during the month of Chingam (August–September) and lasts for ten days. The festival is marked by various festivities, including intricate flower carpets, elaborate banquet lunches, snake boat races, Onappottan, Kaazhchakkula in Guruvayoor, Puli Kali, Kaikottikkali, etc. These festivities make Onam a unique festival on the earth which is embellished by most cultural elements and it can be undoubtedly said that these elements constitute the colorfulness, diversity, and richness that no other festival can claim. On Onam day people conduct special prayers in Hindu temples. Although Prayers in Hindu temples are an important part of the festival, non-Hindus are not allowed to enter temples.
9. Vasant Panchami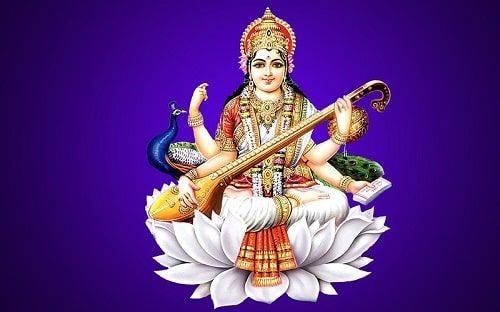 Vasant Panchami (also called Saraswati Puja by Bengalis and Odias) is celebrated for the blessing of Saraswati, goddess of wisdom and the arts.
10. Thaipusam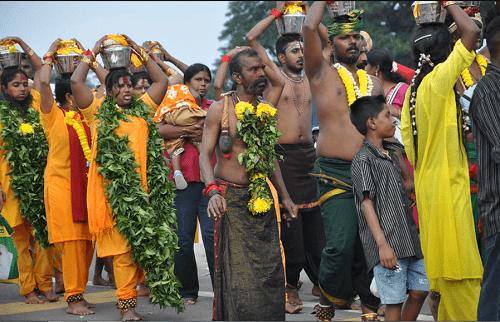 Thaipusam is a Hindu festival celebrated mostly by the Tamil community. The word Thaipusam is derived from the Tamil month name Thai and Pusam, which refers to a star near the location of the moon during the festival. The festival commemorates the occasion when Parvati gave Murugan a spear so he could vanquish the evil demon Soorapadman.
11. Maha Shivaratri
Maha Shivaratri is the great night of Shiva, during which followers of Shiva observe religious fasting and the offering of Bael (Bilva) leaves to Shiva. Mahashivaratri Festival or 'The Night of Shiva' is celebrated with devotion and religious fervor in honor of Lord Shiva, one of the deities of Hindu Trinity. Shivaratri falls on the moonless 14th night of the new moon in Phalgun (February - March). Celebrating the festival of Shivaratri devotees observe day and night fast and perform ritual worship of Shiva Lingam to appease Lord Shiva.
To mark the Shivratri festival, devotees wake up early and take a ritual bath, preferably in river Ganga. After wearing fresh new clothes devotees visit the nearest Shiva temple to give a ritual bath to the Shiva Lingum with milk, honey, water, etc. On Shivaratri, worship of Lord Shiva continues all through the day and night. Every three hours priests perform ritual pooja of Shivalingam by bathing it with milk, yogurt, honey, ghee, sugar, and water amidst the chanting of "Om Namah Shivaya' and ringing of temple bells. Jagran (Nightlong vigil) is also observed in Shiva temples where a large number of devotees spend the night singing hymns and devotional songs in praise of Lord Shiva. It is only on the following morning that devotee breaks their fast by partaking prasad offered to the deity.
12. Rama Navami
Rama Navami is the celebration of the birth of Rama. Rama Navami is the day on which Lord Rama, the seventh incarnation of Lord Vishnu, incarnated in human form in Ayodhya. He is the ardha ansh of Vishnu or has half the definitive qualities of Lord Vishnu. The word "Rama" literally means one who is divinely blissful and who gives joy to others, and one in whom the sages rejoice. Ram Navami falls on the ninth day of the bright fortnight in Chaitra (April/May) and coincides with Vasant Navratri or Chait Durga Puja.
Therefore, in some regions, the festival is spread over nine days. This day, marking the birthday of Lord Rama, is also observed as the marriage day of Rama and Sita and thus also referred to as Kalyanotsavam. In Ayodhya, the birthplace of Lord Rama, a huge fair is held with thousands of devotees gathering to celebrate this festival. The fair continues for two days, and rath yatra, carrying the Deities of Ram, his brother Laxman, His wife Sita, and His greatest devotee Mahavir Hanuman, are taken out from almost all Ram Temples. Hanuman is known for is his devotion to Rama, and his tales form an important part of the celebration. In Andhra Pradesh, Ram Navami is celebrated for 10 days from the Chaitra saptami to the Bahula Padyami in March/April. Temples re-enact the marriage of Lord Rama and Sita to commemorate this event, since this day is also the day they got married.
13. Gudi Padwa
Gudhi Padwa / ChetiChand is celebrated on the first day of the Hindu Lunar month of Chaitra, and is celebrated as New Year's Day by Marathis, Konkanis and Sindhis . According to the Brahma Purana, this is the day on which Brahma created the world.
14. Ugadi
Ugadi (meaning "the start of an era" in Kannada) is New Year's Day for the Kannadigas and Telugus.
15. Vishu
Vishu is a Hindu festival celebrated in Kerala. It falls around 14 April of the Gregorian year.
16. Tamil New Year Puthandu
The Tamil New Year follows the Nirayan vernal equinox. it falls around 14 April of the Gregorian year.
17. Hanuman Jayanti
Hanuman Jayanti is the celebration of the birth of Hanuman, Rama's loyal devotee. To mark the birth of Lord Hanuman, Hanuman Jayanti is celebrated all over India Chaitra. The great Hanuman is known for its great strength, power, and his immortal devotion towards Lord Rama. He is considered to be the greatest follower of Lord Rama and played a crucial role in his life. He is considered to be one of the most powerful Hindu gods in India.
Celebrations on Hanuman Jayanti began early in the day with special puja being performed by devotees. Devotees perform holy Puja in temples dedicated to Sri Hanuman or at Home. People in India organize special prayers for Lord Hanuman to get rid of evil spirits. God is known for its magical powers. Prayers and Hymns are sung all day long in various Hanuman temples dedicated to the lord. Hanuman is considered as a symbol of power and great strength in Hindu mythology. On auspicious day of Hanuman Jayanti, People apply red Sindoor from Lord's feet on their foreheads. This is considering being a ritual for good health and good luck.
18. Guru Purnima
Guru Purnima is the day devotees offer puja (worship) to their Guru. This was also the day when Vyasa, author of the Mahabharata was born.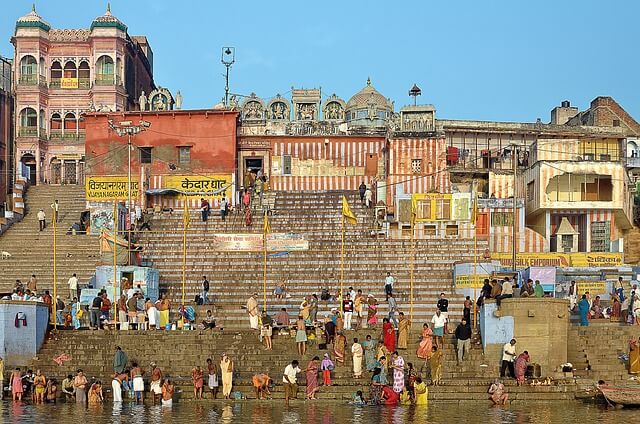 19. Mahalakshmi Vrata
Mahalakshmi Vrata is a puja performed by married Hindu women to seek the blessings of Mahalakshmi, goddess of wealth and prosperity.
20. Krishna Janmashtami
Krishna Janmashtami is the Hindu festival celebrating the birth of Krishna. It is actually called as Krishna Jayanthi. The date falls not only on the eighth day of the waning moon of Bhadrapad but always on Rohini Nakshatra. Janmashtami, the birthday of Lord Krishna is celebrated with great devotion and enthusiasm in India in July or August. According to the Hindu calendar, this religious festival is celebrated on the Ashtami of Krishna Paksha or the 8th day of the dark fortnight in Bhadon. Sri Krishna is considered as one of the most powerful human incarnations of the Lord Vishnu. He was born around 5,200 years ago in Mathura.
The sole objective of Sri Krishna's birth was to free the Earth from the evilness of demons. He played an important role in Mahabharata and propagated the theory of bhakti and good karma which are narrated deeply in the Bhagwat Geeta. Sri Krishna was born in a prison in the custody of Kansa. Vasudev, His father immediately thought of his friend Nand and decided to hand over his child to him to save Krishna from the clutch of Kansa. Krishna grew up in Gokul and finally killed his uncle, King Kansa.
The actual celebration of Janmashtami takes place during the midnight as Sri Krishna is believed to be born on a dark, stormy and windy night to end the rule and violence of his uncle, Kansa. All over India, this day is celebrated with devotional songs and dances, pujas, arti, blowing of the Conch, and rocking the cradle of baby Sri Krishna. The Janmashtami celebration of Mathura and Vrindavan, the places where Sri Krishna had spent his life, are very special. On this day temples and homes are wonderfully decorated and illuminated. Night long prayers are offered and religious mantras are sung in the temples.
21. Radhastami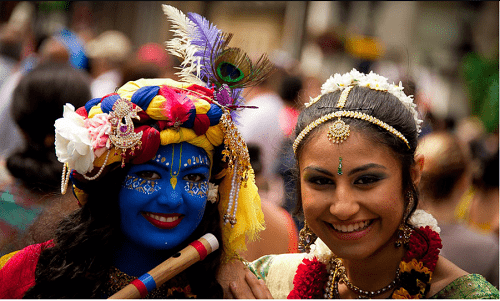 Radhastami is celebrated all across India especially in Northern India on Bhadrapad Shukla Paksha Ashtami as the birth anniversary of Goddess Radha, consort of Lord Krishna.
22. Ganesh Chaturthi
Ganesh Chaturthi is celebrated as the arrival of Ganesh on the earth. It is a very important festival in Maharashtra. Ganesh Festival celebrated in Pune in a very traditional way.
23. Kartik Poornima
A unique festival is celebrated in Varanasi this day which is called Dev Devali. The Kartik Purnima festival also coincides with the Jain light festival and Guru Nanak Jayanti.
24. Skanda Sashti
Skanda Sashti is decided on lunar month during the sixth day of Karthika Masam (October–November). It is one of the most important festivals dedicated to Lord Murugan the second son of Shiva. This festival is celebrated the victory of Murugan against the Asuras.
25. Karthikai Deepam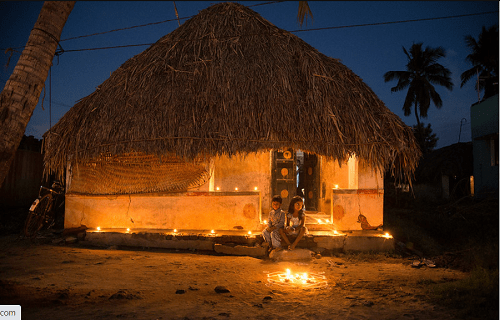 Karthikai Deepam is an ancient festival of lights celebrated by Tamil Hindus on the full moon day of Karthikai month (November/December). This occurs on the day when the moon is in conjunction with the constellation Karthigai (Pleiades) and Purnima. It is the same as Kartik Poornima; however, since Tamils follow the Hindu Solar calendar with correction for precession of the equinoxes, the Tamil date matches the actual constellation.
26. Kumbh Mela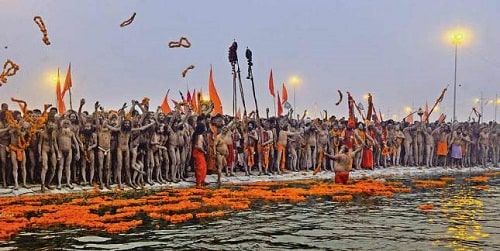 The Purna (complete) Kumbh takes place every twelve years and is an ordinary large Kumbh Mela. The Ardh (half) Kumbh Mella, a smaller Kumbh Mela, is celebrated every six years. The normal Kumbh Mela is celebrated every 4 years. The Maha (great) Kumbh Mela, a special large Kumbh Mela, occurs every 12 'Purna Kumbh Melas', or 144 years.
27. Godavari Pushkaram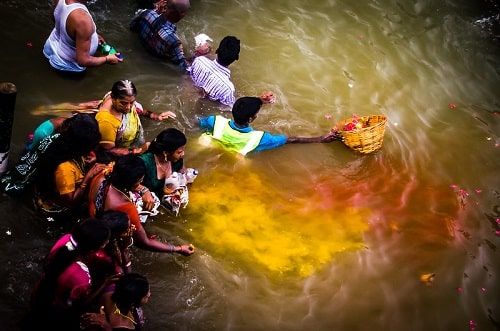 Godavari Pushkaram or Godavari Pushkaralu is most commonly stated as it is the festival of the river Godavari. The main significance of this Godavari Pushkaralu is that It occurs once every 12 years in other words called Pushakara. The river Godavari took its birth at triambakeswar of Nasik which is located in Maharashtra state. It flow along the various regions of Telangana and Andhra Pradesh and finally flows into the Bay of Bengal. Maha Pushkaralu which comes once in 144 years.
28. Naga Panchami
Naga Panchami is a traditional worship of snakes or serpents observed by Hindus throughout India, Nepal, and other countries where Hindu adherents live.
CONCLUSION:
Thus Hindu festivals are celebrated with much joy and interest by the Hindu people in India and people from all over the world. Though certain changes were there towards celebrating Hindu festivals in ancient times and in the current trend, the joy of celebration remains the same. The bhakti observed in celebration also doesn't change.