Finding a cardiologist near you is now easy with eminent web portals that lists Top 10 best cardiologists in Hyderabad. Trending Newswala helps people in prompt and early diagnosis of cardiac problems and take immediate help in mitigating the complications of cardiac disorders. Most of these cardiologists are also best heart surgeons who could handle complex heart problems through minimal invasive techniques.
Cardiology is one of the most popular branches in medical sciences getting popularity day by day. Here we have mentioned best cardiologists in Hyderabad who can be referred to for routine and emergency cardiac issues. Also, good enough that there are some of the best heart surgery hospitals in India and some really good heart surgery hospitals in Hyderabad, that have some of the best cardiologists in Hyderabad, working in them.
1. Renova Neelima Hospitals
Renova Neelima Hospitals is the brainchild of a young couple of doctors, Dr. P. Neelima, a gifted and noted gynaecologist and Dr. P Srinivasulu, a leading anaesthetic and critical care expert. RenovaNeelima Hospitals derives its name from Dr.Neelima, one of the two founders who started the hospital as a humble 5 bedded medical facility in a modest dwelling in the year 2009.
Making a humble beginning in a modest two-room facility, Neelima, driven by the highly motivated and dedicated doctors, took fast paces and in a small span of eight years developed into a 50 bedded budget-hospital.
Contact Details
Address : # 7-2-1735/A, Opp: Voltas Company Pvt Ltd, Czech Colony, Sanath Nagar, Hyderabad – 500018. Telangana.
Contact : 040-21111100|
Website : https://neelimahospitals.com/
2. Vinn Hospital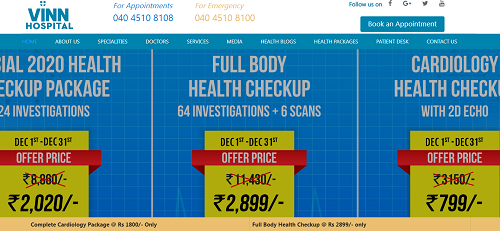 Back in 2012, when Dr Vinayak Pampati, right after earning his advanced degree, straight away knew in his mind a goal for his future. The same future was a plan to introduce and execute facilities for his beloved City of Hyderabad and its people that will provide health care of world-class quality, something the city has never seen before.
Dr Pampati has dedicated his life not only in the pursuit of medicine but as a leading man to provide with healthcare solutions to the people who most importantly deserve to be among those in India's other cities and deserve the same quality of treatments and facilities for their many health care issues.
Contact Details
Address : #7-1-21, Railway Station Rd, Uma Nagar Begumpet, Hyderabad, Telangana 500016
Contact : 040 4510 8100
Email Id : [email protected]
Website : https://vinnhospital.com/
3. Thumbay Hospital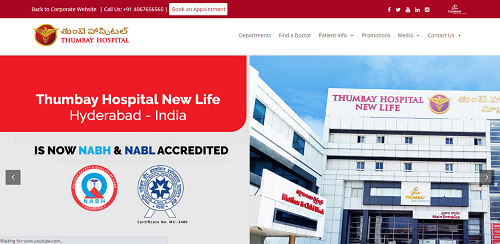 Thumbay Hospital New Life is an ultramodern multispecialty hospital owned and operated by Thumbay Group UAE, which is one of the largest healthcare providers in the UAE. Thumbay Group's hospitals are renowned for the high-quality healthcare delivered, with the most modern equipment and cutting-edge technology combined with expert doctors, technicians and nursing staff with extensive experience.
Thumbay Hospital New Life aspires to emerge as the leading super specialty facility in the region. It is conceived as a 'family' healthcare facility where high quality healthcare is delivered at affordable costs. Thumbay Group also aims to make it a hub of Medical Tourism, as well as a leader in healthcare/medical training. Many more super-specialties would be added to the hospital, in the next two years.
Contact Details
Address : Chaderghat(500024), Hyderabad Telangana, India
Contact : +91 40 6765 6565
Email Id : [email protected]
Website : https://thumbayhospital.com/
4. Remedy Hospitals
A unit of Albha Health Care Pvt Ltd, Remedy Hospitals offers a wide range of highly specialised medical, surgical and diagnostic services in diverse specialties. Managed by a team of internationally qualified and experienced healthcare professionals, Remedy Hospitals provides compassionate, family centered and quality medical care at affordable costs, adheres to high moral and ethical standards and is committed to all-round holistic excellence. Egion and one of the best in the city..
As we focus ahead, we remain committed to provide the finest of medical care, while keeping abreast of the latest in medical technology and care.
Contact Details
Address : Road No 4, K P H B Colony, Kukatpally, Hyderabad
Contact : 040 – 4141 8787
Email ID :
Website : https://remedyhospitals.in/
5. Premier Hospital
Since the inception of Premier Hospital in 1991 till today, we have grown to unprecedented levels, due to our excellence in medical sciences and healthcare. Premier Hospital is the creation of Dr Mahesh Marda and when it was first established, was only a small, 30-bed hospital facility. Back then, we provided only secondary care to patients, but that certainly has changed in the present landscape
We at Premier Hospital have, however, maintained our one great idea from the time we established till today, to make this a place for personalised Medicare and to develop a positive patient relationship. In helping to maintain that idea, our doctors and para-medical staff have worked very hard to provide and improve the standard of our treatments over the years for patients and thus preserving the missionary zeal of our name.
Contact Details
Address : 12-2-718, Khader Bagh Road, Toli Chowki, Padmanabha Nagar, Mehdipatnam, Hyderabad, Telangana 500028
Contact : +91-77020 01163
Email Id : [email protected]
Website : https://www.premierhospital.in/
6. Gleneagles Global Hospitals
Gleneagles Global Hospitals is part of Parkway Pantai, a fully owned subsidiary of IHH Healthcare. In India, Gleneagles Global Hospitals operates a chain of multi-super specialty hospitals offering tertiary and quaternary healthcare services with over 2,000 beds and state-of the-art, world-class hospitals in Hyderabad, Chennai, Bangalore and Mumbai. A pioneer in kidney, liver, heart and lung transplants, Gleneagles Global Hospitals provides comprehensive multi-organ transplant services in the country.
Gleneagles Global Hospitals aims to strengthen and expand its leading market position as a destination for multi-organ transplant for patients from India, Middle East, Africa and South East Asia. We are committed to further our aspiration of making quality health care more accessible to all.
Contact Details
Address : Sagar Road, LB Nagar, Hyderabad - 500 035, Telangana
Contact : +91 40 2411 1111
Email ID :
Website : https://www.gleneaglesglobalhospitals.com/
7. Medisys Hospitals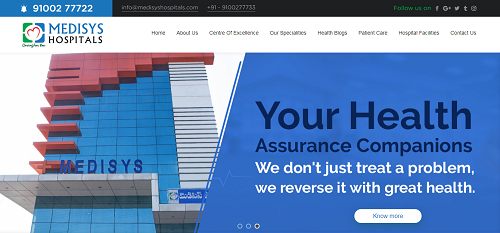 Medisys Hospitals is a growing super speciality hospital in Hyderabad and Cardiologist Hospitals in Hyderabad that represents the vision and mission of a group of highly qualified and experienced veteran medical professionals. Started in June 2016, it is a 200-bedded hospital with all medical and surgical specialities available. We rely on our in-house state-of-the-art diagnostic and therapeutic possibilities to provide high level care for our patients.
Contact Details
Address : Plot no 1-5, New Mallikarjuna Nagar, LB Nagar, National Highway 65, Near Chintalakunta Check post, Hyderabad, Telangana 500074
Contact : 91002 77722
Email Id : [email protected]
Website : https://www.medisyshospitals.com/
8. Prathima Hospital
PRATHIMA Group is multifaceted business house with interests in the healthcare, education, energy, telecom, hospitality, & entertainment, real state, and manufacturing sectors. The group is driven by an unwavering mission to make a positive impact on the quality of life of every Indian.
At PRATIMA, we have an illustrious track record of delivering unparalleled medical education and healthcare services since 15 years Prathima Hospitals ranked as the best Cardiologist Hospitals in Hyderabad. As part of our blueprint for future expansion, we are escalating our bed strength to 1500 by introducing our cutting -edge and contemporary multi-specialty multi-speciality hospitals in the prime centers of Hyderabad at Kachiguda and Kukatpally.
Contact Details
Address : #3/4/3 Station Road Kachiguda Hyderabad - 500 027
Contact : +91 40 4345 4322
Email Id : [email protected]
Website : https://prathimahospitals.com/
9. Russh Super Speciality Hospital
RusshHospital is a leading multi-speciality hospital and Cardiologist Hospitals in Hyderabad situated in the heart of Hyderabad City at Suchitra cross road providing comprehensive, high quality and ethical medical care to people. The 150 bed multi disciplinary super speciality hospital was started with the objective of providing world class healthcare services and specialized medical facilities at affordable costs. Russh hospital is prompted by a team of experienced doctors to provide a quality medicare at affordable rates with 150 beds in - patient capacity with all medical services under one roof.
Providing round the clock services with highly qualified, Dedicated Medical team with well-equipped casuality, AMCU, ICCU, SICU, PICU, NICU and Other wards with diagnostics, Pharmacy and cafeteria. Our casuality, Operation theatres and intensive care units are fully equiped with modern emergency infrastructures to manage all poly trauma, Stroke, Accident, Poisons, Burns and other Emergencies.
Contact Details
Address : H.No. 2-181/2/C Suchitra Circle NH-44, Hyderabad-500067
Contact : (+91) 40 4444 1111
Email Id :[email protected]
Website : https://www.russhhospital.com/
10. Challa Hospital
Challa Multi-speciality Hospital believes in "Patient First". Our hospital is designed for patient's comfort and convenience. We are on the fore front of developing new laparoscopic techniques for the treatment of various illnesses by Minimal Access Surgery. We continually seek to leverage technology to enchane patient care and outcomes. Our hospital focuses on delivering the very best care to each patient through a team of outstanding, patient friendly highly skilled surgeons and care givers.
Contact Details
Address : 7-1-71/A/1, Dharam Karan Road Ameerpet, HyderabadTelangana - 500 016.
Contact : 040 6746 8361
Email Id :[email protected]
Website : http://www.challahospital.com/
11. Hyderabad Dialysis
We at Hyderabad Dialysis comprise a team of nephrology specialists- Doctors, nutritionists, nurses, and technicians with over years of experience. We are committed to providing our patients with high-quality, cost-effective care and work hard towards retaining their normal life. Our approach is unique. We work towards delaying the progression of the disease and then looking at other treatment plans.
Contact Details
Address : Deccan hospital somajiguda : 6-3-903/A, somajiguda, Hyderabad - 82
Contact : 9849206433
Email Id : [email protected]
Website : https://hyderabaddialysis.com/