About Bandra
Bandra: The world of storytellers and is one of the coolest locations in Mumbai and the hometown for Bollywood superstars. Any Mumbai darshan is incomplete without a few hours in Bandra and being a Mumbaikar or someone residing from other places you must at least visit Bandra at once. The area's old-world bungalows sit alongside chic fashion boutiques, wall murals, and street stalls. The neighborhood of Bandra West in Mumbai offers plenty of things to do such as shopping, nightlife, and cultural experiences.
Things to Do Near Bandra

Places To Visit In Bandra
1. Bandra-Worli Sea Link
You would have definitely seen this Bandra-Worli Sea Link in Bollywood films and TV serials. It is not only a famous landmark but also a favorite film shooting location in Mumbai. Bandra-Worli Sea Link which connects Bandra to Worli is one of the most beautiful man-made wonders in Mumbai.
2. Bandstand
One of Mumbai's most popular landmarks, this 1 km stretch on our western coast is a blessing. This spot is famous for couples and people who love the sound of ocean waves. It is simultaneously a popular hangout spot, a jogging track, and a park.
3. Mount Mary Church
The Basilica of Our Lady of the Mount, more commonly known as Mount Mary Church, is considered to be one of the oldest in the city of Mumbai. The church stands on a hillock, about 80 meters above sea level off Bandstand overlooking the Arabian Sea.
4. Linking Road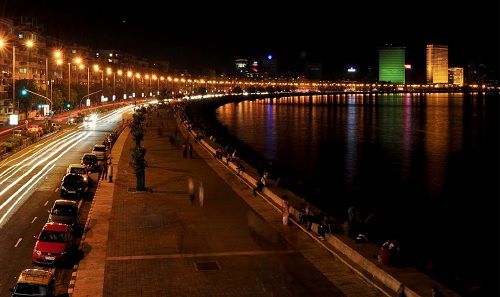 Linking Road one of the famous shopping destinations for Mumbaikars and is famous for its affordable rates and funky and trendy wears. Many teenagers visit this place and are all-time crowded. The road is filled with colorful shops where you can happily bargain and get some amazing stuff. It is also the road which links the suburbs of Bandra and Juhu in Mumbai.
5. Bandra Fort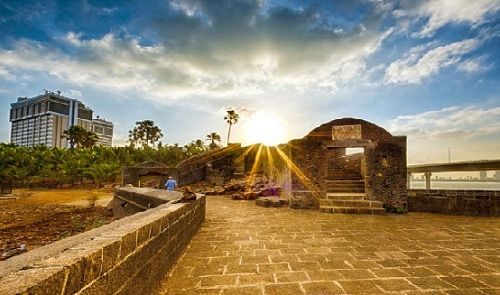 One of the fascinating aspects of Bandra is its history, which is a mix of Portuguese Catholic, British, and Indian cultures and sensibilities. Restored 17th-century Bandra Fort, which hosts music performances, is at one end of waterfront Bandstand Promenade, a popular meeting point, and a famous tourist destination.
6. Jogger's Park
Jogger's Park is ideal for early morning or evening stroll in Bandra. This is a seaside park with walking tracks. Jogger's Park is definitely a hub for locals who love to walk around in this age-old park. Visitors can find the Jogger's Park next to the Otters club across Carter Road.
7. Chapel Road
Ever wanted to click photos with a funky background. Chapel Road is one of the best places where you can find funky graffitis on the wall by street artists. Old-style cottages jostle with flats rented by ex-pats and creative types, a wave of graffiti enlivens peeling walls, old-school bakeries sell Goan Pao alongside home cooks passing on puffs and marzipan from their living room.
8. St. Andrews Church
Constructed in the year 1575, the St. Andrew's Church in Bandra is one of the oldest churches in all of Mumbai. The Portuguese Jesuit structure has withstood a number of historical events, including a cyclone in 1618 and the Maratha invasion of 1739, during which the Church of St. Anne, an even older church, was destroyed. The church draws hundreds of devotees and visitors and was Bandra's only major church for nearly a century after the Maratha invasion.
9. Bandra Reclamation
A neighborhood constructed on the reclaimed ground, Bandra Reclamation is one of the most modern pockets of Bandra and is home to a number of popular restaurants, pubs, and bars. In particular, this pocket is famous for a number of great craft beer breweries, such as the Doolaly Taproom.
Places to Eat In Bandra
1. Pali Bhavan
Designed to resemble a stately nobleman's home that's lost in time, Pali Bhavan replaces the Boat Club next to Costa Coffee in Bandra West's Pali Naka. Vintage photographs, carved wooden furniture, and chandeliers have all been used to create a rustic yet elegant look.
2. Pali Village Cafe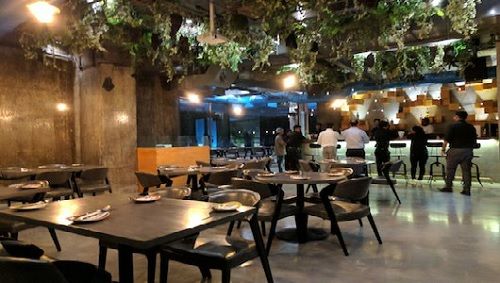 This cool breakfast and brunch restaurant in Bandra West was conceptualized by the same team as Pali Bhavan. It's housed in a converted furniture store tucked away next to the legendary Janata bar on Pali Hill, and has a similar feel to Pali Bhavan with fabricated vintage interiors giving the ambiance of being in an old bungalow. What's different is the menu. It's European, with a variety of pasta, pizzas, grills, salads, and sandwiches.
3. Good Luck Cafe
Located near Mehboob Studio, Good Luck Café is a typical Irani joint. This café can be your go-to for a quick, filling breakfast. They serve amazing Keema Pav with Omelette, Bun Maska and tea. The place is high on taste and light on your pocket. Their special dishes include Haleem Beef.
4. Vortex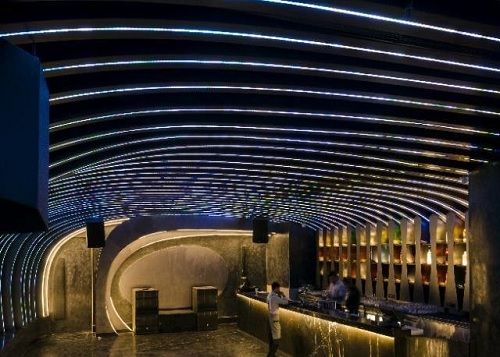 VORTEX is Bandra's newest diner cum lounge bar with a live kitchen, fusion drinks, and a mouth-watering menu composition. If Bandra is your place to be, welcome the all-new Al Fresco, diner cum lounge bar – VORTEX. Offering unique dining concepts like a live kitchen, a clay oven, and a mouth-watering selection of cuisines, its the perfect spot for your weekend scenes.
5. Cafe Andora
A one-page menu at Café Andora lists over fifty dishes – most priced under Rs 100. So if you're hungry, broke, and in the mood to try multiple items, go here instead of Candies. They serve a variety of Chinese dishes and mini-bites like croissants and puffs.
6. The Bagel Shop
The Bagel Shop has a deceptively simple name. This buzzing cafe behind Carter Road serves more than just "Bread for Your Head," and is more like a creative community than a shop. Entrepreneurs, freelancers, filmmakers, writers, and DJs all chill out in its rambling restored bungalow.
7. Carter Road shawarma
Open till 1 a.m. every day, Carter's Blue roadside stall serves up some of Mumbai's meanest shawarmas and rolls. At Rs 100, they're worth every bite.
8. Lucky Restaurant
People come to Lucky Restaurant for many reasons: the greasy masala-filled biryanis, the Mumbai spinoff of northern Indian food, the sense of suburban history. We would recommend you to visit this 70-year-old establishment for the famous caramel custard (Rs 50).
9. American Express Bakery
American Express Bakery, a landmark Goan establishment on Hill Road, is probably older than most of the Bandra's residents. You can't beat the value-for-money snacks here, especially the sandwiches, quiches, patties, and rolls -- all available in a chicken or mutton option
10. Farmer's Cafe
Are you one a diet but still want to eat those tasty pizzas. Well, this is the best place where they serve healthy pizzas. Farmer's Cafe on Linking Road has put a healthy spin on your favorite fast food item. They have a range of pizzas, but all in a healthy form so you would be feeling refreshed and detoxified instead of bloated. Their pizzas contain ingredients like avocado, spinach, brown rice, veggies, and many more healthy items.
School & Colleges
AIG Academy ( Online, Regular & Distance Learning University )
Build a career filled with great opportunities with an MBA degree by AIG Academy in Mumbai. Whether you are a student looking to continue your studies or a working professional desiring for a degree along with a job, Online MBA in Bandra by AIG Academy can fulfill your every need. You can pursue this MBA course sitting at your comfort zone. Distance MBA with an AIG Academy comes with various specializations. The best part of AIG Academy is that it also offers an MBA in one year degree where you can save your year gap and pursue your degree in just one year.
2. St. Andrews College
St. Andrew's College is a Roman Catholic college in the Bandra suburb of Mumbai, India. The college was inaugurated on 9 July 1983 by Simon Pimenta, Archbishop of Bombay, with 194 students. The college is basically an undergraduate college offering junior and degree courses with a student strength of over 4,000.
3. Rizvi Engineering College
Rizvi College of Engineering is a private engineering college, located in the Bandra suburb of Mumbai, in the Maharashtra state of India. It was established in 1998 and is managed by the Rizvi Education Society. It is a Muslim religious minority college.
4. Fr. Conceicao Rodrigues College of Engineering
Fr. Conceição Rodrigues College of Engineering, is an engineering college in Mumbai, India. It is located at Bandstand in Bandra. The college is situated in Bandra West Mumbai, Maharashtra, India. It is ranked among the top 200 engineering colleges in India by National Institute Ranking Framework (NIRF).
5. L. S. Raheja School of Architecture
L. S. Raheja School of Architecture is one of the esteem pioneer institutions imparting education in the field of Architecture.L.S Raheja School of Architecture was established in 1953 in Mumbai, Maharashtra by its parent trust "Bombay Suburban Art and Craft Education Society".
6. Chetana College
Chetanas Hazarimal Somani College Of Commerce & Economics and Chetana's Institute of Management & Research commonly known as Chetana College. This college offers various undergraduate and postgraduate courses.
7. R.D National College
Rishi Dayaram and Seth Hassaram National College and Seth Wassiamull Assomull Science College, popularly known as R. D. National College or simply as National College, is an education institute on Linking Road in Bandra, Mumbai, Maharashtra, India. It is affiliated to the University of Mumbai and the first of twenty-four institutions established and managed by the Hyderabad (Sind) National Collegiate Board (HSNCB).
8. Mount Mary Convent High School
Administered by Congregation of the Franciscan Hospitaller Sisters, this convent school caters to the scholastic needs of the students as well as acknowledges greater importance to Physical training, sports and games, and other co-curricular activities. This English-medium school is affiliated to SSC Board.
9. St. Anne's High School
One of the oldest schools in Mumbai, this convent school was founded in 1916 under the aegis of the Church of Our Lady of Lourdes. It is a privately administered government-aided institution and is recognized by the Maharashtra State Board of Education.
10. Springfield High School
Set up in 1995, this English-medium school is founded and managed by the Rizvi Education Society. The medium of instruction is English and the school is affiliated to SSC Board. Equipped with IT and science labs and library, the school is one of the forces to reckon with in the Bandra area.
11. The American School Of Bombay
Established in 1981, the American School of Bombay is a co-educational, day school of approximately 750 students and 150 educators. The school follows an international curriculum of International Baccalaureate (IB).
Hospital & Medical centre
1. Vcare Imaging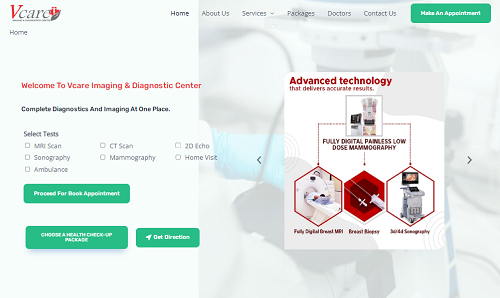 Our mission is to provide world-class facilities and strive to provide timely & accurate reports with compassion & care. Our Radiologists work hand in hand with our highly trained technologists to ensure you are at ease during your routine.
A Premier Health Care Provider with Multiple diagnostics lab near me & Imaging Services Under One Roof. Fully Automated Computerized Laboratory with End to End Diagnostic Centre in Bandra and Imaging Solutions Under One roof. Our Experienced and Dedicated Team Make Sure You Receive the Most Effective Treatment in Those Times of Worry.
Contact Details:
Phone: 9819577304
Email: [email protected]
Website: https://vcareimaging.in/
Car Repair Company

Carfixo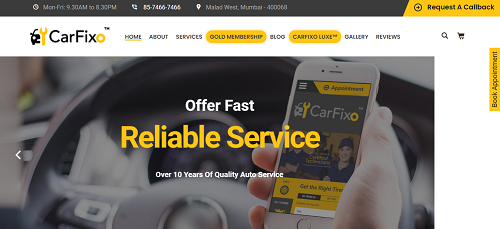 CarFixo is a leading professional Multi Car Workshop and Automotive Service Company known for providing a full range of top-quality car repairs and world-class maintenance services in Mumbai, Navi Mumbai, and Thane.
At CarFixo, we are backed by an adept team of highly-skilled and well-trained automobile engineers and experienced technicians who employ cutting-edge technology and advanced equipment to deliver seamless and reliable car services.
We are a one-stop solution for all your car repair and maintenance needs. Experience true comfort and convenience by getting a free car inspection and diagnosis at your doorstep and our contactless and free pickup and drop-in services.
Contact Details
Mobile No : 85-7466-7466
Website : https://carfixo.in/
Pest Control Service
1. Mumbai Pest Control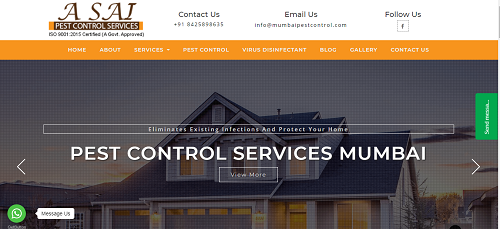 When A Sai Pest Control Services Bandra began their herbal pest control business decade ago, they had two goals in mind: To provide quality herbal pest control services in Mumbai, Thane, Navi Mumbai, Kalyan and furnish superior customer service. Today, over a decade later, A Sai Pest Control Mumbai, Thane, Navi Mumbai is still committed to that mission. It is the name you can trust to protect your business or home against pests like rodent control, termite treatment, bed bugs treatment, birds and mosquitoes control, cockroach and ants control treatment.
As the trusted commercial pest control company in Mumbai, A Sai Pest Control Thane has provided peace of mind against pests ever since we opened our doors for business from last 18 years.
Contact US
Address : Shop No.6, 1st Floor, Rajiv Gandhi Market,Khopat, Thane (West) - 400601
Mobile : +91 8425898635
Email ID : [email protected]
Website : https://www.mumbaipestcontrol.com/
2. Eco Friendly Pests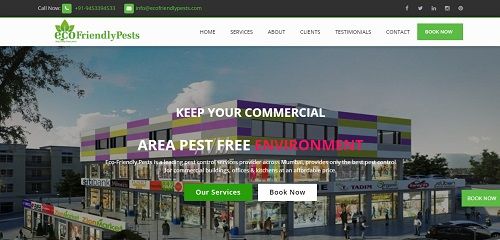 EcoFriendlyPests is the most popular pest control company that provides Pest control services in Bandra. It's started a pest control business in Mumbai and later move to other locations such as Thane, Navi Mumbai, and Pune many years ago. Our mission is very clear, straightforward, and direct that we will help us to provide you a hygienic pest control services near your place. Also, anyone can get our best pest control services at an affordable price and 100% safe for your family member, pets, and environment at your places. EcoFriendlyPests continuously provide organic pest control solutions through our best and experienced pest control technicians team.
EcoFriendlyPests is an in-house pest control experts team who has been many years of experience, expertise in his field, and the most important thing is a well-behavior and very simple. Our team will visit your place once you request a pest treatment and they do a complete inspection. After that, as per the investigation of the place and the required pest control treatment, they decide which will be the best possible way to eradicate dangerous pests from your home. We use government-approved chemicals and spry to eradicate all kinds of dangerous pests at your place. Our chemicals are safe for humans, pets, children, and pregnant women at your home. EcoFriendlyPests provides Pest control services in Bandra for both commercial and residential places.
Contact US
Address : D.N. Dube Road, Rajesh Compound, Dahisar East
Mobile : +91-9453394533
Email ID : [email protected]
Website : https://ecofriendlypests.com/
3. Elix Pest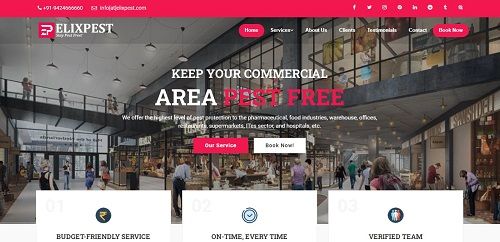 Elix Pest is a leading pest control company in Bandra. We're a team of experienced professionals, police verified, and intensively trained members in-house. We use high-quality and goverment-approved chemicals and eco-friendly gel and safe spray.
We're playing a vital role in the Pest control service in Bandra, Maharashtra, and other locations such as Navi Mumbai, Thane, Pune, India. We're an ISO-certified company, our professional's pest technicians are verified by Government (Police Verified), highly qualified, intensively trained team, and provide eco-friendly and safe pest control at an affordable price. Customers are happy with our pest services, commitments, working process, and behavior of our professional pest control team.
We're partnering with prominent pest control companies across Bandra such as Pepcopp.co.in and other reputed pest control companies to do the best pest services to our clients.
Contact US
Address : Room No 4, D. N. Dube Road, Ratan Nagar, Dahisar, Mumbai 400068.
Mobile : +919424666660
Email ID : [email protected]
Website : https://elixpest.com/
SSD Pest Control Service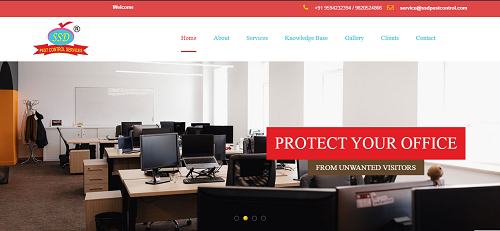 Established in the year 2018, we, SSD Pest Control In Bandra, are engaged in providing effective services for pest control. we have specialized in offering residential, commercial, marina and corporate pest control services. SSD Pest Control Services Company, is looking to set new global standards in providing all sort of facility management services at affordable cost by developing innovative pro-environmental superior technologies. Every dwelling is entitled to get facility management services to improve quality of living and to have quality time in their family and business. We wish to equip ourselves to serve every dwelling in the Globe.
The experienced and dedicated service team offers customer friendly service which is technically superior and environment friendly. With continuous research and developmental activities we are at process of developing eco friendly low cost technologies for pest control.
Contact Details
Mobile No : 9594232394
Email ID : [email protected]
Website : https://ssdpestcontrol.com/
Top Companies
1. Lupin
2. Fineotex Chemicals ltd.
3. One Webtag Media
5. Study Abroad Consultants In Bandra