Chennai has many excellent hospitals that specialize in cardiac care. These top 10 cardiologist hospitals are known for their experienced staff, advanced facilities, and quality care, making them great choices for patients seeking high-quality cardiac care.
Chennai is home to many renowned hospitals that specialize in cardiac care. If you're looking for a top-quality cardiologist hospital in Chennai, here are the top 10 options to consider.
Top 10 Cardiologist Hospitals in Chennai
1. SIMS Hospital
SIMS Hospital, Chennai renders 360 degree advanced tertiary healthcare services with multi-super speciality and a state-of-the-art multi-organ transplant service. With the finest combination of experience, expertise, state-of-the-art technology and well-coordinated patient-centric teamwork, every step is aimed at ensuring excellence in patient care.
The hospital strives to establish trust and excellence, following in the footsteps of the SRM Group- a large conglomerate with a leading presence in education, medical, transport and infotainment. SIMS Hospital, Chennai's vision is to offer an advanced full range of primary and speciality care medical care services as well as enabling cross speciality consultation for unmatched patient experience.
Contact Details
Address : No.1, Jawaharlal Nehru Salai (100 Feet Road), Vadapalani Chennai – 600 026.
Contact : +91 44 4921 1455
Email Id : [email protected]
Website : https://simshospitals.com/
2. Be Well Hospital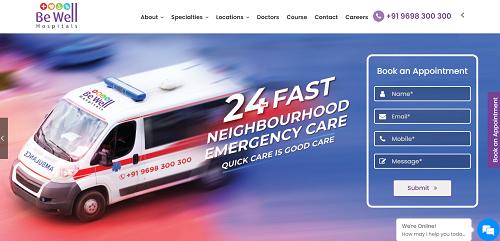 Some sparks can lead to a positive revolution. Here is one such story. The success of Be Well Hospitals is driven by the commitment of Dr. C.J. Vetrievel and Mr. C. Lakshmanan. Dr.Vetrivel provides the holistic as well as healthcare perspective and Mr.Lakshmanan is engaged with the financial backbone needed to support such a venture. Together they work to keep the high quality services of Be Well, affordable and accessible.
The unwavering focus of the Management has been to provide patient-centric care in underserved geographies. The first Be Well hospital was started in Pondicherry, a Union Territory in the state of Tamil Nadu, in 2011, saving the local patients from travelling long distances for treatment. That was the beginning of their inspired journey. Seven more hospitals have been added to the network since, benefiting thousands more every day. And the network is growing.
Contact Details
Address : No. 2 (old door no. 5), Vijayaraghava Road (First Street),
T.Nagar, Chennai-600017.
Contact : +91 9698 300 300
Email Id : [email protected]
Website : https://bewellhospitals.in/
3. Promed Hospital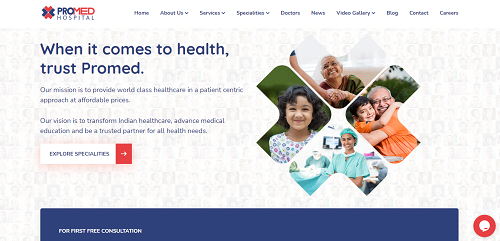 Promed is a multispeciality hospital & diagnostic centre with a focus on delivering trustworthy and ethical medical care. We pride ourselves in providing well trained and experienced physicians in combination with courteous staff and state of the art infrastructure.
Contact Details
Address : 1/10A, East Coast Road, (Near Shraddha Children's Academy) Kottivakkam, Chennai – 600 041.
Contact : +91 – 44 43591199
Email Id : [email protected]
Website : https://promedhospital.com/
4. BM Hospital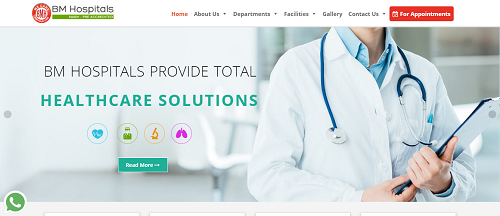 "Our mission is to bring international quality to healthcare for the benefit of every patient. We are committed to continually improve the quality of patient care, excellence in maintenance of infrastructure and upgrading the standards of all doctors serving in BM Hosptials." Founder Dr. V. Thiagarajan and Dr. Vasundra Thiagarajan Patient care at BM Hospitals is all about the best available Medical Expertise, state-of-the art technology and that little extra term "We Care" which makes us what we are. We work to improve every aspect of patient care, which is core health care delivery.
Contact Details
Address : No. 36, 5th Main Road, Thillai Ganga Nagar, Nanganallur, Chennai-600061.
Contact : +91-44-22671182
Email Id : [email protected]
Website : http://www.bmhospitals.com/
5. Dr.Mehta's Hospitals
Dr.Mehta's Hospitals are widely recognized as a leading Healthcare provider in India. With over 8 decades of expertise and experience in healthcare, we have helped heal consumers across generations. Our focus on consumer health, safety and infection control has helped us deliver top quartile clinical outcomes consistently and ensured that we have helped heal over tens of millions of our consumers over the last century. Dr.Mehta's is widely respected as amongst the safest and healthiest birthing locations in the country having helped deliver over 500,000 babies family smiles. Our Pediatric Hospital has been recognized by clinicians and consumers as a leader across India. Our General Hospital is the oldest and most experienced private hospital in India and is on the list of top 30 on the planet.
Contact Details
Address : No.2, McNichols Rd, 3rd Lane Chetpet, Chennai - 600 031 Tamil Nadu, India
Contact : +91-44-4227 1001 - 1005
Website : https://mehtahospital.com/
6.  Bharathirajaa Hospitals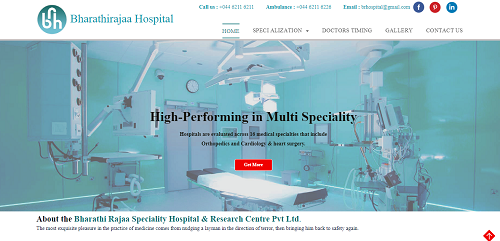 Bharathi Rajaa Hospitals (P) Ltd., Situated in Chennai often called the Mecca of Medicine, this super-speciality hospital has state of the art infrastructure, equipped with the latest technology, staffed with dedicated professionals, patient friendly comfortable ambience and safe proven processes. With more than a decade of experience in delivering affordable health care to domestic patients at the old Bharathiraja Hospital, the new hospital is poised to take off to deliver international standards of health care to overseas patients seeking quality and value based health care in India. It is set to become the most progressive hospital in this part of the world.
Contact Details
Address : No.20, G.N.Chetty Road, T.Nagar Chennai - 600017
Contact : +044 6211 6211
Email Id : [email protected]
Website : http://brhospitals.com/
7. Astra Speciality Hospital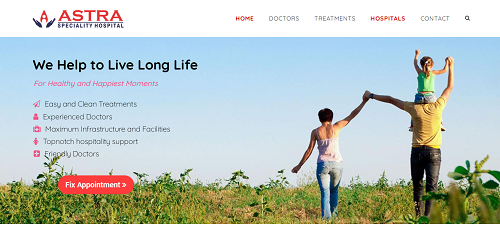 Being the Best Speciality Hospital in Chennai, we aim to deliver super speciality healthcare with cutting edge technology on par with international standards at the affordable cost. Our highly qualified, experienced team strives for perfection at all levels of patient care with empathy and honesty. Enhancing quality of lives is our endeavour. Astra hospital is easily accessible nearby areas of OMR, Sholinganallur and Medavakkam.
Contact Details
Address : 707, Sri Ganapathy Nagar Colony, Nookampalayam Link Road, Semmancheri, Chennai, Tamil Nadu 600119
Contact : +91 93848 68666
Email Id : [email protected]
Website : https://astrahospital.com/speciality/
8. Annai Arul Hospital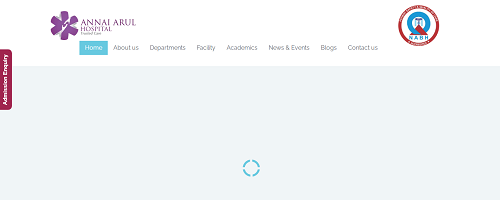 Annai Arul Hospital located at old Perungulathur on the Mudichur -Tambaram road is a Multispecialty Hospital in Chennai of 100 bed capacity, which provides the complete range of outpatient and inpatient treatment. Led by our Honorouble Chairman, Shri. J. Selvan a born philanthropist and successful entrepreneur who is ably assisted by our Director Dr.Joseph Jensingh Babu M.D., DNB whose dream is to make top-notch therapeutic services available to common man. No wonder that Annai Arul Hospital has been a success in the medical firmament since its inception.
Contact Details
Address : No: 270, Mudichur Road Old Perungalathur, Chennai Pincode - 600 063.
Contact : +91 44 71 700 700
Website : https://www.annaiarulhospital.com/
9. Hariharan Diabetes and Heart Care hospital (P)  Ltd
Hariharan Diabetes and Heart Care hospital (P)  Ltd is located at door numbers 24  and  26,  29th  Street,  Nanganallur, Chennai- 600061, at  a distance of just  1 km from Pazhavanthaangal railway station. It is well connected by road, rail, and air.  Started over 3  decades ago, on January  26, 1979, as an outpatient service, the hospital has grown to the present status as a multi-specialty hospital of great repute in  Chennai.  The hospital was founded by Dr.R.S.Hariharan  and  Dr. H.Kamala  on  16.10.1989  with  8  beds.
Dr. R.S.Hariharan believes in the words of Pandit  Jawahar Lal Nehru  "The future has to be built on the foundation laid in the past and the present". He also quotes the saying of Nehru " Time is not measured by the passing of years but by what one does, what one feels and what one achieves".
Contact Details
Address : 24 & 26, "Swathi" 29th Street, Nanganallur, Chennai – 600 061.
Contact : +91 44 2224 7720
Email Id : [email protected]
Website : http://www.hariharanhospitals.in/
10. St. Isabel's hospital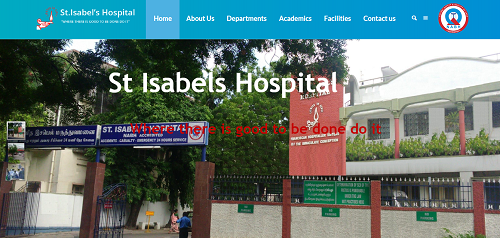 St. Isabel's hospital is today, a 300 bedded, acute-care, tertiary hospital with 21 clinical departments and six paramedical departments. The hospital runs a number of specialist outpatient clinics and specialised service centres, a medical records office, a health screening centre, pharmacies and other facilities providing a comprehensive array of medical services.
As a teaching hospital, St Isabel's Hospital provides medical education at postgraduate level, in some specialties. It also conducts medical seminars, Continuing Medical Education programmes and medicine-related events for doctors in practice to update their knowledge.
Contact Details
Address : No: 49, Oliver Road,Mylapore (next to Luz Church), Chennai-600 004, Tamil Nadu, India.
Contact : +9144 2499 1081/82/83.
Email Id : [email protected]
Website : https://www.stisabelshospital.in/