Island Peak Climbing is a conglomerate of the Island Peak, Everest Base Camp, Namche Bazaar, Gorakshep and Kalapathar.
The Everest Base Camp Trek and Gorakshep lie prior to the Island Peak. Gorakshep is situated in the Sagarmatha National Park. The Gorakshep village is a homeland of the Sherpa people who make their living majorly by mountaineering and guiding. Gorakshep is the starting point of the hike to Kalapathar. Kalapathar literally means 'black rock' in Nepali.  It offers trekkers the best view of Everest and in addition the view of Nuptse Nup II, Changtse and a part of Lhotse.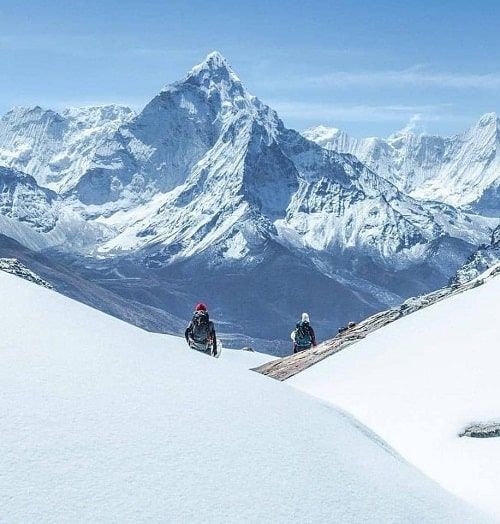 About Island Peak
lies in the Eastern part of Nepal. It is exactly located in the upper Imja Valley. It is also known as Imja Tse. The first climb to Island Peak was made in 1956 by a Swiss Team. The steep climbing during the Island Peak Climbing attempt shifts it to the category of difficult ones.
Namche Bazaar is located in the Khumbu valley. The Namche Monastery, Namche library, Museum of Sherpa life and the Namche bazaar (market) are the major places to visit in the Namche area. Namche is known among trekkers for being a place favorable for altitude acclimatization and the refilling center of their necessary stock. Traditionally, Namche Bazaar was a trading post. There is a lot of variety in lodging, food and communication facilities in the Namche area.
Go For Nepal has a nineteen days itinerary for the Island Peak Climbing.
Itinerary
Day 01: Arrival in Kathmandu (1,350m/4,428ft)
Day 02: Kathmandu (1300m/4264ft): Sightseeing and Preparation
Day 03: Fly to Lukla (2,800m/9,184ft) then trek to Phakding (2,652m/8,700ft): 40 min flight, 3-4 hours trek
Day 04: Phakding to Namche Bazaar (3,440m/11,283ft): 5-6 hours
Day 05: Namche Bazaar (3,440 m/11,283 ft): Acclimatization Day
Day 06: Namche Bazaar to Tengboche (3,870m/12,694ft): 5- 6 hours
Day 07: Tengboche to Pheriche (4,200m/13,776ft): 4-5 hours
Day 08: Pheriche to Lobuche (4,930m/16,170ft): 5-6 hours
Day 09: Lobuche to Everest Base Camp (5364m/17,594ft) and back to Gorak Shep (5170 m/16,961ft): 6-7 hours
Day 10: Gorak Shep to Kala Patthar (5545m/18,192ft] and back to Lobuche (4940m/16,207ft): 7-8 hours
Day 11: Lobuche to Kongma La (5,535m/18,159ft) to Chhukung (4,730m/15,518ft): 6-7 hours
Day 12: Chhukung to Island Peak Base camp (5,200m/17,060ft): 3-4 hours
Day 13: Pre-Climb Training on Island Peak Base Camp
Day 14: Island Peak Base Camp to Summit and back to Base Camp (5,600m/18,372ft) 10-12 hours
Day 15: Island Peak Base Camp to Pangboche (3,985m/13,074ft) 5-6 hours
Day 16: Pangboche to Namche Bazaar (3,440m/11,286ft): 4-5 hours
Day 17: Namche Bazaar to Lukla (2,800m/9,186ft): 6-7 hours
Day 18: Fly to Kathmandu (1,350m/4,428ft)
Day 19: Final Departure
What is Included?
Cost Includes
All land transportation
4 Nights Accommodation in Kathmandu at a 3 or 4 star Hotel on bed & breakfast plan.
Full board meal basis during the Nepal trekking.
Govt trained guide and necessary no. of porters with their insurance, salary & meals.
Internal flight: KTM-LUKLA-KTM
1 night cultural show & dinner.
Sleeping bag & jacket for trek.
Kathmandu city sightseeing with city tour guide.
National park entry fees, climbing permit fee, professional Sherpa climber guide, TRC.
Cost Excludes
International air fare
City sights entrance fees.
Bar bills & personal expenses.
Airport Tax.
Emergency rescue charges if necessary.
Extra shower, battery re-charge fee, snacks, etc.
Personal clothing & gears.
Tips to guide and porter.
Cost raised by cancelation, landslide, weather, political unrest, illness which are not under our control.
Agency For Island Peak Climbing
1: Go For Nepal
We are a government authorized trekking company in Nepal. We offer best valued trip service to our customers. The varieties of services include trekking, hiking, climbing, cultural activities, and other adventure activities in Goa.
We also operate tailor made trekking itinerary as per our customers' requirement and budget. We offer both private trips and group joining trips to make our service criteria broad.
Go For Neal Treks and Expedition Company is a group of enthusiastic, competent and professional personalities. We provide expert trekking guide of specific region for specific trekking routes.
Contact Details
Email ID: [email protected]
Contact Number: +977 9841071401
Website: https://www.gofornepal.com/
2. Adventure Consultants
We at Adventure Consultants are a dedicated team of guiding professionals with a focus towards excellent logistical preparation and, above all, a passion for the environment in which we work. Our expeditions and treks are operated by companionable world class mountain guides, who offer you adventures that are completed in style; with quality, service and safety, at the forefront.
Our philosophy of only operating with small groups provides a more personalized service. This minimizes environmental impact and continues to have a proven advantage in our success rates, superior to any other expedition operator.
We offer over 100 expeditions, treks, back country skiing Adventures and wilderness journeys to the Himalaya, Antarctica, South America, Greenland, Alaska and the Seven Summits, in addition to a world class guiding service, and climbing schools in New Zealand and Europe. Click on the image, left, to view our latest brochure.
Contact Details
Email ID: [email protected]
Contact Number: +1 866 757 8722
Website: https://www.adventureconsultants.com/
3. Adventure Alternative
Adventure Alternative is an independent adventure travel company which was started in 1991 by adventurer and mountaineer Gavin Bate, and developed over many years of organizing and guiding expeditions around the world. It is an established guiding company with an emphasis on responsible travel and a high level of knowledge and experience. We have run trips to the summit of Mount Everest and to the middle of the Sahara Desert! We offer many types of trips of all levels from mountains to jungle, and desert to arctic regions but the majority are feasible treks and adventure holidays for the enthusiastic hiker.
Our office is on the north coast of Ireland and we have long looked after Irish and Northern Irish walkers and adventurers going round the world, but we also have many happy clients from England, Scotland, Wales, Australia, Canada and America, with a smattering from other countries like Norway, Netherlands and elsewhere. Chris Little and Andy MacDonald have both worked in the office for over fifteen years and have gone on many expeditions and trips themselves, while Rosie Little manages all the book keeping of the clients.
Contact Details
Email ID: [email protected]
Contact Number: 028 7083 1258
Website: https://www.adventurealternative.com/
4. Ian Taylor Trekking
We are an award winning world leader in running quality treks, climbs and expeditions around the world. Our goal is not only to offer quality trips, we aim to prepare individuals fully on all aspects of your chosen adventure. All our guides are fully qualified holding either AMI (Association of mountaineering instructors) / IML (International mountain leader) UIAGM, AMGA and IFMGA certified guides.
We will provide all participants with everything from personal fitness training advice to group training sessions and offer every client a personalized service. We have expert staff available 5 days a week for you. We want to make sure you enjoy your journey by having all the information you need. We will be your number one resource for information. We have our own offices in Kathmandu, Tanzania, USA and Peru giving us great control over the service we offer. We do not outsource our services like most other companies.
Contact Details
Email ID: [email protected]
Contact Number: +1 785 9179441
Website: https://iantaylortrekking.com/
5. Himalayan Glacier
All the holiday packages and adventure trips that we offer have guaranteed departure unless there are unforeseen events out of our control, such as epidemics, pandemics, political riots, natural disasters, governmental restrictions, and so on. With no contemplation, we are the acknowledged experts in trekking and climbing in the Himalayas, the most popular being the Everest Base Camp Trek – one of the most recognized life-changing trekking and hiking experiences in your lifetime.
More than this, Himalayan Glacier is a leader in Annapurna Base Camp Trek, Annapurna Circle Trek, Everest Base Camp via Gokyo Lakes, Island Peak Climb, Mera Peak Climb, spiritual Kailash & Mansarovar Yatra, Bhutan Trek, Nepal Tour, Bhutan Tour, Tibet Tour, Tibet Trek, Ladakh Trek, Incredible Indian Tour, Myanmar Tour, China Tour, Vietnam Tour, Bali Tour, Cambodia Experience, Discover Philippines Tour, Romantic Thailand Tour, Honeymoon Maldives Vacation, Sri Lankan Adventure Tour, Exotic Asia Tours.
Because of the growing demand for our travel communities, we have started offering Trekking in Nepal from the year 2018.
Contact Details
Email ID: [email protected]
Contact Number: +977-985-103-2036
Website: https://www.himalayanglacier.com/