Navratri is a Hindu festival that spans nine days and is celebrated every year in the autumn. It is celebrated to honor Goddess Durga who symbolizes power and purity. Navratri is celebrated differently in India's various regions. For many people it is a time of religious reflection and fasting; for others, it is a time for dancing and feasting. For example in the Indian state Gujarat, Navratri is celebrated by dancing. This specific festival dance form is called Garba.
Many traditional garbas are performed around a centrally lit lamp or a picture or statue of the Goddess Shakti. The circular and spiral figures of Garba have similarities to other spiritual dances, such as those of Sufi culture. Garba is played wearing the variant colors of Chaniya Choli. In West-Bengal states, Navratri is known as the Durga Puja. Durga Puja celebrated to mark the victory of Goddess Durga over the buffalo demon Mahisasura. It is symbolic of the victory of good over evil. During the course of the festival, the goddess is worshipped in various forms like Durga, Lakshmi, and Saraswati. She is a symbol of love, power, courage, and kindness.
Here is the importance of 9 days in Navaratri.
Day 1 - Maa Shailputri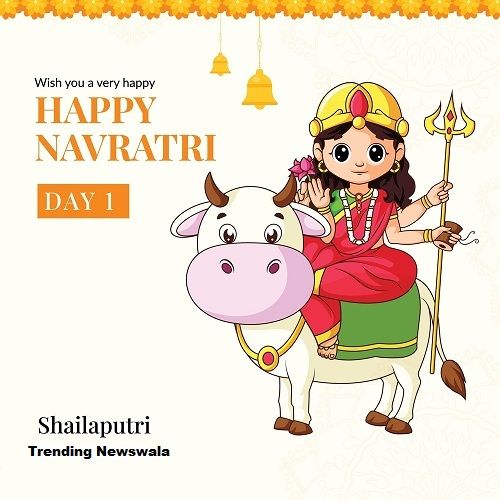 Day 1 of the Navratri celebrates Maa Shailputri. After the self-immolation as Goddess Sati, Goddess Parvati took birth as the daughter of Lord Himalaya. In Sanskrit Shail means the mountain and due to which Goddess was known as Shailputri, the daughter of the mountain.
Day 2 - Maa Brahmacharini
Day 2 of the Navaratri festival celebrates the Maa Brahmacharini. Her appearance is quiet and absorbed in meditation. Brahmacharini address 'Brahma' (penance) and "Charini" (female follower/ devotee) as a result, she is the symbol of Goddess who performs Tapa or hard penance.
Day 3 - Maa Chandraghanta
Day 3 of the nine-day festival of Navratri celebrates Maa Chandraghanta. Goddess Chandraghanta is the married form the Goddess Parvati. After getting married to Lord Shiva Goddess Mahagauri started adorning her forehead with half Chandra and due to which Goddess Parvati was known as Goddess Chandraghanta. She is a symbol of bravery.
Day 4 - Maa Kushmunda
Day 4 of the Navaratri celebrated Maa Kushmunda. It believes that she is the creator and originator of the universe. She is the one who has the power to give light to the sun. Her smiles send the vibrations of life bliss and hope in all directions of this world.
Day 5 - Maa Skanda Mata
Day 5 of Navratri 2023 celebrates Maa Skand Mata. Mata means mother and Skanda Mata means mother of Skanda or Kartikeya. As is clear from the name, she is another form of Maa Parvati. Maa Skanda Mata represents the vulnerability of a mother who can fight anyone when the need arises to protect her child.
Day 6 - Maa Katyayani
Day 6 of the festival Navaratri celebrate Maa Katyayani. To destroy demon Mahishasura, Goddess Parvati took the form of Goddess Katyayani. It was the most violent form of Goddess Parvati. In this form Goddess Parvati is also known as Warrior Goddess.
Day 7 - Maa Kalratri
Day 7 of Navaratri 2023 celebrates Maa Kalratri. She is considered quite a violent form of Maa Parvati. Her name means: 'Kaal' - time/death & 'Ratri' - night. As per her name, she is considered as the destroyer of darkness. She Killed demons Shumbha & Nishumbha.
Day 8 - Maa Maha Gauri
Day 8 of the festival celebrates Maa Maha Gauri. It believes that the Maa Mahagauri has the power to fulfill all the desires of her devotees. Maa Mahagauri represents intelligence, peace, and prosperity.
Day 9 - Maa Siddhidatri
Day 9 of the festival of Navratri celebrates Goddess Siddhidatri. The goddess is known for having supernatural healing powers. The goddess represents the blissful state of mind, just like the sky on a clear day.
All the devotees celebrate these nine days by fasting and wearing nine different colors of Indian traditional dresses for nine days.