About Kandivali
Kandivali (formerly Khandolee) is a neighbourhood in the north Mumbai, Maharashtra, India. It is the 20th railway station on the western line from Churchgate.  In recent years, Kandivali West has transformed into a thriving destination, with many residential projects in the vicinity.
The Kandivali railway station was built more than 100 years ago in 1907, then known as Khandolee. The station derived its name from the East Indian village of Condolim. Earth and stones from Paran, a hillock east of the Kandivali railway station were quarried to reclaim the Bombay Backbay. On this account a railway line was opened, a workshop erected and a number of dwelling houses were constructed for officers and workmen numbering hundreds.
Things to do near Kandivali
Places to visit
1. Shree Balaji Mandir
The temple of Shree Balaji Mandir is located at Charkop, Kandivali. It is claimed to be the second home place of lord Venkateshwara after Tirupati Temple. Every month Moolavar Abhishekam is performed of Shree Balaji, The abhishekam is performed on Shravana Nakshatra.
2. World Tea & Coffee Expo Mumbai India
The World Tea & Coffee Expo, which takes place annually in Mumbai, is the only event of its kind in India. It offers an excellent opportunity for exhibitors to showcase their latest products and services on the important Indian market and to establish new business contacts.
3. Khau Galli at Mahavir Nagar
Mahavir Nagar in Kandivali is where you'll find hordes of hungry foodies. We recommend a food-hopping scene here. Start from the crunchy, spicy Chinese Bhel (Rs 150) at Dadu's Chinese and head to WTC Pasta for their Red and White Sauce Pasta (Rs 150) that's a delicious Indianized version of the macaroni.
4. Growels 101 Mall
Growels 101 Mall is the biggest mall in Mumbai, Kandivali to shop for branded clothes & lifestyle products. The building design has been inspired by Neoclassical architecture. Head over to this mall and have some fun shopping, eat at various food courts and some fun at the Play zone.
5. Tarot, Angel and You
A kilometer away from Kandivali station, there's Angel and You, a sort of shop that's run by a lady who specializes in Tarot cards and their readings. A healer by profession, you can also request for a Reiki session. If this isn't something that ticks you, we'd still recommend trying it, just for an experience.
6. Evershine Green Park
Head over to Evershine Green park and have a relaxing and chilled walk or a cycle ride with your friends or all alone and enjoy the pleasant atmosphere with some light food from the street food vendors.
7. Shopping At Thakur Village
Considered to be an equivalent to Fashion Street, Thakur Village is great if you're looking to splurge on some street shopping. Known for clothes, footwear, bags and even fun accessories, we'd ask you to end your day out in Kandivali right here.
Places to eat
1. Red Indian Sizzlers
They serve a great variety of vegetarian and Jain food items including everything from Chinese, Mexican, Italian, and even sizzlers. The services offered are best and have a good ambience.
2. Desai Bhaishankar Gaurishankar
Craving For Rasgullas Lately? This Place Will Even Make Them In Various Flavour. It's made fresh every morning. Tastes awesome and the softest rasgullas you can ever find.
3. Fisco Resto Bar
A veg restaurant serving delicious dishes with good ambience, good services, and some music to chill while you enjoy eating your food.
4. Cheeliza
Sandwiches and pizzas mix Italian and Indian influences at this casual vegetarian chain restaurant.
5. Makhan Maar Ke
Looking for a place which serves amazing chhole kulchas and other punjabi food? Head to Makhan Maar ke in Kandivali! This one place in Raghuleela Malls is literally a delight!
6. Akkad Bakkad Bombay Boo
Akkad Bakkad Bombay boo: The heaven for all the sandwich lovers, they have a lot of varieties in the sandwich and even pizza.
7. On The Way Falooda
On the way Falooda - a lovely variety of faloodas, ice creams, milkshake, waffles, fruit with cream, good ambience, worth trying. Quality products are used.
8. Chit Chat Chai
Love Cheese? This Cafe In Kandivali Will Satiate Your Fondness Rightly. They serve a variety of cheesy dishes and also serves garam-garam different types of Chai.
9. Pizzaah District
Pizzaah lovers visit this place for some amazing flavored pizzas and much more.
10. Mamledar Misal
Mamledar Misal is one of the famous Misal Outlets. It's famous for its different types of spiciest misals in town.
Pest Control Service
1. Mumbai Pest Control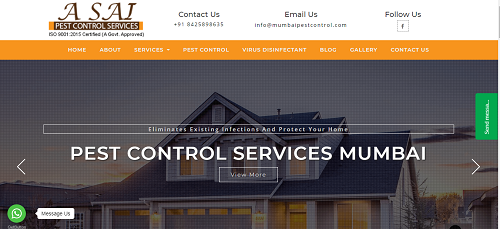 When A Sai Pest Control Services Kandivali began their herbal pest control business decade ago, they had two goals in mind: To provide quality herbal pest control services in Mumbai, Thane, Navi Mumbai, Kalyan and furnish superior customer service. Today, over a decade later, A Sai Pest Control Mumbai, Thane, Navi Mumbai is still committed to that mission. It is the name you can trust to protect your business or home against pests like rodent control, termite treatment, bed bugs treatment, birds and mosquitoes control, cockroach and ants control treatment.
As the trusted commercial pest control company in Mumbai, A Sai Pest Control Thane has provided peace of mind against pests ever since we opened our doors for business from last 18 years.
Contact US
Address : Shop No.6, 1st Floor, Rajiv Gandhi Market,Khopat, Thane (West) - 400601
Mobile : +91 8425898635
Email ID : [email protected]
Website : https://www.mumbaipestcontrol.com/
2. Eco Friendly Pests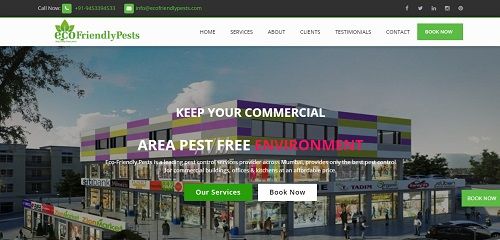 EcoFriendlyPests is the most popular pest control company that provides Pest control services in Kandivali. It's started a pest control business in Mumbai and later move to other locations such as Thane, Navi Mumbai, and Pune many years ago. Our mission is very clear, straightforward, and direct that we will help us to provide you a hygienic pest control services near your place. Also, anyone can get our best pest control services at an affordable price and 100% safe for your family member, pets, and environment at your places. EcoFriendlyPests continuously provide organic pest control solutions through our best and experienced pest control technicians team.
EcoFriendlyPests is an in-house pest control experts team who has been many years of experience, expertise in his field, and the most important thing is a well-behavior and very simple. Our team will visit your place once you request a pest treatment and they do a complete inspection. After that, as per the investigation of the place and the required pest control treatment, they decide which will be the best possible way to eradicate dangerous pests from your home. We use government-approved chemicals and spry to eradicate all kinds of dangerous pests at your place. Our chemicals are safe for humans, pets, children, and pregnant women at your home. EcoFriendlyPests provides Pest control services in Kandivali for both commercial and residential places.
Contact US
Address : D.N. Dube Road, Rajesh Compound, Dahisar East
Mobile : +91-9453394533
Email ID : [email protected]
Website : https://ecofriendlypests.com/
3. Elix Pest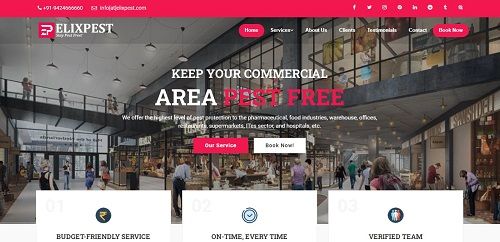 Elix Pest is a leading pest control company in Kandivali. We're a team of experienced professionals, police verified, and intensively trained members in-house. We use high-quality and goverment-approved chemicals and eco-friendly gel and safe spray.
We're playing a vital role in the Pest control service in Kandivali, Maharashtra, and other locations such as Navi Mumbai, Thane, Pune, India. We're an ISO-certified company, our professional's pest technicians are verified by Government (Police Verified), highly qualified, intensively trained team, and provide eco-friendly and safe pest control at an affordable price. Customers are happy with our pest services, commitments, working process, and behavior of our professional pest control team.
We're partnering with prominent pest control companies across Kandivali such as Pepcopp.co.in and other reputed pest control companies to do the best pest services to our clients.
Contact US
Address : Room No 4, D. N. Dube Road, Ratan Nagar, Dahisar, Mumbai 400068.
Mobile : +919424666660
Email ID : [email protected]
Website : https://elixpest.com/
SSD Pest Control Service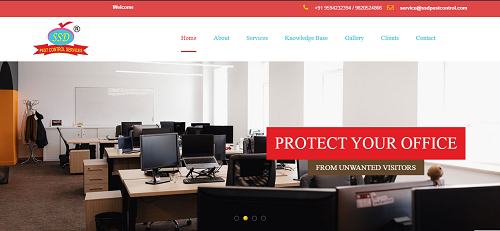 Established in the year 2018, we, SSD Pest Control In Kandivali, are engaged in providing effective services for pest control. we have specialized in offering residential, commercial, marina and corporate pest control services. SSD Pest Control Services Company, is looking to set new global standards in providing all sort of facility management services at affordable cost by developing innovative pro-environmental superior technologies. Every dwelling is entitled to get facility management services to improve quality of living and to have quality time in their family and business. We wish to equip ourselves to serve every dwelling in the Globe.
The experienced and dedicated service team offers customer friendly service which is technically superior and environment friendly. With continuous research and developmental activities we are at process of developing eco friendly low cost technologies for pest control.
Contact Details
Mobile No : 9594232394
Email ID : [email protected]
Website : https://ssdpestcontrol.com/
Top Companies
2. Sociobliss
3. DreamSoft IT Solutions Pvt. Ltd
4. Rusan Pharma
5. Mahindra
Colleges and Schools
AIG Academy ( Online, Regular & Distance Learning University )
Build a career filled with great opportunities with an MBA degree by AIG Academy in Mumbai. Whether you are a student looking to continue your studies or a working professional desiring for a degree along with a job, Online MBA in Kandivali by AIG Academy can fulfill your every need. You can pursue this MBA course sitting at your comfort zone. Distance MBA with an AIG Academy comes with various specializations. The best part of AIG Academy is that it also offers an MBA in one year degree where you can save your year gap and pursue your degree in just one year.
2. Thakur Institute of Management Studies & Research
TIMSR is Top Ranked MBA, PGDM, Masters Degree Colleges for Management in Full-Time & Part-Time HR, Finance, IT Courses in Mumbai with
3. Thakur Vidya Mandir High School & Junior College
Thakur Vidya Mandir High School is a secondary, co-educational school in Kandivali, Mumbai, India and was founded in 1990 by Shri Thakur Ramnarayan Singh and Shri Thakur Shyamnarayan Singh. It is affiliated to the Maharashtra State Secondary and Higher Secondary Education Board.
4. Esplanade Junior College Of Commerce & Science
The Esplanade Education Society is a co-educational institution imparting education, sports, and cultural activities for the all-round development of children so that the values of human dignity and equality are imbibed in children to create a truly democratic and secular society.
5. KES Shroff College
KES Shroff College of Arts and Commerce was established in the year 1989. The mission of our institution is to promote the students & provide them quality education so that they can contribute positively towards society & the nation.
6. Nagindas Khandwala College
Nagindas Khandwala College of Commerce, Arts and Management Studies is in Malad West, Mumbai, India. It is affiliated to the University of Mumbai. The College runs around fifteen courses ranging from Graduation to Ph.D. with around six thousand students.
7. Balbharti College
Bal Bharati institution was established in 1957 by Bal Bharati Public Charitable Trust as an educational & progressive children's center to provide informal education with an aim of "Making Children Happy" by focusing on all-round personality development of the children.
8. Oxford Public School
Oxford Public School School has been established by the Trust Bal Bhagwan Shikshan Prasarak Mandal.This trust has to its credit about 31 institutions which include Dental, Medical, Ayurveda, Art, Science, Commerce and Agricultural College, a host of Secondary High Schools, Primary School at Aurangabad, Latur and the rest of Maharashtra.
9. Swami Vivekanand International School
Swami Vivekanand International School and Junior College is a Mumbai based School. It was founded in 1995 by Yogesh Patel in Gorai, Borivali, Mumbai and has now opened in Kandivali.
10. Children's Academy
Children's Academy Group of Schools is a vision and mission-led educational institution, imbibed by a traditional value-based approach and interwoven with progressive learning.
11. Our Lady of Remedy High School
Our Lady Remedy School programs include a variety of learning approaches, along with multi-sensory and hands-on activities that appeal to a variety of learning styles.
Hospitals and Medical Centers
1. Vcare Imaging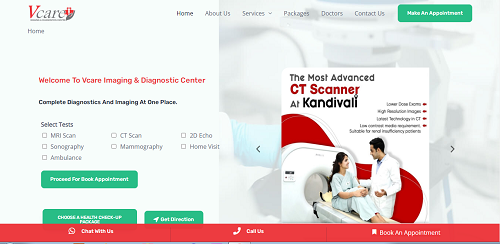 Our mission is to provide world-class facilities and strive to provide timely & accurate reports with compassion & care. Our Radiologists work hand in hand with our highly trained technologists to ensure you are at ease during your routine.
A Premier Health Care Provider with Multiple Diagnostic & Imaging Services Under One Roof. Fully Automated Computerized Laboratory with End to End Diagnostic Center In Kandivali and Imaging Solutions Under One roof. Our Experienced and Dedicated Team Make Sure You Receive the Most Effective Treatment in Those Times of Worry.
Contact Details
Address : Row House No. 3, Crystal Lawn Society, Near Suruchi Hotel Thakur Complex, Kandivali (E), Mumbai-400101
Mobile No : 9819577304
Email ID : [email protected]
Website : https://vcareimaging.in/
2. Saraswati Hospital
3. Oscar Multispeciality Hospital
4. Health Hi-Tech Orthopaedic and Surgical Hospital
5. Ayush Nursing Home
6. Siddhi Nursing Home
7. Siddhant Children Hospital
8. Sanchaiti Superspeciality Hospital