Shree Chandika Mata Mandir is located in Juchandra which is in Naigaon East Vasai Taluka 25 Km from Mumbai. Shree Chandika Mata temple is very old and as per villagers it was probably built during the Pandava period.
विश्वरूपिनी विश्वव्यापिनी विश्ववंदिनीविश्ववंदिनी,विश्वभंरे राजराजेश्वरी जूचंद्र निवासिनी श्री चंडीका माते कि जय
The natives of Juchandra village believe the mother goddess to be there 'Kuldevi' one who answers to all their prayers. The temple structure is very attractive and recently developed lots. The trustees of Shree Chandika Mata Mandir make untiring efforts to further develop the temple and make it accessible to all devotees.
In Temple, there are so many celebrations organize like Jatra, Free Marriage, but Navratri is celebrated in the temple premises with great enthusiasm. Wrestling competitions, folk dance, music and Garba is the main theme during Navratri.
when devotees from everywhere throng the temple in thousands. Other than that you can visit this temple any time during the year. The temple is perched on a small hillrock and can be reached by well-built concrete steps. Arial view from the top is breathtaking as one can scan the south Vasai landscape.
Chandika devi temple is very peaceful. The temple is situated on the mountain hill in Chandrapada Village, Naigaon (East). The entry is two sides front side & backsides. On the temple top side you have to see very beautiful scenes. Parking facility is available on both sides front & back. You have to spend a good time in the nature.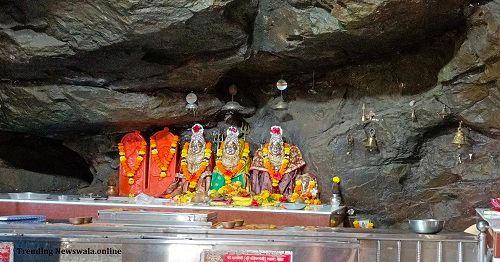 Juchandra is a Village in Vasai Taluka, Thane District, and Maharashtra State. Just 1.5 Km. from NH-8, Juchandra is 7.9 km distance from its Taluka Main Town Vasai. Juchandra is a 12.2 km distance from its District Main City Thane. And 34 km distance from its State Main City Mumbai. Juchandra is a railway Station also on Vasai – Diva route.