Cardiologist hospitals in Kerala are medical facilities that specialize in the diagnosis and treatment of heart and cardiovascular diseases. They typically have a team of cardiologists and other healthcare professionals who are trained and experienced in treating conditions such as heart attacks, heart failure, arrhythmias, and hypertension, as well as performing procedures such as angioplasty, bypass surgery, and pacemaker implantation.
Some cardiologist hospitals in kerala may also have specialized clinics for specific conditions, such as heart failure or arrhythmias, and may conduct research to improve the diagnosis and treatment of cardiovascular disease.
KMCT Medical College Hospital
Bharath Hospital
VPS Lakeshore Hospital
Meditrina Hospital
Daya Hospital
Malabar Hospital
Nirmala Hospital
Lakshmi Hospital
Ananthapuri Hospitals & Research Institute
Lifeline Hospital
1. KMCT Medical College Hospital
The accessibility of super specialty facilities was a cherished dream for people who rush to Calicut from hilly areas of Western Ghats. KMCT Medical College Hospital situated at the foot of Western Ghats remained as a benevolent dutiful hand reached out to them from 2008 onwards.
The Medical college hospital is run by eminent radiologist Dr. K.M. Navas-MBBS & MD (CEO and Executive Trustee- KMCT Group of Institutions) and Dr Ayisha Nasreen [Director – KMCT Group of Institutions] under the guidance of Dr. Moidu (Chairman of KMCT Group of Institutions). The up-to-date facilities including well-furnished laboratories, imaging section with Digital X-Rays, Echo–Cardiograph and all other State-of- the Art equipments of KMCT MCH make the treatments fast.
Contact Details
Address : KMCT Medical College Hospital Manassery, P.O, Mukkam , Kozhikode, Kerala-673602
Contact : +91 495 229 3500
Email Id : [email protected]
Website : https://kmcthospital.com/
2. Bharath Hospital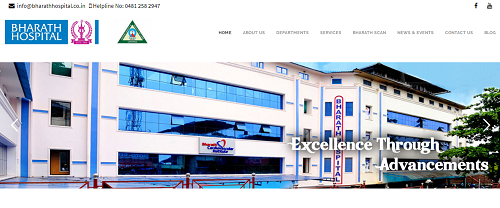 A humble beginning with just four departments namely gynecology,general surgery, general medicine and pediatrics, Bharath Hospital today has developed into a multidisciplinary, super-specialty hospital with more than 60 consultants attending various departments
Bharath Hospital administered by Bharath Charitable Hospital Society,started in 1969 under the pioneering and enterprising chairmanship of Dr A.N Viswanathan Pillai, a well known city doctor. Bharath Hospital, located in the heart of Kottayam town, adjacent to the famous Thirunakkara Mahadeva Temple, is a 175 bedded Multi disciplinary super specialty hospital, which has an outstanding reputation for providing the highest quality patient care and innovative treatment at affordable cost. It has been serving the people of Kottayam since and beyond its inception in 1969.
Contact Details
Address : Bharath Hospital,Azad Lane, Kottayam, Kerala, India – 686 001
Contact : +91 481 2581642
Email Id : [email protected]
Website : http://bharathhospital.co.in/
3. VPS Lakeshore Hospital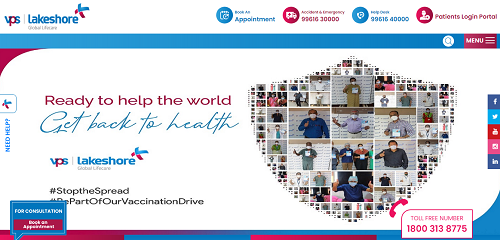 VPS Lakeshore, one of the largest, most comprehensive, independent multi-specialty hospitals in Kerala is recognized as a leader in medical education, groundbreaking research, and innovative, patient-centered clinical care. The hospital has become the cardiologist hospitals in kerala of choice to patients' worldwide providing emergency,
The advanced hi-tech healthcare facility ushers in world class standards in healthcare and offers diverse medical specialties, including Multi Organ Transplantation, Gastroenterology, G.I Surgery, Medical, Surgical Oncology, Joint Replacement, Accident & Trauma Orthopedics, Sports Medicine, Neurology, Neurosurgery Surgery, Cardiology, Cardiovascular Surgery, Gynecology & more...
Contact Details
Address : VPS Lakeshore, NH-66 Bypass, Maradu, Nettoor P.O, Kochi - 682040, Kerala
Contact : +91-484-2701032
Email Id : [email protected]
Website : https://www.vpslakeshorehospital.com/
4. Meditrina Hospital
Meditrina Hospital, Kollam, a part of Meditrina Group of Hospitals, is one of the fastest growing multi-specialty hospital chains in India, managed by dedicated professionals, engaged in providing primary as well as tertiary healthcare services. Founded by Dr.Prathap Kumar, Meditrina Hospital is the largest chain of hospitals in kollam today, with a pan India presence.
The Meditrina Group of Hospitals is known for its ethical medical practices, which makes it a preferred choice for patients. Moreover, while achieving clinical outcomes on par with international standards, Meditrina Hospital make advanced procedures accessible at a fraction of the international costs.
Contact Details
Address : Kollam - Ayoor Road, Ayathil Kollam, Kerala - 691 021
Contact : 0474-2721111
Email Id : [email protected]
Website : http://www.meditrinahospitals.com/
5. Daya Hospital
Daya cardiologist hospitals in kerala is a healthcare firm launched by Dr. V.K Abdul Azeez, Late Mukundan Menon and their friends in 2001 with 50 beds, they took a different approach from the beginning itself. They strived hard to break the traditional way and created their own without complicating the cases and reducing treatment cost through transparent approach. Through rigorous cutting down of investigations, length of stay and medicines all patients were scientifically treated without compromising quality of care. During the initial phase we were able to perform 300 surgeries with 50 bed capacity.
Contact Details
Address : Near Viyyur Bridge, Thrissur, Kerala – 680 022
Contact : 0487-2475100
Email Id : [email protected]
Website : https://www.dayageneralhospital.com/
6. Malabar Hospital
The Malabar Hospital, Eranjipalam was founded by Dr.V N Moni and Late Dr.PA Lalitha in 1982. The hospital provides the best in medical care to all those who needed it - irrespective of their means. This philosophy and mission continue to this day.

Today the hospital continues to be very much embedded in the local community of Calicut. Patients are referred from foreign counties and the hospital continues to be a leader in the provision of excellence in healthcare in North Kerala.We provide a range of tests, examinations, surgical procedures and medical services on an inpatient, day case and outpatient basis. And assure a warm welcome in comfortable and relaxed surroundings provided by a highly experienced and dedicated medical and surgical team.
Contact Details
Address : Eranjipalam Junction, Eranjipalam Kozhikode, Kerala - 673020
Contact : +91 9745323232
Email Id : [email protected]
Website : https://malabarhospitals.com/
7. Nirmala Hospital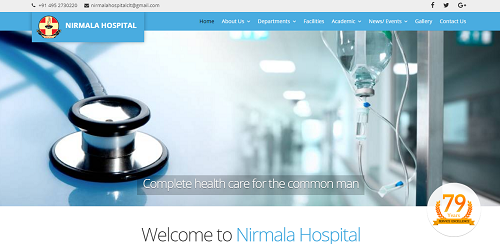 Nirmala Hospital, ever since its inception in 1937, has been providing yeoman services to the sick and the suffering. We take pride in the fact that, while medical profession and medical education over the years has been commercialized to the hilt, we still uphold the medical ethics and moral values. We treat human beings with diseases and not just the disease. From a small dispensary, we have grown into the present 350 – bedded multi-super speciality hospital, thanks to the salutary services of the dedicated pioneers in the field.
Contact Details
Address : Marikunnu P.O, Calicut 673012, Kerala, India
Contact : +91 495 2730220
Email Id : [email protected]
Website : https://www.nirmalahospital.com/
8. Lakshmi Hospital
Lakshmi Hospital is a Super Speciality Hospital and a major referral cardiac centre in Palakkad, Kerala.Lakshmi Hospital started as a 6-bedded maternity nursing home on 27th August 1972 by founders Dr Kalyani G Menon and Adv P G Menon. Dr Kalyani G Menon, with her experience of 55 years in the field of medicine, is the inspiration driving the hospital to greater heights.
Lakshmi Hospital is the first tertiary cardiac care centre in Palakkad. cardiologist hospitals in kerala focus on providing quality medical care to people in and around Palakkad region. The core values that helped start the hospital are at the roots of this institution to this day. The first centre was started on Chittur Road and subsequently a second centre was started on Coimbatore Road in 2012.
Contact Details
Address : Lakshmi Hospital No. 17/751,Chittur Road, Palakkad, Kerala 678013, India
Contact : 0491-2529999
Email Id : [email protected]
Website : http://www.lakshmihospitalpalakkad.com/
9. Ananthapuri Hospitals & Research Institute
ANANTHAPURI HOSPITALS AND RESEARCH INSTITUTE (AHRI) at Kazhakuttam – Kovalam By Pass road, about 3km from Thiruvananthapuram Railway Station / Thampanoor Bus Stand, 2km from Thiruvananthapuram Airport, is a 400 bedded Tertiary care Hospital with an investment of 100 crores. The first phase of the Hospital with all major Departments, has become functional from 1st July 2005.This hospital block was formally inaugurated by our Honorable Chief Minister Sri. Oommen Chandy on 14th September 2005 in the presence of Dr. M. K. Munneer, Minister for PWD (Public Works Department), Sri. M. V. Raghavan, Minister for Ports and other distinguished guests.

Ananthapuri Hospitals & Research Institute has some of the most eminent doctors in the country –highly experienced, skilled and distinguished in their respective fields of expertise. Your healthcare needs are safe in their hands. Complementing them and paving the way for the smooth functioning of the hospital is a team of highly dedicated personnel manning the various departments, thus fulfilling the hospital's mission of providing service with sincerity and solicitude.
Contact Details
Address : hacka, NH Bypass, Thiruvananthapuram - 695024
Contact : 0471 - 2579900
Email Id : [email protected]
Website : https://www.ananthapurihospitals.com/
10. Lifeline Hospital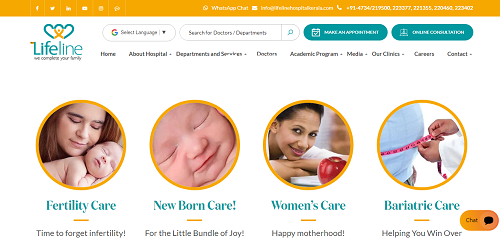 The Lifeline, one of the most trusted names in health care domain was entrenched on April 24th 2005 by Dr. S Pappachan, an expert Obstetrician, Gynecologist and a Fertility Specialist. Our success and enduring growth attributes to the commitment towards achieving the needs of communities we serve.
As a multispecialty hospital, we are equipped with the most advanced technologies and facilities. Comprehensively adept infertility treatment, gynaecology and obstetrics, paediatrics and neonatology, genetics and bariatric plus laparoscopy, urology, radiology, general medicine and general surgery, our fineness and proficiency keep on mounting incessantly.
Contact Details
Address : 14th Mile, Melood P.O, Adoor Pathanamthitta (Dist), Kerala India – 691554
Contact : +91-4734/219500
Email Id : [email protected]
Website : https://lifelinehospitalkerala.com/