Cardiologists are doctors who specialize in diagnosing and treating diseases or conditions of the heart and blood vessels—the cardiovascular system. When you are dealing with a complex health condition like heart disease, it is important that you find the right match between you and your specialist. The cardiologist evaluates your symptoms and your medical history and may recommend tests for a more definite diagnosis. Then, your cardiologist decides if your condition can be managed under his or her care using medicines or other available treatments. If your cardiologist decides that you need surgery, he or she refers you to a cardiovascular surgeon, who specializes in operations on the heart, lungs, and blood vessels. You remain under the care of your cardiologDist even when you are referred to other specialists.
Top 10 Cardiologists in Surat
1. DR. DHAVAL HASMUKHLAL SHAH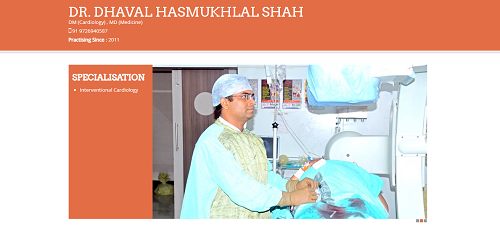 Dr. Dhaval Shah is a Cardiologist from Surat in Gujarat with special interest in Complex Coronary and Structural Heart Intervention. He is an alumnus of Maulana Azad Medical College GB Pant Hospital, New Delhi from where he has pursued his degree in Cardiology.
His consultation can be sought at Iconic Heart Clinic, Shri BD Mehta- Mahavir Cardiac Hospital, Tristar Hospital and Wockhardt Heart Hospital after seeking his prior appointment.
Contact Detail
Address : First Floor, Chatpatwala House, Next to Vasan Eye Care, Near Majura Gate Kailash Nagar, Surat - 395002, Gujarat
Contact : (0261) 2470587
Website : http://www.drdhavalshah.net/
2. Dr. Apurva Vasavada
Dr. Apurva Vasavada is a Surat-based Senior Interventional Cardiologist, with vast experience of over 18 years in his area of specialisation. He currently works at Care Hospitals - The Heart Institute, located near Athwagate Circle. He can also be consulted at Sahridayam Clinic, Majuragate.
After receiving the postdoctoral DM Cardiology superspeciality degree in 1995 from Grant Medical College, Mumbai, Dr. Vasavada worked from 1996 to 2001 at Mayo Hospital in Vadodara, and in Mumbai at the Cumbala Hill Hospital and HN Hospital. He was later stationed at the BD Mehta Mahavir Heart Institute in Surat, from 2001 to 2007. Subsequently, he worked at Wockhardt Heart Hospital in Surat from October 2007 to January 2009, before taking up his current post at Care Hospitals.
Contact Detail
Contact : +91 9825124801
Website : http://www.drakv.com/
3. Dr. Devang Maheshchandra Desa
Dr. Devang Desai is a leading Interventional Cardiologist & Cardiovascular Specialist from Surat, Gujarat. He completed his MBBS and MD (Internal Medicine) from M.S. University, Baroda followed by DM (Cardiology) from Mumbai University.
Dr. Desai has performed more than 27000 cardiac procedures including Coronory Angiography, Coronory Angioplasty & Stenting, Pediatric Cardiac Catheterization, Peripheral Angiography & Angioplasty, Balloon Valvuloplasty (Mital and Pulmonary) and Permanent Pacemaker Implants during his illustrious career.
Contact Detail
Address : E-5, Swaminarayan Complex, Majura Gate Char Rasta, Ring Road, Surat - 395002, Gujarat
Contact : (0261) 2476620
Website : http://drdevangdesai.com/
4. Dr. Alok Ranjan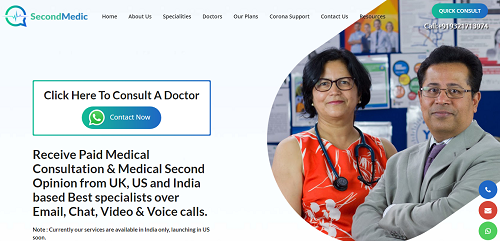 Dr. Alok Ranjan, is a renowned senior interventional cardiologist at Wockhardt Hospitals, Surat. He has completed his MRCP (UK) in addition to his doctorate degree. He has a varied work experience that includes working at hospitals in Pune, Mumbai, Patna and Ahmedabad. His academic record has been outstanding. He not only topped the All India Super Specialty Examination but has been a rank holder in various other medical examinations too.He has contributed to more 100 publications that include original articles, case reports and abstracts in national and international journals.
Contact Detail
Contact : +919321713974
Email Id : [email protected]
Website : https://www.secondmedic.com/
5. Dr. Snehal Patel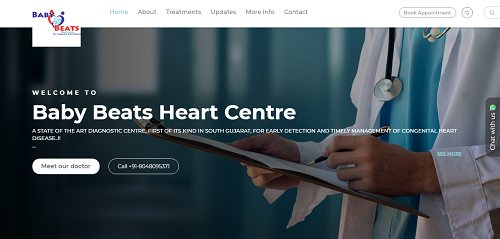 A STATE OF THE ART DIAGNOSTIC CENTRE, FIRST OF ITS KIND IN SOUTH GUJARAT, FOR EARLY DETECTION AND TIMELY MANAGEMENT OF CONGENITAL HEART DISEASE..!! Baby Beats Heart Centre provides Pediatric 2D Echocardiography facility which helps to detect congenital heart disease. Different types of Non surgical cardiac interventions are done eg. Device closure (ASD, VSD, PDA, Coronary fistula, AP window) , Balloon valvuloplasty (BAV, BPV, BMV), Coil closure (PDA, MAPCA), Stenting (PA, PDA, Coarctation) etc.
Contact Detail
Address : 201, Chapatwala House, Opposite Sharda Hospital, Majura Gate
Contact : +91-08048095371
Email Id : [email protected]
Website : http://www.drsnehalpatel.com/