Given the quality of the projects that come into the hands of Trending Newswala, picking the Mumbai's Top 10 interior designers could seem like a daunting task. Instead of an endless A-Z, we've picked 10 names to be on your radar right now.
We are celebrating the most sought-after designers in the field of interior design. Many of them blur the lines between residential, commercial and furniture design through their stunning and elegantly designed spaces. We're excited for what else they come up with in the future.
List of Content
Mumbai Interior
Luxerior Interior Designs
Nitido Design
Kunal & Associates
AVN Interior
Sumessh Menon
Home Makers
DELECON® DESIGN COMPANY
Kinzaa
SNZ Designs
Ashleys
1. Mumbai Interior
Creating a stunning home or commercial space shouldn't be stressful or overwhelming. We understand your main reason for seeking out a designer is so you don't have to take on the hassle of coming up with color choices, working out aesthetics and fleshing out ideas. No long lines, no long hours spent combing a shop floor and definitely no fuss over parking. Let Mumbai Interior handle all your design needs, including the ability to have custom-made furniture designed at the same or even less cost than ready-made furniture.
Contact Details
Address : Office No. 04, Gokul Archde, Arey Road, Goregaon (East), Mumbai – 400063.
Mobile No : +91 8446417902
Email ID : [email protected]
Website : www.mumbaiinterior.in
2. Luxerior Interior Designs
Luxerior Interior Designs is one of the leading residential and commercial interior designers in Mumbai operating from Goregaon and Malad offering interior design solutions to Mumbai Western Suburbs viz. Andheri, Kandivali, Borivali, Dahisar, Vile Parle, Santacruz, Khar, Juhu, and Bandra. We also undertake interior design projects in South Mumbai and Central Mumbai, Thane, and Navi Mumbai Region.
We undertake end-to-end interior design and execution services for home/ residential interiors, commercial and office interiors, complete or partial interior renovations, turnkey contracting, and retail interiors such as hotels, restaurants, fast-food joints, gyms, salons, shops & showrooms, etc.
Our highly skilled and experienced teams ensure your interiors are personalized as per your requirement, well within your budget estimate and time frame, with quality assurance and post-completion service warranties.
At Luxerior, we believe in combining art with function. An architect's timeless and classic choice for structure and finishes backed by their experience and passion for design can deliver an amazing project that exceeds everyone's expectations in realizing a dream space. You can confidently rely on us to present the latest interior trends and fresh ideas on every step of execution to make your space one of a kind that is true to your personality and vision.
Contact Details
Address : Office No. 1004, 10th Floor, Corporate Annexe, Sonawala Road, Goregaon (East), Mumbai – 400063.
Mobile No : +91 9769496987
Email ID : [email protected]
Website : https://www.luxerior.in/
3. Nitido Design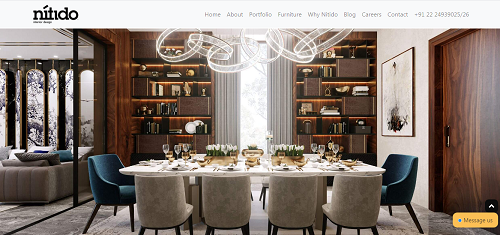 Whether its honesty and sincerity or diligence and persistence, our talented team of interior decorators, architects and interior designers In Mumbai share organizational values and principles, along with a common vision. As a company, our skilled team is our biggest asset and we believe in investing in all members of our team, to help them achieve their maximum potential.
Our premium interior design services In Mumbai are backed by over a decade of industry experience and the unique expertise of our staff. In our pursuit of excellence, we push the boundaries of interior design each and every day.
In the case of residential interior design, we focus on luxury, comfort and practicality, while keeping in mind the clients' requirements and the latest international trends. Our aim is to create visually stunning spaces, which not only fulfill our clients' requirements but also exceed their expectations.
When dealing with commercial interior design, our clients' budgets and timelines are given utmost importance. Our endeavor is to present the brand image to clients and staff in a positive way, and to create a healthy, functional and comfortable working atmosphere that is bright and user friendly.
What some interior designing firms In Mumbai tend to forget is that their clients' requirements need to be at the center of every design; something we keep in mind. At every stage, due consideration is given to our clients' requirements, their unique taste, their budget and most importantly, their timelines.
Contact Details
Address : A-1 Aurus Chambers, S. Amritwar Marg, Worli Mumbai - 400 013
Mobile No : +91 88790 01626
Email ID : [email protected]
Website : https://www.nitidodesign.com/
4. Kunal & Associates
We are full-service Interior designing firm In Mumbai with a strong belief that designs should be completely bespoke. Kunal & Associates specializes in high-end residential, hotels, restaurants, commercial & institutional projects with an aim to bring out the best out of each individual space. We embrace the unique challenge of every project and bring each element of design together into a collective harmony that is inspired by the client's individual trait & functional needs. Our skillfulness in projects spans all styles, extending beyond our own personal vision & choice to reach our client's goal.
Our hands-on design ensures each project is approached with creativity, expertise & unique features. We have a team of experienced design professionals who will guide and support you through this creative process to turn the perception you have for your space into reality.
Contact Details
Address : Shop No 5. Atit Shopping Centre, Opp Apna Bazar, J.P.Road, Andheri (West) Mumbai 400053.
Mobile No : 9820975676
Email ID : [email protected]
Website : https://www.kunalinteriors.com/
5. AVN Interior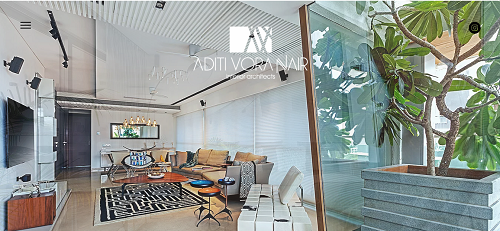 AVN Interior Designers is a Mumbai based Award Winning Interior Design Studio founded in 2011 and specializes in bespoke residential, commercial, retail and hospitality interiors.
AVN Interiors has been widely recognized for its outstanding designs and has received several awards/features:
Emerging Designer Brand - "Exploring the Extraordinary - 100 years of Bentley Motors" - A feature in an International Coffee Table Book celebrating the 100th year of Bentley Motors
Leading Interior Design Firm In Mumbai of the Year 2019 - Maharashtra Award under "Residential & Commercial Projects" category at National Architecture and Interior Design Excellence Awards​
AVN's work has been published in several magazines and online portals including Architectural Digest, Good Homes, Inside Outside, India Today Home, Glitz, Society Interiors and Houzz among others.
Contact Details
Address : Soni House, 4th NS Road, JVPD Scheme, Vile Parle (West), Mumbai 400 056.
Mobile No : 98196 90329
Email ID : [email protected]
Website : https://www.avninteriors.com/
6. Sumessh Menon
Sumessh Menon is the designer and founder of Sumessh Menon Associates, an interior design firm, conceived more than a decade ago, specializing in high end and bespoke residential, commercial, and hospitality interiors. His sensory-rich projects are imbued with a modern mixture of found objects, repurposed materials, accessories, and furniture made at the highest level of international craft.
Tailored, modern and elegant, rough, sleek, and bold the interiors by Sumessh Menon are individually conceived and meticulously crafted. Unique architectural and decorative solutions beautifully detailed and executed, each project emphasizes the integration of architecture and interior design.
His work is at once familiar but also reveals surprises and new interpretations, embracing both the period and the modern. By providing clients with an elite level of turn-key service, Sumessh ensures the most dynamic and efficient design process. Carefully developing each project from concept to post-construction, Sumessh and his team of interior designers In Mumbai work holistically to realize each client's unique vision.
Having been published in several magazines and online portals, he has also received accolades as one of India's Top 10 Hospitality Designers, listed in India's Hot 100 list of Designers, and felicitated as one of the "Top 50 Designers" by iGen Awards.
Contact Details
Address : 1 Suwarnadeep, Opp. Asha Parikh Hospital, S V Road, Santacruz (West), Mumbai – 400 054. India.
Mobile No : 98200 22422
Email ID : [email protected]
Website : https://sumesshmenonassociates.com/
7. Home Makers
Specializing in high end residential and commercial interior design services, Home Makers Interior Designers & Decorators Private Limited is a professional interior design company in Mumbai and space planning firm recognized for innovation. Home Makers expertise in space planning and implementation based on client's needs, tastes and budget. The client's participation is encouraged in every phase of the project. Each project receives personal attention from Home Makers experienced designers and interior decorators, enabling clients to achieve excellent value for every rupee invested. Home Makers work closely with clients to determine the structure of a space planning, the needs of the occupants, and the style that best suits.
We give life to your dreams in the most undefying manner possible.
Contact Details
Address : 1802,Aashirwad (1) CHS Ltd.,Kokilaben Dhirubhai Ambani Hospital Lane,Four Bungalows,Andheri (West),Mumbai – 400 053
Mobile No : +91 771 8888 677
Email ID : [email protected]
Website : https://www.homemakersinterior.com/
8. DELECON® DESIGN COMPANY
"We are enhancing more premium & economic modern Interior designing & Turnkey services. DELECON® DESIGN COMPANY is formed with zeal to provide a better interior environment and our aim is to deliver the best designs to all of its reputed clients." We are team of Architects & Interior designers in Mumbai came together under one roof for outstanding delivery to achieve higher end results in Interior Designs. Our services are truly based on Interior Designs & its execution. Our excellent working process executes a constructive path to take your project on a different level in functional designs.
DELECON® DESIGN COMPANY established & practicing since 2008, formerly known as DELECON® DESIGN COMPANY. The company has developed into an extremely efficient and effective practice that is very people orientated.
DELECON® DESIGN COMPANY is now a rising turnkey consultant & a new standpoint of professionals platform to give their output & effort in Commercial, Residential & Hospitality Interior projects. The principle designer Rajveer Sharma assuring of better services with complete project planning & design consultancy with DELECON® DESIGN COMPANY to achieve greatest result in Business. Our passion is to create smooth, aesthetic & functional designs for everyday spaces. We focus our design skill & intelligence to make the ordinary-extraordinary. We are available all over in India to provide our unmatched services in interior designing.
Contact Details
Address : Haware Infotech Park , Office No.1007, Sector-30A, Opp. Four Points Hotel, Vashi Navi Mumbai, 400703 Maharashtra
Mobile No : (+91) 77100 27900
Email ID : [email protected]
Website : https://www.delecondesigns.com/
9. Kinzaa
Kinzaa was founded in 2000 by Principal designer Mr. Samir to provide quality interior design and architectural services. Through the years of experience, we are able to design and build Residential and Corporate projects and keep improving our quality to serve our clients. Our company also has a group of capable management, sales, design and project team who is professional in handling a comprehensive range of projects.
Our in-house service provides experienced design and space planning to let you have a full understanding of the whole project. Our experienced and qualified interior designers are well versed in computer CAD and 3D software. With the employment of computer-aided visualization, clients can be confident to interpret precisely how the designer interprets the drawings in his mind. We combine fresh thinking, new ideas and inspirational approach to our clients.
Over the year we have learnt with experience and refined our system and processes towards perfection. Our Documentation is clear cut and water tight. This means that we have taken care of all the minute detail involved in providing you the best results. The process always under goes a series of checks, we always believe in keeping things perfect, it help our image and always satisfies the clients.
Contact Details
Address : E 309 Crystal Plaza, Opp Infinity Malll, Andheri link road, Lokhandwala, Andheri – West, Mumbai – 400053, India
Mobile No : 9892227110
Email ID : [email protected]
Website : http://www.kinzaa.in
10. SNZ Designs
Welcome to SNZ Designs, your trusted partner for home and office interior design, We understand that your home or office defines your legacy, at SNZ we work smart to bring the new look to your space and maintain the heritage of your legacy. We are a dedicated team of professionals, here to assist you in designing your home and making your dream space ready for better living. We understand that you deserve nothing but the best of what life has to offer.
Let SNZ team of Interior Designers In Mumbai guide you in creating the new world you and your family deserve. Let us handle everything to make your home look perfect. If you are planning to re-style your space, then you are the right place. Just do get in touch with us and let us take over your worries to create your dream space.
Contact Details
Address : 204, 2nd floor, C wing, Trade world, Kamala mill compound, Senapati Bapat Marg, Lower parel - Mumbai -400013
Mobile No : +91-9920770009
Email ID : [email protected]
Website : https://www.snzdesigns.com/
11. Ashleys
The Ashleys is a boutique firm set up by Pooja and Arbaysis Ashley, brilliant young professional interior designers in Mumbai. This architecture and interior design firm was established in 2008, and has been on a soaring trajectory ever since. Co-founders Arbaysis and Pooja have received several prestigious prizes such as the IIID National Award, the Trends Award, the Archi Design Award, the Design Matrix Award, and the Better Interior Award. They have also been featured in multiple industry publications for their trail-blazing projects.
Trained in Milan and India, the Ashleys bring an international finesse and professionalism to their work. Their keen sense of detailing and strong design statements create a sense of exclusivity and surprise with every project. As interior designers in Mumbai, The Ashleys have designed clubhouses, show flats, premium residences, luxury bungalows, retail spaces, and corporate offices. With their powerful talent in interior designing and architecture, The Ashleys have a star-studded clientele that includes multi-national corporates, celebrity clients, leading developers, and premium industrialists and business tycoons.
The Ashleys have a robust team of industry experts, led by two of the top interior designers in Mumbai. They provide end-to-end services in both design and execution, assisting the client through the lifecycle of the project. The Ashleys' signature style is minimalist sophistication, using statement accents to add dramatic flair and a strong individuality to each project. Although their preference is for a contemporary design vocabulary, their unerring taste brings a timeless chic to their work.
Contact Details
Address : 315 , Gold Crest Business Park , Ghatkopar West , Mumbai 400086, INDIA.
Mobile No : 7045693632
Email ID : [email protected]
Website : https://www.theashleys.co.in/