1. SSD Pest Control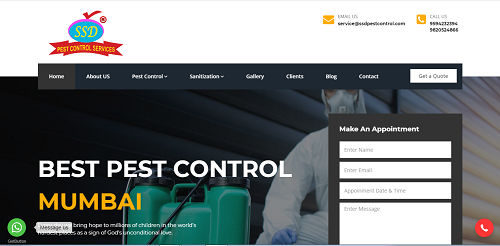 SSD Pest Control Services Private Limited is an ISO Certified government approved organisation providing the Best Pest Control Service in Bhayander, officially formed Team is SSD Pest Control Services. Our elimination activities are strictly enforced under the guidelines of the pest control industry, obliged to follow the government regulations. Pest Control Services  In Bhayander constantly strives to improve the industry standards of pest controlling with the help of constant research and development.
Our specially trained professionals, capable of Pest Risk Assessment and proactive Measures for the specific problems, are expertise in handling different resources and applicators as well. We are consistent in providing the promised quality service to our trusted customers; the real pillars of our great success.
Contact US
Address : Shop no. 3, Kedarnath Niwas, near Godavari high school, Kokanipada, Dahisar East, Mumbai, Maharashtra 400068
Mobile : +91 98205 24866
Email ID : [email protected]
Website : https://ssdpestcontrol.com/
2. Siddhivinayak herbal
When it comes to getting pest control for your home or office, a professional pest control company is the right choice. At Siddhivinayak Herbal Pest Control Services in Bhayander, we provide expert solution for pest control. We Offer various pest control services like Cockroaches control, Ants control, Bed bugs control, Termites control, Ticks control, Flies control, Mosquito control, Rodent control, Birds control, Lizard control, Spiders control. Also we have started Covid-19 Disinfection for School, offices and Societies.
Contact US
Address : Shop No.02, Mother Mary Apartment, Bhaji Market, Opp. Police Chowki, Bhayandar West, Mumbai, Maharashtra 401101
Mobile : +91 8433673744
Email ID : [email protected]
Website : https://herbalpestcontrolservices.com/
3. HI TECH Pest Control
As mentioned to you, we provide a "ONE STOP SOLUTION FOR TOTAL PEST CONTROL SERVICE' to corporate clients to maintain their premises in mint condition and upgrade their environment to the international standards. We started our business operation initially under of  Hi-Tech Pest Management in 2000. We run business successfully. " We have reputation of solving pest problems while maintaining a safe and clean environment for effective pest solutions. Our employee and technician's are professionally trained to international standard and perform their duties with upmost integrity providing expert pest control services and advice on pest management". Our specialities include corporate offices, buildings, residential buildings, private houses, government sector, hotels, restaurants, grocery stores, schools, hospitals, airport facilities, warehouses, etc riding them of cockroaches, rodents, ants, termites bees, snakes, scorpions, flies and other pest as needed. Based on our experience, we believe with our expertise at "Pest Management", We can help with effective pest control management.
Contact US
Address : SH-03, New Anjali Co-operative Housing Society, B.P. Road, Near Dena Bank, Bhayandar East, Thane-401105, Maharashtra, India
Mobile : +91 8956757100
Email ID : [email protected]
Website : http://www.hitechpestmanagement.in/
4. Top Care Services
Top Care Services is an ISO 9001:2015 Certified Company. Top Care Services is home supply precaution and removal of pests from various places such as home, office etc. None of the homes or commercial institutions would like to have pests in their living or operating area. It is important to engage Pest control services in Bhayander the first instance associated with pest visibility. There are numerous pests which invade the periphery of home. Generally spiders, cockroaches, ants, termites, scorpions and so on attack the house. The bed bugs are very important to eliminate because they stay in the bed plus they .
Contact US
Address : Mumbai, Maharashtra
Mobile : 9071034344
Email ID : [email protected]
Website : http://topcareservices.in/
5. Sai Jyot Pest Control Service
We are providing pest control services to clean your environment. We started our company in 2001 and now we have branch in various location.We offer different type of pest control service for Rat,Termite,Bed bug,Cockroach,Mosquitoes etc....
We have main branch in Miraroad- Bhayander, other Branchs at Andheri,Thane,Palghar.
Contact US
Address : Bhayandar, Bhayandar East, Mira Bhayandar, Maharashtra 401105, INDIA
Mobile : +91 8828126663
Email ID : [email protected]
Website : http://www.saijyotpestcontrol.com/
6. Care Fast India Pest Control Service
Care Fast India Pest Control Service considered as a leading Pest Control Company in Mira Bhyanader, Mumbai, & Maharashtra.

Pest Control & Rodent Control, service and Termaite Control, Cockroach Control, Rat Service, Files Control, Mosquito Control, Ant Control, Budbug Control, Feals Control, Ticks Control, Carbet Beetle Control, Wood Boral Control, Silvar Fish Control, Moths Control Sice 2015, Abart from the Mirabhayander, Mumbai, Thane, Nashik, Thane, Nashik, Nanded, Vasai, Virar, Nalashopara.
Contact US
Address : Shop No. 07, Elina Bldg., Near Winstone Bldg. RBK School Lane, Beverly Park, Kanakiya, Mira Road East: 401107.
Mobile : +91 96046 90692
Email ID : [email protected]
Website : www.carefastindia.com
7. Pepcopp
At Pepcopp Pest Control Services, we are a group of highly skilled & experienced professionals for more than 15 years who are well aware of life cycle of pests and have sound knowledge to solve any kind of pest problems. Due to our vast knowledge in this domain we are providing our services to all types of residential & commercial areas in Mumbai, Thane, Pune and Goa.
Contact US
Address : 317, Hari Om Plaza, M.G.Road, Near Omkareshwar Temple, Borivali (E), Mumbai - 400066
Mobile : +91 - 9833233406
Email ID : [email protected]
Website : https://www.pepcopp.co.in/
8. Pak Care Pest Control
We, Mak Care Pest Control In Bhayander, situated at Nalasopara East, Palghar, Maharashtra are the leading providers of the pest and termite control services all around. We work on the principle of providing quality pest control services clubbed with superior customer satisfaction. All our services are performed by highly trained and certified technicians. We have always been technically oriented and our staff ensures that we remain abreast of the latest technological advances.
Contact US
Address : Shop No 104/2,Yashwant Nagar,Opposite Joya Hospital, Nalasopara East, Palghar, Maharashtra 401209
Mobile : +91-8698583905
Email ID : [email protected]
Website : https://makcarepestcontrol.justdial.com/
9. Secure Pest Control Service
In the journey of more than 20 years, our parent company has been proudly associated with more than 10000 + clients who have expressed their happiness and satisfaction on our services.
Our technicians are well-versed with all the aspects of the industry. Our best service methods and holistic approach will help you get rid of the pests and at the same time taking utmost care from environment safety point too.
Our branch offices are located in two cities like Bhayandar and Nallasopara. Secure Pest Control is the latest addition to the boisterous team, and will be operating the services in the Mumbai region. Secure Pest Control was established in 2011, and is fast finding its foothold in the Pest Management area in the thriving city of Mumbai.
Contact US
Address : Shop No.8, Shri Sai height Tower, Yashwant Gaurav Complex, Nallasopara (West) , Palghar - 401 203.
Mobile : +91-91376 37887
Email ID : [email protected]
Website : https://www.securepestcontrols.in/
10. India Pest Control
We are one of the leading Pest Management Company In Mumbai and Thane. India Pest Control in Bhayandar technicians have the expertise to protect your homes and commercial premises from pest concerns. Since we started more than 30 years ago, we have always endeavored to deliver quality service to our customers by remaining relevant, efficient and passionate!
We started out as a small company but soon started to grow. We are committed to service excellence, our proud record of innovation is supported by a team of dedicated technicians trained to the highest professional standards.
Contact Details
Address : Shop No. 2, Nishant, Gautam Lane, Near Versova Metro Station, Andheri (West), Mumbai 4000053.​
Contact : 7045750002
Website : http://www.indiapestcontrol.co.in/
.