Dehradun, the capital of Uttarakhand, is home to several top-notch hospitals that provide comprehensive cardiac care services. If you or your loved ones are looking for the best cardiologist hospitals in Dehradun, here is a list of the top 10 hospitals that you can consider.
1. City Hospital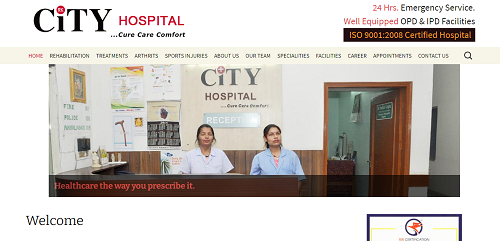 City Hospital is a multispecialty center in Dehradun.For the last 20 years we are serving people with utmost care & human touch. It is a multispecialty tertiary care Hospital offering care in most specialties.The Hospital is equipped with modern Imaging modalities, Operation theaters, ICUs and Laboratories and providing 24 hours emergency services. We promise to CURE with high-tech CARE & homely COMFORT. As our motto states.
Contact Details
Address : 1-1, Chakrata Road, Bindal Bridge, Dehradun 248001
Contact : 0135-2627044
Website : http://cityhospitaldehradun.com/
2. Aarogydham super specialty hospital
Aarogydham super specialty hospital is a multispeciality hospital in Dehradun city it is a multispeciality hospital all the facilities are there like modular operation theater, 24*7 emergency, in house pharmacy, in house path labs, full supported ICU, etc. The idea came to "dr. Vipul kandwal" mind the founder member of the hospital was previously working at medanta hospital, he is working in Uttarakhand from past 3 years. His mindset and aim were to come back to his home state and do something for his own people here at Uttarakhand. "Aarogyadham super specialty hospital" an initiative towards this goal providing good health facility and providing total care for the valuable patient at a reasonable and affordable price.
Contact Details
Contact : 01352719992
Email Id : [email protected]
Website : http://aarogyadhamhospital.com/
3. Apollo Clinics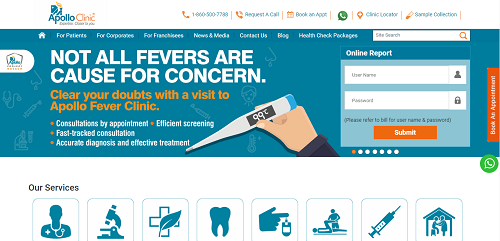 Apollo Clinics are multi-specialty clinics run by Apollo Health & Lifestyle Limited (AHLL), a subsidiary of Apollo Hospitals Enterprise Limited (AHEL). AHLL is one of the largest players in the retail healthcare segment in India.
Apollo Clinics was founded in 2002 with the aim "to bring healthcare of international standards within the reach of every individual." To achieve this, Apollo Clinics run a large network of Apollo Clinics with over 75 clinics, both owned and franchised in India and overseas.
Each Apollo Clinic is committed to not only providing consistently superior quality health care services but also addressing the day-to-day health care needs of the family. To maximize convenience and comfort, Apollo Clinic is an integrated model and offers facilities for Specialist Consultation, Diagnostics, Preventive Health Checks and Pharmacy, all under one roof.
Contact Details
Address : Apollo Clinic, 8/4-1 , Near Krishan Nagar chowk, Ballapur road, Dehradun, Dehradun, Uttarakhand, India
Contact : 9219044012
Email Id : [email protected]
Website : https://www.apolloclinic.com/
4. DR RAJ PRATAP SINGH
Dr Raj Pratap (Gold medalist) is amongst the Best cardiologists in Dehradun, India and is chief surgeon and head of department of cardiology, kailash hospital Dehradun. With extensive experience at various institutes, he has received many recognitions in the field of cardiology. He is renowned for his great skills and impeccable safety records. He has extensive experience from eminent institutes like King George Medical University, Dr Ram Manohar Lohia Institute of Medical Sciences and Sanjay Gandhi PGI, Lucknow.He is the most reputed surgeon in terms of providing exceptional patient care services including surgical and non surgical procedures with best results.
Contact Details
Address : near, Kailash Hospital, Jogiwala, chowk, Dehradun, Uttarakhand 248001
Contact : +91 9795004453
Email Id : [email protected]
Website : http://www.drrajcardio.com/
5. Velmed Hospital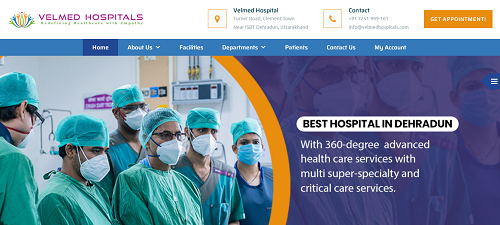 The Velmed Hospital is open to all patients 24X7 and provides the best medical care and cutting-edge technology at Turner Road, Clement Town at Dehradun, Uttarakhand. We use our superior academic knowledge to treat a wide range of health issues, giving a personal touch, and utilizing highly specialized and up-to-date research.Velmed Hospital is committed to providing empathetic, collaborative and comprehensive healthcare services to its patients.
Contact Details
Address : Velmed Hospital, Clement Town, Dehradun, Uttarakhand
Contact : +91-72519 99161
Email Id : [email protected]
Website : https://velmedhospitals.com/
6. Max Healthcare
Max Healthcare Institute Limited ("Max Healthcare") is one of India's largest healthcare organizations. We operate 16 healthcare facilities (3400 beds) across the NCR Delhi, Haryana, Punjab, Uttarakhand and Maharashtra. Almost 85% of our bed capacity is in Metro/Tier 1 cities. Apart from hospitals, Max Healthcare also operates a homecare business and pathology business under brand names Max@Home and Max Labs respectively.  Max@Home offers health and wellness services at home while Max Lab provides Pathology Services outside our hospital network. Max Healthcare is promoted and led by Abhay Soi as its Chairman and Managing director and co- promoted by KKR, the iconic Global Private equity fund.
Contact Details
Address : Mussoorie Diversion Road, Johri, Malsi, Dehradun, Uttarakhand 248001
Contact : 0135-7193000
Website : https://www.maxhealthcare.in/
7. Metro Group of Hospitals.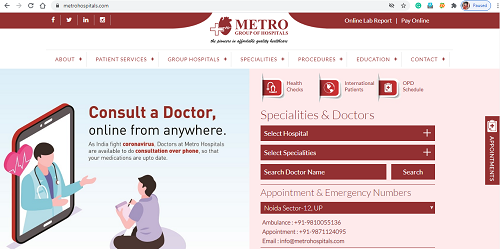 With a vision to provide the utmost level of healthcare to the common man, at the most affordable cost, Dr. Purshotam Lal (Padma Vibhushan, Padma Bhushan and Dr. B.C. Roy National Awardee), a pioneer ofInterventional Cardiology in India, founded Metro Group of Hospitals.
India's large and diverse population warrants an efficient health care infrastructure that should be accessible to all strata's of society. Good quality health care should not be a privilege of the elite only. Metro Group of Hospitals was setup in 1997 by Padma Vibhushan and Dr. B C Roy National Awardee Dr. Purshotam Lal (Chairman), with the vision and endeavors to bring the best possible health care to the masses of India. In order to achieve this, Metro Group of Hospitals has evolved as a committed group which provides advanced medical care at much affordable prices. Their focus has always been on the patients of the lower and middle sections of society, patients who are rejected by the large corporate hospitals, and who cannot afford expensive medical care but definitely deserve empathy. They believe that medicine is a noble profession and sick must not be rejected on monetary grounds.
Contact Details
Address : Circular Road, Dharuhera Chungi, Rewari, Haryana
Contact : +91 1274 252433
Email Id : [email protected]
Website : https://www.metrohospitals.com/
8. Astha Hospital
Astha Hospital – Dehradun was started in 1995, a super-specialty medical care center with superlative medical facilities under one roof. The hospital has top notch infrastructure with state-of-the-art and sophisticated technology. And apart from being equipped with the best medical facilities, it is Human Touch & Care by which the hospital has been able to gain trust of people. The hospital offers comprehensive healthcare facilities, and is offering services for Gastroenterology, Cardiology and Diabetes.
Contact Details
Address : 2/1 Ballupur Chowk, Dehra Dun (U.K)
Contact : +91-8941839369
Email Id : [email protected]
Website : http://asthahospitalddn.com/
9. Kanishk Surgical and Super Speciality Hospital
KANISHK Surgical and Super Speciality Hospital is an ISO 9001:2008 certified, located centrally in Dehradun, capital of Uttarakhand (India). It has been established in the year of  March 2011.It is one of the most prestigious hospital of Uttarakhand providing world class health care services in the field of Advance Laparoscopy, Gastro Surgery, Gynae Surgery, Orthopaedic Surgery, Interventional Pain and Critical Care, Urology and Oncology.
"Our First & Last aim to provide the very best to the best of our capabilities without any compromise"Seminars and Live Surgery Workshops are frequently held in a beautiful spacious Auditorium in the hospital. The Doctor's and staff of the hospital are inclined towards dedicated and tender patient care. We, at KANISHK Hospital make sure that patients care at affordable cost and time. We are committed above self.
Contact Details
Address : Haridwar Bypass Road between Railway Crossing & Rispana Bridge Dehradun
Contact : +91 9410550980
Email Id : [email protected]
Website : https://www.kanishkhospital.com/
10. Shri Mahant Indiresh hospital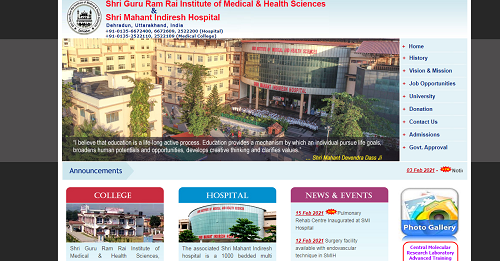 The associated Shri Mahant Indiresh hospital is a 1500 bedded multi specialty and superspeciality hospital situated in the heart of the city nearly 2 km from both the railway station & bus terminal. The Hospital caters to about 3000 patients on a daily basis under the direct supervision & humane touch of the medical specialists. The staff of the hospital includes about 400+ doctors and 800+ paramedicals. Facilities of latest MRI, 3D CT scan, Digital X-Rays, utmost modern diagnostic equipments in central reference laboratory, full fledged ICU with a number of ventilators, dialysis unit, plastic & burn unit, neurology and urological units, medical retina unit with laser treatment and above all 24 hrs emergency & trauma units are available. Similarly all the other specialties in the hospital impart quality patient care.

Recently a complex of 17 ultra modern operation theaters at par with international standard has become functional, along with a vast & impressive building, in order to advance the functioning and handle the increased crowd of patients in the hospital from this valley and surrounding hilly regions
Contact Details
Address : Patel Nagar, Dehradun-248001, Uttarakhand, India
Contact : +91-135-6672400
Email Id : [email protected]
Website : http://www.sgrrmc.com/