An 2d echocardiogram, or '2d echo', uses ultrasound to show a picture of the heart at work. It is a very safe test – it is also used to examine babies in the womb, and the ultrasound waves cannot be felt.
An 2d echo is used to look for abnormalities in your heart or the way it is working. The 2d echo can also give a rough estimate of:
the amount of blood being pumped through the heart with each beat
the pressure in the pulmonary arteries.
Because of this, an 2d echo is often the first test that picks up pulmonary hypertension (PH). However, because an 2d echo only gives rough estimates, other tests are needed to confirm if someone has PH or not. Here we have listed the Top 2d Echo Test Centre In Kandivali.
List of Content:
Vcare Imaging
Dr. Mehtas
Healing Diagnostics
iGenetic
Health Care
NIRMAN HItech
Suburban
Dr. Vyas Diagnostic Centre
Divine Imaging Diagnostic
Infinity Diagnostic
1. Vcare Imaging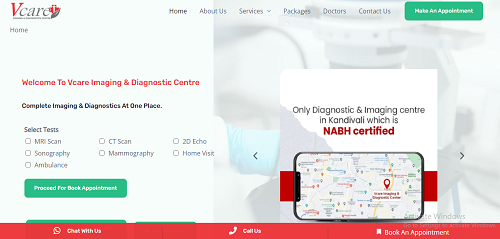 A Premier Health Care Provider with Multiple Diagnostic & Imaging Services Under One Roof. Fully Automated Computerized Laboratory with End to End Diagnostic and Imaging Solutions Under One roof. Our Experienced and Dedicated Team Make Sure You Receive the Most Effective Treatment in Those Times of Worry.
The heart in your body pumps blood and the vascular system takes it to all the organs. Together they form the cardiovascular system. A healthy lifestyle that includes a balanced & nutritious diet, managing daily stress, and regular exercise is much needed to keep your heart healthy, more so, as your age progresses. Keeping a check on your heart's health at regular intervals is imperative to prevent its dysfunctioning. Being consistent with your 2D echo Test along with your health checkups can help you in leading a healthy life. Keep a check on the working of your heart and take appropriate corrective action at the right time to keep it in good order.
Contact Details:
Phone: 9819577304
Email: [email protected]
Address: Row House No. 3, Crystal Lawn Society, Near Suruchi Hotel Thakur Complex, Kandivali (E), Mumbai-400101
Website: https://vcareimaging.in/2d-echo/
2. Dr. Mehtas
Situated in one of the largest neighborhoods in Mumbai, Dr. Mehta Diagnostic Center in Kandivali West is a part of the integrated network of 2D echo Test. This venture embarked on its journey with a longstanding commitment and a vision to make a wide range of specialized testing services available to the common man. In the sector, this centre has been consistent towards its commitment to excellence and innovation in whatever they do.
The centre is well equipped with the latest in technological advancements and automation and adhere to the various stringent internal and external quality control mechanisms
Contact Details:
Phone: 9004097283
Email: [email protected]
Address: Dahanukar Wadi, Kandivali, Mumbai
Website: http://drmehtasdiagnosticcentre.com/
3. Healing Diagnostics
We are a state-of -art diagnostic lab with a complete pathology solution offering a wide range of test menus spanning over 9 major departments. At Healing Diagnostics labs we offer:
Pathology Services
Hormone Testing
Genomic Testing
Routine Investigations
Healing 2D echo Test Centre is the leading brand in the diagnostic industry, providing a wide range of pathology facilities across Mumbai. The need of the hour for our Mumbai is to have reachable diagnostic facilities and we consider it as a mission.
Contact Details:
Phone: +91 86526 44164
Email: [email protected]
Address: Kranti Nagar, Opp to Good Luck Hotel,
Lokhandwala, Kandivali East, Mumbai-400010
Website: https://healingdiagnostics.com/
4. iGenetic
Founded by a strong team of scientists and technologists with research mindsets, iGenetic Diagnostics offers clinically relevant differential diagnosis panels in addition to a highly accurate range of individual laboratory tests. With a well designed, global quality compliant infrastructure, iGenetic Diagnostics offers a wide menu of pathology tests including advanced molecular diagnostics, cytogenetics, genetic sequencing and all commonly required routine tests.
Contact Details:
Phone: 1800 210 1616
Email: [email protected]
Address: Transmission House, Plot No.6/19, Compound No.82,
Marol Co-operative Industrial Estate, Near Marol Bhavan, Andheri East
Mumbai - 400059
Website: https://www.igenetic.com/
5. Health Care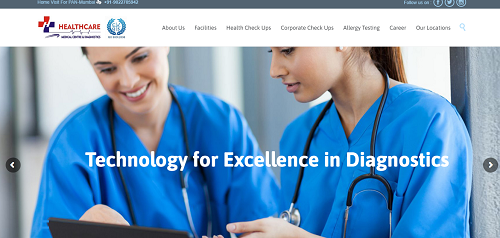 Healthcare Medical Center and Diagnostics is a multi-specialty Polyclinic, Medical and 2D echo Test Centre. It is one of its kinds in western suburbs having Pathology, Radiology, Cardiology, Dental, Physiotherapy, Consultations & Full Body Check-ups under one roof. At Healthcare, we are committed to providing world-class healthcare in a comprehensive and seamless manner. From medical excellence to a warm, reassuring environment, everything we do is governed by one overriding objective – the welfare of our patients.
Healthcare Medical Center is designed with emphasis on excellence in clinical services and diagnostic facilities. We offer doctors and patients ultramodern diagnostic solutions as well as the latest in IT systems.
Contact Details:
Phone: 9022054458
Email: [email protected]
Address: 76/754, Mahavir Suryadarshan Society, Satyanagar Road, Landmark – Opp. SBI Branch, Mahavir Nagar, Kandivali West, Mumbai – 400 067
Website: https://www.healthcarediag.com/
6. NIRMAN HItech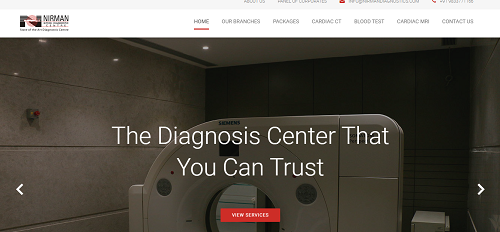 Healthy body equates to a healthy mind and this has formed the base of our vision at Nirman Diagnostics. Nirman diagnostics started out at a small scale in 1982 with a humble objective to offer facilities and services for the common man. Soon it scaled to provide world class medical standards equipping the common man with access to premium quality diagnostics at reasonable costs. Over the past three and a half decades we have been able to provide premium reporting and diagnostics under the supervision of highly trained doctors and skilled staff. Our trained professionals along with the world class infrastructure make Nirman Diagnostics one of the best diagnostic centres in kandivali.
We are armed with state of the art equipment and machinery and cutting edge technology.We provide fair and transparent services and our biggest priority is customer comfort and satisfaction. We go by the motto of – Pehle Aap.
Contact Details:
Phone: 9920559900
Email: [email protected]
Address: 8 Kesar Ashish, Opposite Hyundai Showroom, Mahavir Nagar Signal,
Kandivali-Borivali Link Road, Kandivali West, Mumbai, 400067
Website: http://nirmanhitech.com/
7. Suburban
One of the biggest names for 2D echo Test Centre in Kandivali , Suburban Diagnostics first took off in 1994 as a small pathology lab at Kandivali West, Mumbai, with the intent of delivering trailblazing, high-quality diagnostic services as a friendly neighborhood pathology lab. Over the last 28 years, we have built a network of 250+ centers in more than sixteen cities of India.
With more than 4,500 tests across various specializations, best-in-class infrastructure, panel of experts and a strong will to unburden healthcare, Suburban Diagnostics has come to be known for its efficient processes that strive towards minimal error and customer centricity.
Contact Details:
Phone: 02261700000
Email: [email protected]
Address: Centrium, Shop No. 62, Akurli Rd, Lokhandwala Twp, Kandivali East, Mumbai, Maharashtra 400101
Website: https://www.suburbandiagnostics.com/
8. Dr. Vyas Diagnostic Centre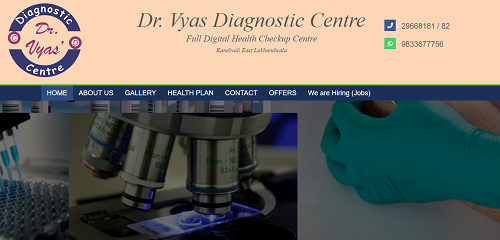 Dr. Vyas Diagnostic Center in Mumbai is one of the top growing businesses in the diagnostic business market. Get their address, contact information and much more in the details given below that will make it easier for you to get in touch with them and fetch their services.
Dr. Vyas Diagnostic Center, Mumbai has always been considered as one of the topmost rankers in the list of 2D echo Test Centre. Even in a highly competitive environment, it has become possible for them to maintain competitive edges with all of their competitors just because they have always maintained an amazing service quality. Undoubtedly, this is an end of search for all those who are searching for From their professional team of employees to their sharp eye in maintaining customer satisfaction. This is considered as one of the prime reasons behind their huge customer base.
Contact Details:
Phone: 9833677756
Email: [email protected]
Address: First Floor, Shop 27/28, Centrium Shopping Centre, Above Axis Bank,
Lokhandwala Circle, Kandivali (East), Mumbai – 400101
Website: https://drvyasdiagnostics.in/
9. Divine Imaging Diagnostic
Divine Imaging and 2D echo Test Centre is dedicated to providing complete and accurate x-ray and ultrasound imaging with a commitment to technological innovation, compassionate patient care, and maintaining a professional and responsive relationship with the health care community. Our team of professional radiologists, technologists and staff are dedicated to the highest standards of quality and performance expected for essential diagnostic care.
Contact Details:
Phone: +91 93213 17321
Email: [email protected]
Address: 5-6, 1st Floor, Kandivali Kamalvan CHS M.G Road, Dhanukarwadi, Kandivali (W) Mumbai - 400067
Website: http://divinediagnostic.com/
10. Infinity Diagnostic
Our Center in Kandivali West, Mumbai started in the month of August' 2019 and within few months the whole world was struck by Covid-19 Pandemic and went in to lock down.
As medical services center we planned the measures to continue our services following all the government norms & safety measures and continued serving our customers and community who needed utmost attention.
For precise diagnosis, technology plays and important role, thus we have best-in-class sonography machine to conduct diagnosis study like 2D echo test/3D sonography and doppler.
Contact Details:
Phone: (+91) 9324233232
Email: [email protected]
Address: Shop :- 23, Astor Place, Opposite Bhavishya Nidhi Office, Sector 3 Charkop, Kandivali West, Mumbai - 40067
Website: https://infinitydiagnostics.co.in/