About Lower Parel
Lower Parel is a railway station on the Western Line of the Mumbai Suburban Railway, India. Back in the 18th and 19th centuries, Lower Parel was an upmarket British residential area. But when cholera hit Mumbai in the 19th century, the Brits bailed out and the cotton mills moved in.
As Lower Parel has become a corporate hub, thousands of people use the railway station daily, which makes the Lower Parel railway station one of the most crowded local railway stations of Mumbai.
Things to do near Lower Parel
Places to visit nearby
1. High Street Phoenix Mall
High Street Phoenix Mall or Pheonix Mall located in Lower Parel is one of the major attractions when one visits this place. It is one of India's largest mall and also one of the luxurious malls in India.  Its gross floor area is 3,300,000 square feet. It is considered to be the best mall in Mumbai when it comes to shopping lavish and luxury brands.
3. Palladium
Located near Phoenix Mall, Palladium, Mumbai offers an international mix of shopping-food-entertainment, with being a house of various high end and luxurious brand options such as Gucci, Lacoste, Adidas, Nike and many more.
3. SMAASH
The popular hangout spot for friends, family, and corporates, Smaaash has one of its biggest branches in Lower Parel. You can go for bowling, play cricket or even drive a go-kart on the rooftop track here, which is also the only rooftop go-karting track in India!
4. The Amazing Escape
The Amazing Escape Mumbai is one of the very few witty game places in Mumbai that offer such a great platform to involve your mind in a strategic plan compiled with enduring teamwork to escape within 60 minutes. This place located in Kamala Mills, Lower Parel offers 7 rooms with 7 different themes to play your trump cards.
5. Matterden CFC
Popularly known as Deepak Cinemas, this theater is located at a walking distance from the Prabhadevi Railway Station. This theater is one of the oldest single-screen theaters in the city and has been around since 1926! Watching a movie at this decades-old theater is an experience in itself.
6. Dhobi Ghat
A viewing platform allows Dhobi Ghat to be easily viewed from above, and it's a great sight. Without a doubt, you'll be hassled by people selling things but that's the case with any attraction, just be vigilant. If you go down the stairs to the entrance of the Dhobi Ghat you'll be greeted by people who want to give you a tour - they weren't pushy but it was Rs200 per person. Located 30 mins from Lower Parel Station
7. Nehru Planetarium
Nehru Centre and Planetarium is a complex that is awesome enough to go gaga over it. It is a unique conglomeration of a nice planetarium, a theatre and an amazing exhibition, Discovery of India. Not only what it offers inside but also the exteriors of the center are amazing in their own right. 1.5 km from Lower Parel Station.
8. Worli Fort
17 mins from Lower Parel Station Worli Fort is a small little fort on the Worli sea face. It is a great spot to look out at the Bandra Worli Sea Link and Bandra West. Worli fort is located on the seashore. Fishermen dwell in this area and one can get sight of their houses. We can see busy men and women knitting fishing nets and curating their catch from the sea.
9. Spa la Vie by L'Occitane
Spa la Vie by L'OCCITANE is an 8,000 sqft Mediterranean Wellness Sanctuary nestled in a magnificent standalone building in Lower Parel Mumbai. This is one of Mumbai's largest Day Spas and also features one of Mumbai's only Hammams. Treatments offered at the Spa include Massages, Facials, Scrubs, Wraps and many. The Spa also makes a unique space to host Spa Parties.
Places to Eat near Lower Parel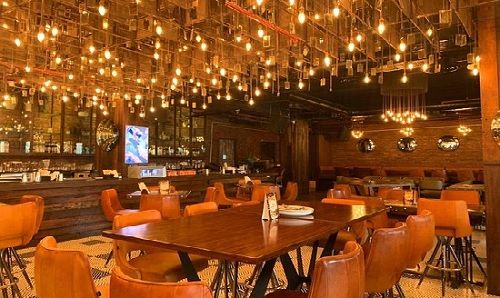 1. London Taxi
Nightlife hotspot with live sports screening, music, food & a lively ambiance, spread over 2 floors.
2. Farzi Cafe
Upscale dining room with fancy lighting & stylish decor, serving a casual Indian bistro menu.
3. White Elephant Arena Cafe
White Elephant Arena Cafe, located inside Deepak Cinema, is a refreshing exception. The outdoor space has few tables, but plenty of shade. On offer are Thickshakes, coffee and tea, and even mocktails.
4. Canto - Restaurant and Banquet
Stylishly appointed venue for Italian & Indian cuisine with open-air dining areas & lawns.
5. Zaffran
One of the luxurious hotels in Mumbai with the world's best delicious food and an amazing ambiance with top services offered by the restaurant.
6. Kathi Kabab Roll
A small shop for a  short walk from Lower Parel station, or under the flyover a little north from Phoenix Mills. Owner Satish Shevale is usually around, taking orders and keeping tab of how much you enjoyed your roll.
7. THC – The House of Chipotle
This one's on call for whenever we want authentic, fresh chipotle goodness. After making a mark in the burbs of Andheri & Bandra, this friendly Mexican joint came to Lower Parel. THC have some seating upstairs in their corner store, but the best part here is their delivery of hot, fresh, and delightful Chipotle Bowls.
8. Zen Cafe
A Cafe located inside a furniture store, Zen Cafe is a great casual date spot. Elegant and simple in decor, the many couches are comfortable enough to nap on. Try hummus which is remarkable, and you'll also be surprised by the quality of their coffee.
9. Tamasha Mumbai
A bold fusion of entertainment, fun and a hint of grandeur, Tamasha is one of Delhi's and Mumbai's most sought after nightlife hubs. Spread out over more than 16000 sq. ft., Tamasha has five distinct seating areas and decor that borrows elements from the popular Transformers movie franchise, reflecting the brand ideals of quirk and class.
10. Pop Tates
Calling itself the un restaurant, this diner-style venue serves Western food with a full bar.
Looking to buy property in Mumbai? Looking for a trusted Real Estate Builder in Mumbai? Connect with Sarvesh One Enterprises one of the reputed and trusted Real Estate Developers and Builders in Mumbai with many successful projects and dealings with happy clients.
Our Recent Project                                                  [/caption]
Contact Details:
Address: N.M Joshi Marg, Near Lower Parel Station, Lower Parel, Mumbai – 400 013
Contact No: 022 2846 0144
Email: [email protected]
Schools and Colleges
AIG Academy ( Online, Regular & Distance Learning University )
Build a career filled with great opportunities with an MBA degree by AIG Academy in Mumbai. Whether you are a student looking to continue your studies or a working professional desiring for a degree along with a job, Online MBA in Lower Parel by AIG Academy can fulfill your every need. You can pursue this MBA course sitting at your comfort zone. Distance MBA with an AIG Academy comes with various specializations. The best part of AIG Academy is that it also offers an MBA in one year degree where you can save your year gap and pursue your degree in just one year.
2. Maharshi Dayanand College of Arts, Science & Commerce
Maharshi Dayanand College of Arts, Science, and Commerce is situated in Mumbai in the Maharashtra state of India. Established in 1962, it is accredited from NAAC, AICTE and it is affiliated to University of Mumbai. MD COLLEGE, Mumbai offers 25 courses across 5 streams.
3. ICE College of Hotel Management and Catering Technology
ICE College of Hotel Management and Catering Technology offering various hotel management and catering courses.
4. College of Physicians & Surgeons of Mumbai
College of Physicians & Surgeons of Mumbai or CPS Mumbai or CPS Bombay, established in 1913, is an autonomous body imparting Postgraduate Medical Education and offers 10 Fellowships, 39 Diplomas, and 2 Certificate Courses.
5. Orchids - The International School
Orchids the International School stands apart from other CBSE schools in Grant road, attributed to its educational Philosophy, aimed at the holistic development of children, making them healthy individuals.
6. Dr. Shirodkar Highschool
The location of Dr. Shirodkar High school is Parel, Mumbai. There are 75 dedicated and professional faculty members who impart quality education to children in this State Board school.
7. KLAY Preschool and DayCare
Started in 2011, KLAY has now become the largest and one of the best preschool and daycare chains in Mumbai and across India catering to children between the ages of 1-10.
Hospital and Medical Centers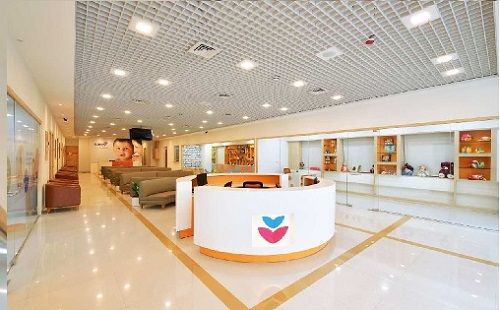 1. Gleneagles Global Hospitals
At Global Hospitals, Mumbai, excellence is an everyday endeavor and empathy a way of our life. We understand that our patients are in distress & pain, and just as much as they need treatment they need emotional strength and support.
2. Indian Cancer Society
Indian Cancer Society is a Non-Profit Organization for Cancer Awareness, Cancer Detection, and Cancer Cure.
3. Siddhivinayak Health Care Pvt. Ltd.
Siddhivinayak Healthcare Pvt Ltd in Prabhadevi, Mumbai listed under Private Hospitals offering services like Gastroenterologist, Intestine Surgery and much more.
4. Global Hospitals
Global Hospitals Mumbai is one of the top liver hospitals housing expert liver transplant surgeons in India. Our hospital offers end-to-end liver care and liver transplantation options and it is one of the finest Liver Transplant centers in India having attained the status of excellence in liver care and liver transplantation.
5. Nirmala Maternity & Surgical Hospital
Located in Lower Parel East we provide the best maternity services with our expert doctors and trained staff.
6. Seven Hills Hospital
SevenHills Hospital is one of the largest and best hospitals in India, providing an entire range of advanced healthcare treatments and surgeries.
Car Repair Company

Carfixo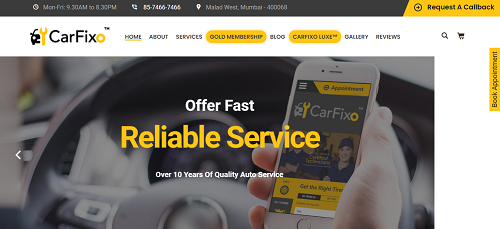 CarFixo is a leading professional Multi Car Workshop and Automotive Service Company known for providing a full range of top-quality car repairs and world-class maintenance services in Mumbai, Navi Mumbai, and Thane.
At CarFixo, we are backed by an adept team of highly-skilled and well-trained automobile engineers and experienced technicians who employ cutting-edge technology and advanced equipment to deliver seamless and reliable car services.
We are a one-stop solution for all your car repair and maintenance needs. Experience true comfort and convenience by getting a free car inspection and diagnosis at your doorstep and our contactless and free pickup and drop-in services.
Contact Details
Mobile No : 85-7466-7466
Website : https://carfixo.in/
Hospital & Medical
1. Vcare Imaging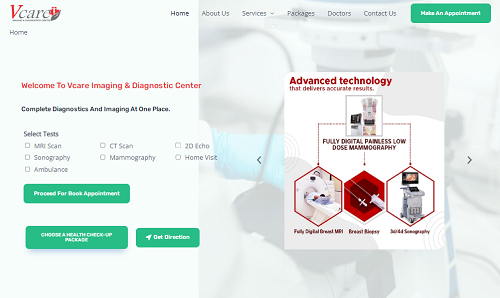 Our mission is to provide world-class facilities and strive to provide timely & accurate reports with compassion & care. Our Radiologists work hand in hand with our highly trained technologists to ensure you are at ease during your routine.
A Premier Health Care Provider with Multiple diagnostic centre near me & Imaging Services Under One Roof. Fully Automated Computerized Laboratory with End to End Diagnostic Centre in Lower Parel and Imaging Solutions Under One roof. Our Experienced and Dedicated Team Make Sure You Receive the Most Effective Treatment in Those Times of Worry.
Contact Details:
Phone: 9819577304
Email: [email protected]
Website: https://vcareimaging.in/
Pest Control Service
1. Mumbai Pest Control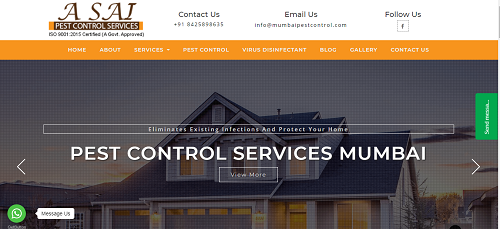 When A Sai Pest Control Services Lower Parel began their herbal pest control business decade ago, they had two goals in mind: To provide quality herbal pest control services in Mumbai, Thane, Navi Mumbai, Kalyan and furnish superior customer service. Today, over a decade later, A Sai Pest Control Mumbai, Thane, Navi Mumbai is still committed to that mission. It is the name you can trust to protect your business or home against pests like rodent control, termite treatment, bed bugs treatment, birds and mosquitoes control, cockroach and ants control treatment.
As the trusted commercial pest control company in Mumbai, A Sai Pest Control Thane has provided peace of mind against pests ever since we opened our doors for business from last 18 years.
Contact US
Address : Shop No.6, 1st Floor, Rajiv Gandhi Market,Khopat, Thane (West) - 400601
Mobile : +91 8425898635
Email ID : [email protected]
Website : https://www.mumbaipestcontrol.com/
2. Eco Friendly Pests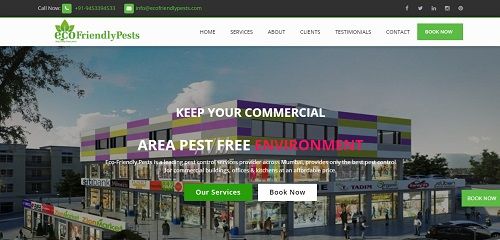 EcoFriendlyPests is the most popular pest control company that provides Pest control services in Lower Parle. It's started a pest control business in Mumbai and later move to other locations such as Thane, Navi Mumbai, and Pune many years ago. Our mission is very clear, straightforward, and direct that we will help us to provide you a hygienic pest control services near your place. Also, anyone can get our best pest control services at an affordable price and 100% safe for your family member, pets, and environment at your places. EcoFriendlyPests continuously provide organic pest control solutions through our best and experienced pest control technicians team.
EcoFriendlyPests is an in-house pest control experts team who has been many years of experience, expertise in his field, and the most important thing is a well-behavior and very simple. Our team will visit your place once you request a pest treatment and they do a complete inspection. After that, as per the investigation of the place and the required pest control treatment, they decide which will be the best possible way to eradicate dangerous pests from your home. We use government-approved chemicals and spry to eradicate all kinds of dangerous pests at your place. Our chemicals are safe for humans, pets, children, and pregnant women at your home. EcoFriendlyPests provides Pest control services in Lower Parle for both commercial and residential places.
Contact US
Address : D.N. Dube Road, Rajesh Compound, Dahisar East
Mobile : +91-9453394533
Email ID : [email protected]
Website : https://ecofriendlypests.com/
3. Elix Pest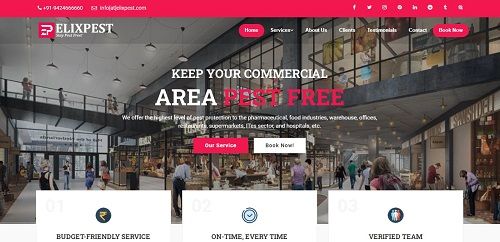 Elix Pest is a leading pest control company in Lower Parle. We're a team of experienced professionals, police verified, and intensively trained members in-house. We use high-quality and goverment-approved chemicals and eco-friendly gel and safe spray.
We're playing a vital role in the Pest control service in Lower Parle, Maharashtra, and other locations such as Navi Mumbai, Thane, Pune, India. We're an ISO-certified company, our professional's pest technicians are verified by Government (Police Verified), highly qualified, intensively trained team, and provide eco-friendly and safe pest control at an affordable price. Customers are happy with our pest services, commitments, working process, and behavior of our professional pest control team.
We're partnering with prominent pest control companies across Lower Parle such as Pepcopp.co.in and other reputed pest control companies to do the best pest services to our clients.
Contact US
Address : Room No 4, D. N. Dube Road, Ratan Nagar, Dahisar, Mumbai 400068.
Mobile : +919424666660
Email ID : [email protected]
Website : https://elixpest.com/
SSD Pest Control Service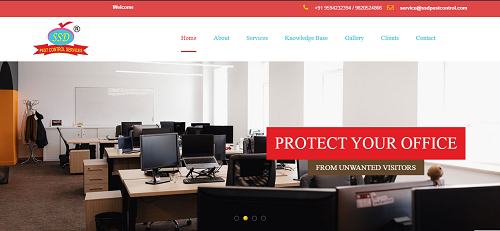 Established in the year 2018, we, SSD Pest Control In Lower Parle, are engaged in providing effective services for pest control. we have specialized in offering residential, commercial, marina and corporate pest control services. SSD Pest Control Services Company, is looking to set new global standards in providing all sort of facility management services at affordable cost by developing innovative pro-environmental superior technologies. Every dwelling is entitled to get facility management services to improve quality of living and to have quality time in their family and business. We wish to equip ourselves to serve every dwelling in the Globe.
The experienced and dedicated service team offers customer friendly service which is technically superior and environment friendly. With continuous research and developmental activities we are at process of developing eco friendly low cost technologies for pest control.
Contact Details
Mobile No : 9594232394
Email ID : [email protected]
Website : https://ssdpestcontrol.com/
Top Companies and Jobs
2. SEO Masala
3. Cipla Ltd
4. Tacto
5. Netcore Solutions