1. Magnum Heart Institute
"A promise to save life" was the only thought in the mind of Dr. Chopda while establishing this hospital. To make class medical facilities available at the most affordable costs is one strong drive that always led Dr. Chopda to take effective steps fulfills his object. He has a sturdy belief in serving mankind and is firmly continuing on his mission since last 16 years. Chopda Medicare & Research Pvt.Ltd. is another important step of the vision of Dr. Chopda. The objective of Heart Care Centre is to fight all the cardiac diseases with determined minds. In his words "We actually want to give complete treatment with rehabilitation for heart diseases. We have made all our efforts for medical equipments, cath lab, operation theatre, clean & comfortable wards to be made available along with skills and experienced professional."
Contact Details
Address : Plot no. 3/5, Laxmi Nagar, Patil Lane No. 1, Near K. B. H. Vidyalaya,
Opp. Vasant Market, Canada Corner,Nashik-422005, (MH) India
Contact : 0253 - 2316200
Email Id : [email protected]
Website : https://www.magnumheartinstitute.com/
2. Vijan Hospital & research Centre
Vijan Hospital & research Centre ( Formerly famous as Vijan Cardiac and Critical Care Centre, since its inception on 6th December in 1987) was relaunched on the auspicious day of Akshay Trithya on 2nd May 2014.
Its founder Dr. Vinod Vijan ( DM, MD) started the first cardiac care hospital in entire North Maharashtra, as the first super specialist to migrate from Mumbai in 1986. The Landmark Hospital served tirelessly treating patients from entire North Maharashtra (Nashik, Dhule, Nagar, Nadurbar, jalgaon districts) and adjoining areas of Gujrat and Madhya Pradesh). The road at which the hospital is situated was named by Nashik Municipal Corporation, as Dr.Vijan Hospital.
Contact Details
Address : Dr. Vijan Hospital Marg, College Road, Nashik, Maharashtra, India-422005
Contact : +91 9850059063
Email Id : [email protected]
Website : https://www.vijanhospital.com/
3. Rajebahadur Hospital & Research Center
Rajebahadur Hospital & Research Center is professionally managed Hospital organization in Nasik. It is a super specialty hospital commissioned on 7th September 1992, due to the innermost inspiration of Rajebahadur family. Rajebahadur Hospital & Research Center Pvt.Ltd. has taken many steps to bring medical facilities of International standards, within the reach of every individual of each class in an around Nasik. Since then it never looked back and continued to enrich itself in the direction of modernization of medical facilities in Nashik.
Contact Details
Address : Plot No. 13,14/199, Rajebahadur Colony, Tilak Road, Nashik (Maharashtra), India, 422 001
Contact : (+91) 8850014301
Email Id : [email protected]
Website : https://www.rajebahadurhospitals.com/
4. Jairam Hospital & Research Centre Private Limited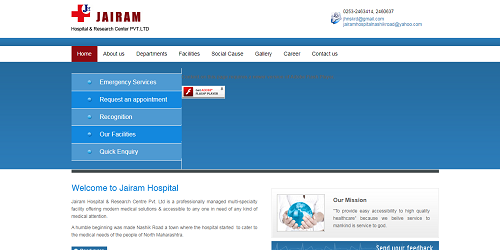 Jairam Hospital & Research Centre Private Limited is a professionally managed multi-specialty facility offering modern medical solutions & accessible to any one in need of any kind of medical attention.
A humble beginning was made Nashik Road a town where the hospital started  to cater to the medical needs of the people of North Maharashtra. The untiring efforts and selfless service received overwhelming encouragement and was widely appreciated. This was the beginning of the journey of Jairam Hospital & Research Centre. Over these years, the hospital has emerged into a credible name dedicated to the health care and well being of the society. This multi-specialty hospital provides all modern medical facilities under one roof  & provides the best medical treatments and services at reasonable cost. The hospitals and research centres are complemented with modern facilities and advanced medical equipment.
Contact Details
Address : Nashik Road - 422 101. (MS) India
Contact : +91-253-2463414
Email Id : [email protected]
Website : http://jairamhospital.in/
5. Shree Siddhivinayak Hospital
Founded in April 2008, Shree Siddhivinayak Hospital is an only hospital with 100% Hospitality & a Multi-specialty & Super-specialty advanced health care unit renowned 42-bed hospital located in central location of Nashik, Maharashtra. For more than 10 years we have been fulfilling the medical needs of our community, having more than 2 Lac satisfied patients & performed more than 90,000 trauma & emergency services by our excellent team of orthopaedic surgeon & plastic surgeons. Shree Siddhivinayak Hospital, Nashik is continuously developing the scope of services & skills available within the country. Our professionals are highly qualified and experienced certified doctors provide a full spectrum of treatment & preventative services. Our trained Medical Staff is committed to your well being. Our services are designed to provide the most comprehensive benefits to patients from all walks of life.
Contact Details
Address : Unity Campus, Gangapur Road, Opp KTHM College, Nashik
Contact : 0253-2580470
Website : https://shreesiddhivinayakhospital.com/
6. Hearts Sanjivani Centre
Sanjivani Centre was formed by Dr. Sanjay V. Patil with an objective of Preventing Heart Attacks and to save Patients from the largest killer disease, which kills 4000 person per day.The mission of Hearts Sanjivani is preventing Heart attacks reversing heart disease, through continuous education, early detection and provide alternative non invasive holistic treatment affordable by all and there by reducing the incidence of coronary artery disease and eradication of premature deaths and disability.
Hearts Sanjivani has a Hi-Tech diagnostic center, where Chelation Therapy, Physical and mental Stress test are living investigated. Now a days we always hear news where person is working and suddenly collapsed because disease is progressing slowly in your body and suddenly heart attack strikes like an earthquake. Prevention is the only vaccination available for heart disease. So those who are facing highly stressful life, or above the age of 30, must undergo regular health checkup scheme to monitor risk factors closely. Normally no education is given to control the DM or hypertension or high level of cholesterol. A simple table is introduced and matter ends there. In Hearts Sanjivani we always educate patient to change their lifestyle. We have a separate lifestyle education unit where regular teaching of diet, yoga, stress management is done.
Contact Details
Address : Hearts Sanjivani Centre, Savata Mali Nagar, Near K.K.Wagh College, Behind Fire Brigade, Nashik (Maharashtra) Pin - 422003
Contact : +91-8087999500
Email Id : [email protected]
Website : http://heartssanjivani.org/
7. Life Care Hospital
Life Care Hospital is built up in 20,000 Sq. Ft. Area & easy approachable from any corner of town.Life Care Hospital is equipped with 50 beds with air condition including 8 bedded ICU setup. We have 2 Operation Theatre with laminar air flow and ICCU, NICU & Trauma Care Unit. & Facilities like Private & Semi¬private Rooms,General wards, Isolation ward, Patients Lift, Generators wth power back¬up, Blood Bank ( Outsource ) and canteen are also provided. We have a team of more than 36 renouned medical professionals and consultants and highly qualified medical and para¬medical staff with humanly approach. Our aim is to provide the best possible health care facilities to our patients with "Zero Defect" and patient satisfaction which we consider as our top most priority.
Contact Details
Address : Lekha Nagar, New Nashik, Nashik - 422009
Contact : 0253 2216666
Email Id : [email protected]
Website : http://www.lifecare-hospital.in/
8. Tulip hospital
Tulip hospital is a superspeciality hospital for women and children in city of Nashik , set up in year 2019 in Pathardi phata, Nashik. We are the unique centre of excellence for women and children care in Nashik.Tulip hospital is an exemplary model of combining women and children's services in all categories under one roof (primary , secondary and tertiary level)The unique and extraordinary feature of this best hospital for women and childrens is the mediculous attention to interior of hospital which is very child friendly.
The entire hospital for women and children is built in accordance with the national building code. Our hospital satisfy regulatory authorities like MPCB ( Maharashtra Pollution Control Board), fire system and N.A.B.H.(National Accreditation Board of Healthcare Organizations, Government of India)
Contact Details
Address : Tulip Hospital Plot no. 5, Prashant Nagar, Patharadi Phata , Nashik
Contact : 9119444802
Email Id : [email protected]
Website : http://tuliphospital.in/
9. Vakratunda Hospital private limited
Vakratunda Hospital private limited is a 100 bedded fully equipped multispecialty hospital located at Pathardi Phata, one of the fastest growing areas of Nashik city. It is the only multispecialty hospital in the locality which provides all the facilities under one roof to meet the requirements and demands of the patient.
The hospital is located on Mumbai Agra highway (NH 3), just 0.5 KM from Ambad MIDC, 1 km from Pathardi and very close to Wadiwhare, Gonde & Mundegoan. The Hospital functions with a strong mission of quality healthcare at affordable prices and provides advanced Healthcare services, in therapeutic, preventative and rehabilitative care at lowest and affordable tariff and package's as compared to other hospitals in Nashik. Vakratunda hospital has a dedicated team of consultants from all the specialties with vast experience and expertise.
Contact Details
Address : Nagar, Near Sales Tax Office Road, Pathardi Phata, Mumbai Agra Highway, Nashik - 422 010.
Contact : (0253) 2386001
Email Id : [email protected]
Website : http://www.vakratundahospital.com/
10. Dr. Sheetalkumar Hiran
Dr Hiran Sheetalkumar Prakash a name synonymous with excellence in the field of cardiology. He is the best Heart Specialist in Nashik with double DNB for his post graduation in Internal Medicine and super specialization in Interventional Cardiology Dr. Sheetalkumar Hiran erudite accomplishment are also massive, having worked with reputed hospitals like KEM hospital Nair Hospital, Jaslok Hospital etc. His training in cardiology has been glorified by working with world-renowned cardiologist Dr. Ashwin B Mehta, at Jaslok Hospital. His sharp acumen helped him to master all aspects of cardiology. At Jaslok Hospital, He got trained for all types of complex angioplasties like Bifurcation stenting, Chronic total occlusion, Left main angioplasty etc. With the experience of more than 10,000 procedures, he himself has done more than 15,000 procedures in the city of Nashik till 2020.
Contact Details
Address : Dr Sheetalkumar Hiran 108-C, First floor, Sai Square building, Next to Suyash Hospital, Near Tupsakhare Lawns, Mumbai naka, Nasik 422009
Contact : 08042782100
Website : https://www.sheetalkumarhiran.in/