Sinquerim Beach is a popular beach located in the state of Goa, India. The beach is situated in North Goa and is known for its clean and clear waters, white sand and beautiful sunset views. It is a popular spot for swimming, sunbathing, and water sports like Parasailing, Jet Skiing and Banana boat rides. The beach also has several shacks and restaurants where visitors can enjoy local seafood and other delicious food. Sinquerim is also a popular spot for tourists and locals alike, and is a great place to relax and unwind. Additionally, it is also famous for the nearby fort Aguada which is a major tourist attraction.
Along with Bogmalo Beach in Goa, also in the Bardez district, Sinquerim Beach is one of the few beaches in Goa where you can rent windsurfers, water skis, and other water toys without having to be a guest at a hotel. It's much cheaper to rent equipment from these places but check the condition of the equipment and make sure life jackets are provided; also check, if possible, with others on the beach to verify adequate supervision. Stretching in front of the Taj resorts, this small, sandy beach can get crowded with tourists and vendors.
The closest railway station is Carambolim and the Sinquerim Beach is approximately 16 km away from Panjim. The natural inward curve of the beach makes it a great place to tread more into the waters safely. Also, you can really start a long-long walk from here to Candolim Beach to Calangute Beach to Baga beach as well as they are all on an unbroken stretch.
Some things to do at Sinquerim Beach include:
Swimming and sunbathing in the clean and clear waters
Participating in water sports like Parasailing, Jet Skiing, and Banana boat rides
Visiting the nearby Fort Aguada, a historical fort built by the Portuguese in the 17th century
Relaxing at one of the beach shacks and enjoying local seafood and other delicious food
Take a dolphin watching trip
Take a sunset cruise
Exploring the nearby beaches like Candolim and Calangute
Visit the nearby Salim Ali bird sanctuary
Renting a bicycle or scooter to explore the surrounding area
Visit the nearby temples like Morjim temple and Shri Laxmi Narayana temple
Take a sunset walk along the beach
Shopping for souvenirs and handicrafts at the local markets
Enjoy local Goan music and culture at the beach-side parties and events.
1. Scuba Diving In Goa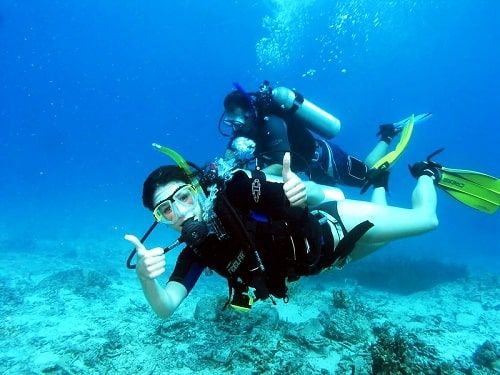 Get a chance to experience the world class scuba diving in Goa, going deep down sea diving with grace along with PADI certified professionals while you do scuba dive deep down the waters of Goa with adventure and thrill of dive in Goa.
To view an amazing sight of corals and the most beautiful aquatic life that by them self give a spark to the underwater life when you do Goa scuba diving while you play the game of treasure hunt deep inside the sea with Professionals diver along with your scuba dive trip in the blue water of Goa.
2. kayaking In Goa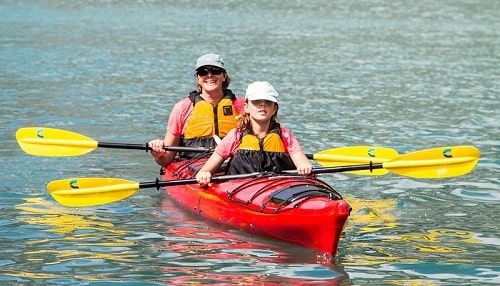 Kayaking In Goa is the one type of recreational diving. In kayaking two people sit with both side paddle in which legs are in front. Kayaking in Goa is a best leisure activity in backside white water. In Kayaking you can view beautiful birds and it is a best experience to find yourself between the lotuses.
Do try once this adventure activities in Goa when you visit Goa. In calm white water in between nature you feel amazed. Kayaking In Goa is the best experience for sure.
3. Windsurfing In Goa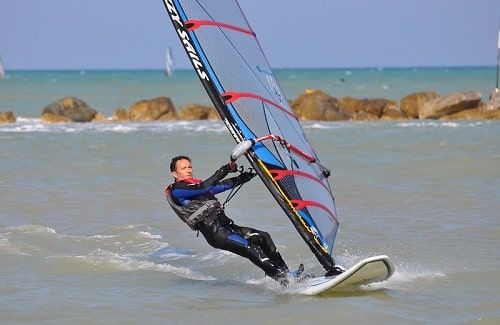 Windsurfing In Goa is a popular water sport in Goa. Windsurfing is particularly favorite among the foreign tourists. In Windsurfing, a windsurf board is used that is around 2-4 meters long. The surfboard is powered by the wind on a sail that is attached to the windsurf board. You need to gain a perfect balance on the windsurfing board and should be able to adapt easily to the changing wind directions to enjoy this sport.
4. Snorkeling In Goa
Snorkeling is a water sports activity in which, we are swimming on or through a body of water while equipped with a diving mask, a shaped breathing tube called a snorkel, and usually swim fins. Due to the lesser amount of complications involved in snorkeling, it is sometimes preferred over Scuba diving. Snorkeling in Goa can be experienced by people belonging to any age group, this makes it one of the most popular sports among the tourists.
It doesn't involve any intensive training which makes it easier for people to try it. Just a little bit of knowledge about the equipment and a few safety measures is all you require to try snorkeling. Snorkeling In Goa charges are also comparatively less which is also one of the reasons why most of the people try it. One can enjoy the underwater life and can also experience the fun of swimming with the fishes around through snorkeling. Hence, it should be a must whilst your visit to Goa.
5. Fishing In Goa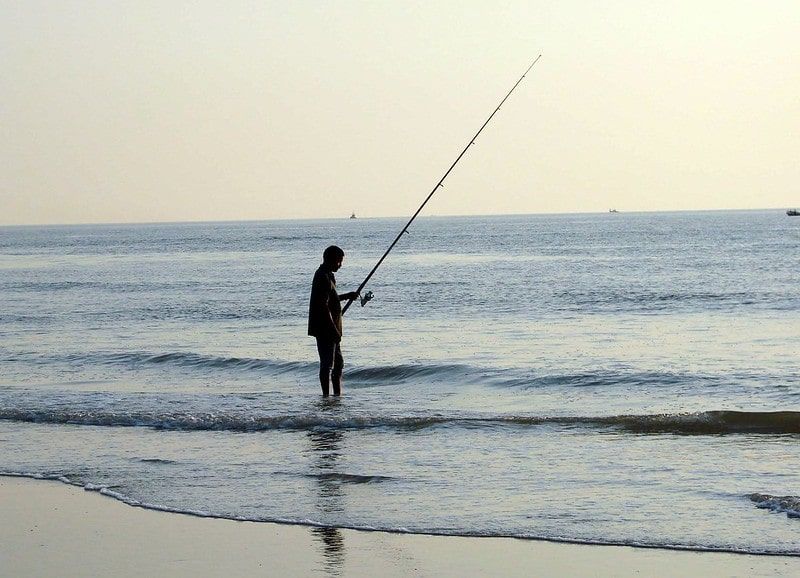 Blessed with plenty of beaches, Goa is the ideal place to try out fishing. Imagine the pride and the winning smile on your face when you come back holding a couple of fishes and proclaiming it as your prized catch. Fishing is a great experience and definitely a de-stressor for your tired mind. Just head out with your friends or even alone with a fishing rod and some bait and just relax & wait for a curious fish to eat the bait.
Some of the most popular catches are rock-fish, salmon, mullet, snapper, etc. You can also catch stingrays and groupers if lady luck smiles on you. The Agonda beach in the Canacona district of Goa is the most popular site for fishing. You can get the right equipment from the concerned authorities there. The bait usually consists of shrimps, sardine fillets and worms. The thrill and pride when you catch a fish and show it to your friends cannot be described in words.
6. Jet Ski In Goa
Are you fond of speed but need to try it with something other than the common vehicles? You can opt for an amusing Jet Ski ride in Goa. During your holidays in Goa, you must not forget to try out your hands in this activity. Goa is a very beautiful place! During your visit here, if you haven't participated in any of its water sports, you have literally missed out a huge chunk of enjoyment.
Whenever anyone talks about the most thrilling and exciting water sport prevalent in Goa, the list would not complete without adding jet skiing to it. Gravity Water Sports is a professional tour operator that provides the prolific jet-skiing packages to tourists from India and beyond.
7. Catamaran Sailing In Goa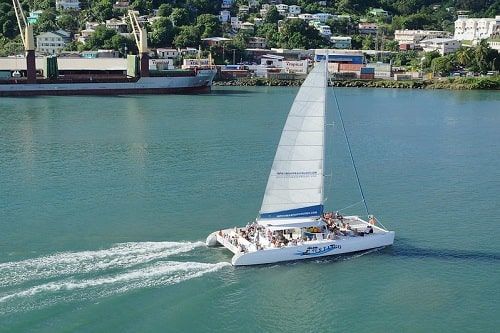 Known as the Rome of the East, Goa is the littlest province of India. Cerulean water that is perfect for Catamaran Boat cruising encompasses this sailing goal. Sailboat vessels are acclaimed for their beautiful banana-formed structures. They are structured so as to work without the utilization of blade sheets. In light of their interestingly molded frames, Catamaran vessels can work in the ocean with no sort of impediment.
Sailboat cruising in Goa is ideal for local people just as travelers who need to appreciate the wonderful Goan waters. Enjoy a reprieve from your typical everyday exercises. Experienced Tripforlife Watersports' work force will go with you as you attempt one of the most energizing yet loosening up water exercises in Goa.
8. Banana Ride In Goa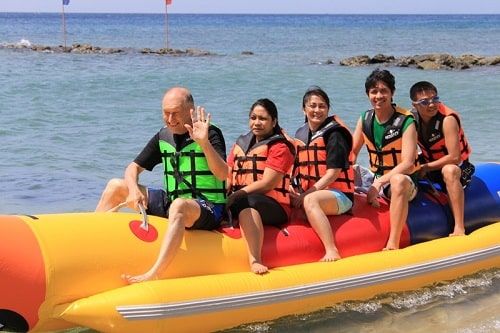 Banana ride is one of the most attractive water sports at Goa beaches. Approx six persons can sit on banana shaped contraception. This banana shaped contraception pulled by a speed boat. Every persons should wear life jackets before the banana ride water sport play. Banana ride water sports can enjoy on major beaches of the Goa easily.
Banana Ride, Goa is one of the main attractions of the sea sports. The big yellow boats which helps to ride as many as 5-6 people and the thought about having that thrilling ride over the sea waters gives back the enjoyment in an extensive way. There is a need to be spoilt for choices as it comes to having a pick by you that whether you are the one's who love surfing, yachting, water scooters or any other ways and for the faint heart ones banana ride is the best way to enjoy the pastime. It is more for the people who are too child and does not ride the water scooter but if you want to get that bumpy ride with 5-6 people together then the instant rub gives the banana ride.
9. Bumper Ride In Goa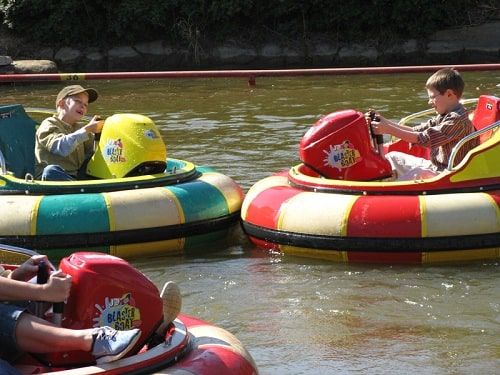 Bumper boats are an thrilling ride in sea ,  which people drive tiny boats in a pool or pond and try to crash into each other for fun. one of the thrills of operating amusement park boats of this type is to initiate collisions with other similar boat within a relatively confined pool.but we provide in sea the inner tube of a large tractor tire inner tube. The boats pulled by speed boat and we provide one round of 500 meter or 600 meter max
10. Parasailing In Goa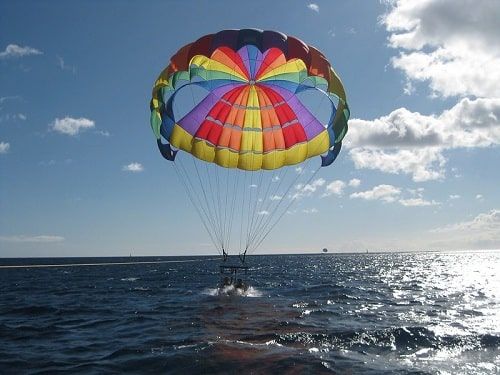 If you are planning your vacation in Goa, then an awesome water sports activity awaits you i.e Parasailing. There are many water sports available in Goa such as Scuba Diving In Goa, Banana Ride, Fly boarding, Jet Ski Ride, etc these all Water Sports Activities In Goa are awesome.
But you want to fly high in the sky above the clear seawater and feel, then this is the Best water sports in Goa for you. Parasailing in Goa is one such water sports activity that is sure to pump up your adrenaline rush.
11. Paragliding
Paragliding in Goa gives you chance to feel the sea from top of the ocean. In Paragliding Goa Beach Water sports provides 10 minutes flying with pilot on the sea at North Goa. Paragliding and paramotoring both are available in North Goa. Paragliding is not scared recreation sports like Snorkelling or Scuba Diving in Goa.
Paragliding is easiest recreation sports in Goa. You have to follow the instruction of Pilot. It is safest and best activities in Goa.